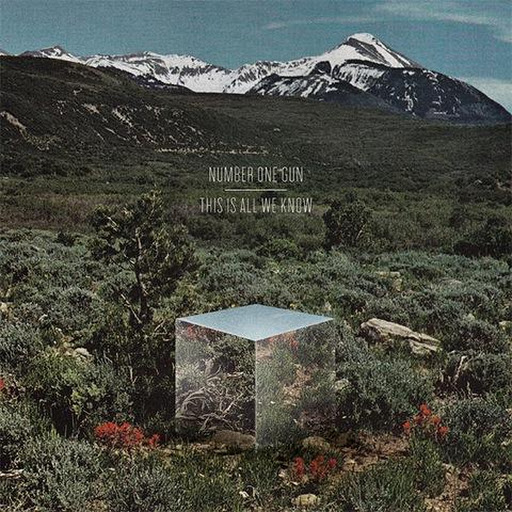 Artist: Number One Gun
Title: This Is All We Know
Label: Tooth and Nail
Release Date: 01/14/2014
Reviewer: Ty DeLong
Tracklisting:
Get a Little Weird
Make This Last Forever
It
Heartbeats
Make a Movie
Life In The Middle
Disappear
Perfect Ones
For You
Dark
I'm On Fire
When I first heard back in the summer of 2012 that Number One Gun would not only be releasing a new album but bringing back all four original members, I was more than a little excited. I gladly chipped in on the Kickstarter and waited to re-live the glory days of Celebrate Mistakes and Promises For the Imperfect. The band's most recent releases, composed solely by front-man Jeff Schneeweis, weren't bad, but they seemed to be lacking something compared to the albums recorded by the full band, in my opinion.
Fast forward a year and a half, and we have This Is All We Know. From the energetic opening riff, I could tell Number One Gun had delivered on the hype. "Get a Little Weird" kicks the album off with an upbeat rocker featuring dueling guitars and powerful drums. By the time the chorus hit, I realized one of the elements that I had been missing in the past couple of releases:  a focus on guitars. Not every track is as rock-centric as the first, but it's an element that surfaces several times over the following ten tracks, and a welcome one in my book.
"Make This Last Forever" tones down the edge a little but, but brings back another classic element:  dueling vocals. During the pre-chorus and chorus, Jeff and Ben (I believe) trade lines about doing whatever it takes to go the distance with a commitment they've made. A more mature look at relationships seems to be a theme that carries through several tracks on the album, and it goes well with the more mature sound, as well.
"It" and "Heartbeats" turn the album in a more pop-accessible direction. Both feature acoustic guitars, and the latter incorporates some of the electronic elements Schneeweis had introduced on his solo efforts. By the end, "Heartbeats" becomes a huge love ballad with soaring vocals before the final line trails off with echoes. For me, it was one of the more powerful moments on the album.
"Make a Movie" picks up the pace again with a head-bobbing hi-hat part that doesn't let up for the duration of the track, while the rest of the instrumentation and vocals dynamically rise and fall. It transitions well into "Life In the Middle," a solid pop-rock track featuring an intricate piano backing. Interestingly, that song also makes reference to life being like a movie, carrying forward the idea from the previous track.
Next up, "Disappear" brings back the full-on rock sound. I would say it's the closest thing to their earlier full-band sound offered on this record. Moreover, the track features Stephen Christian of Anberlin, so what's not to love? The driving anthem fades out with a ringing guitar that hearkens to one of the songs on Celebrate Mistakes, though I can't remember which one. "Perfect Ones" continues the upbeat energy on the next track.   Odd timings and rhythms make it a stand-out track for me, as the record is mostly straight-forward in the rhythm department.
From this point, the album takes a turn away from the rock sound. "For You" is an upbeat but very pop-accessible track featuring female guest vocals, encouraging the listener to not let life pass by. The last two tracks, "Dark" and "I'm On Fire" are closest in style to the band's more recent work. They feature heavy use of synth and electronic elements, and a bit of a more down-tempo feel to close out the album. They weren't the strongest tracks in my opinion, but I've already tipped my hand that I prefer Number One Gun's rock sound.
As could be expected, the production and performance on the album is nearly flawless. (Jeff now runs a studio and produces albums.) The overall energy and creativity are excellent, particularly when remembering that the band hasn't recorded together in several years. There were only a couple of moments where the lyrics really connected with me on a deep level, however, which is what kept the album from getting a perfect score in my book. Really, there are only a couple of songs that didn't impress me in some way, and that has more to do with my expectations than the songs themselves. The band has proven that they are incredible musicians capable of creating a great album after a few years off.
Overall:  Number One Gun more than delivers in the return to their original lineup. Complex and intricate instrumentation back Jeff Schneeweis's signature vocals over eleven tracks that range from all-out rock anthems to electronic-laced ballads. Any fan of the band's catalog will find something to love on this solid album.
RIYL: Anberlin, Waking Ashland, Search the City, Acceptance