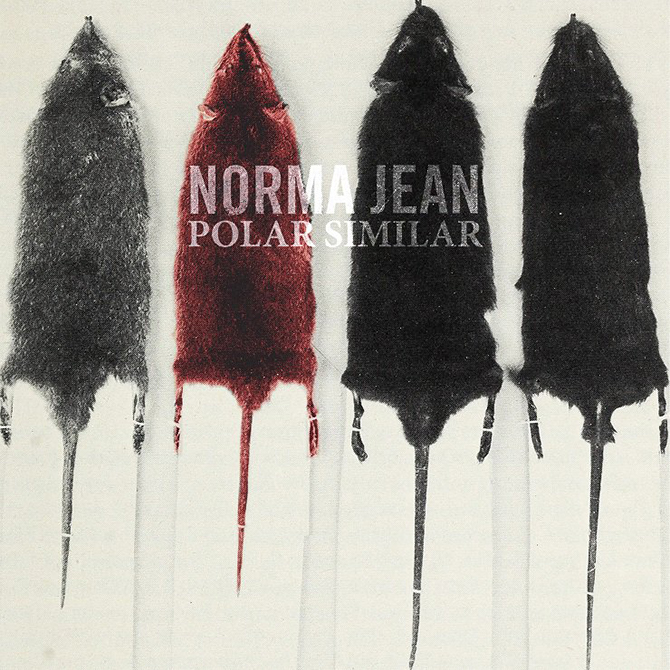 The Almighty Norma Jean simply cannot be stopped. The storied band just released their seventh record, and it's their best yet. They've reunited with Solid State records, their production has never sounded better, and despite having been around over fifteen years, Polar Similar proves they haven't lost any steam.
Norma Jean has been an anomaly for quite a few years. Meridional and Wrongdoers showed the group continuing to stretch themselves to top each previous studio effort. They've been on an upward streak since 2010, and I was curious whether they could continue the trend with Polar Similar. Maybe I shouldn't be surprised at this point, but it's so rare for a band that's been around for this long with so many member changes to steadily improve as Norma Jean has. The secret to their longevity might be found in "Forever Hurtling Towards Andromeda" where Cory asserts "what has to, does". Norma Jean certainly does.
Polar Similar furiously roars out of the gate with "I. The Planet". It's a simple, powerful assault that effectively opens the record. The energy doesn't let up for the next three songs that comprise the first section of Polar Similar. The sound is instantly recognizable as Norma Jean, but it's Norma Jean breaking the rules and better than ever. This time around, the group leaps past the boundaries of standard song structure, and the songs simply go where they need to. This unbound anti-structure is the magnificence of Polar Similar. This isn't to say the songs don't have natural categorical leanings. Sure, there are blasting, breakneck tracks like "Forever Hurtling Towards Andromeda" and "Death Is A Living Partner" along with brooding, meandering pieces like "Reaction" and "A Thousand Years A Minute". However, these categories don't determine the songs' sonic direction. At any point the song could erupt into a tumultuous storm of dissonance or soar into a melodic clearing. We heard the beginning of this structural revolution in "Hive Minds", "Sun Dies, Blood Moon", and the title track of Wrongdoers, but it is fully practiced and perfected this time around.
The ability for the songs to traverse conventional structure is only made possible through Cory's armory of vocal ability. In each song his vocals seamlessly transition from earth-shaking screams to affluent cleans with every shade between the two. Norma Jean's evolution has garnered comparisons to Thrice, and I have to imagine a large part of the comparison stems from the commanding voices of both Cory Brandan and Dustin Kensrue. Cory's dynamic vocals are one of the leading factors that separate Norma Jean from the rest of the scene, and he has never sounded better than he does on Polar Similar.
What makes the accomplishment that is Polar Similar even more impressive is that it is the first album created by the current lineup of musicians to comprise Norma Jean. Other than singer Cory Brandan, there's been a complete lineup change since their 2010 record, Meridional. This certainly hasn't hindered Norma Jean's output. Instead the members have adopted a unique view of their band and the members within it. The booklet to Polar Similar proudly states "Norma Jean is a collective of musicians in which association is flexible and creative direction is shared across a history of friends and family." This view allows the gripes and complications of member changes to be put aside in pursuit of creating innovative and moving art. The approach is clearly working.
Polar Similar isn't without flaws, though they're hard to find unless you're specifically looking for them. The biggest points of contention are the transitional tracks "II. The People" and "III. The Nebula" simply carry on too long. The creepiness of the tracks matches the feel of the record, and they effectively add another dimension to the music. However, they could just stand to be a little shorter and more transitional. If I'm forced to nitpick, I'll admit "An Ocean of War" can be easy to overlook in anticipation of the two monstrous closing tracks, but it's certainly not a skip-worthy complaint.
One complaint might arise with Cory's use of the F-word in "1,000,000 Watts". However, it's hardly discernible so unless you know the lyrics it will probably fly right by you unnoticed. Norma Jean's lyrics have featured some controversial language in the past so this shouldn't be a terribly huge surprise. It is more interesting that this takes place on a Solid State/Tooth & Nail release, which makes it the third release from the label this year with explicit language. Whatever your view on the matter, don't let it tarnish this spectacular record.
The highlights of Polar Similar are almost too numerous to point out. The record flows so well, and each song is in its rightful place. If you're still pedaling Bless the Martyr & Kiss the Child as their best album, you may not totally be on board. But if you've been tracking with Norma Jean and have been continually impressed with their evolution, I have no doubt Polar Similar will captivate you for its fifty-three minute runtime. Expect to see this on a lot of Best of 2016 lists at the end of the year, and we'll see if Norma Jean can top this on LP8.