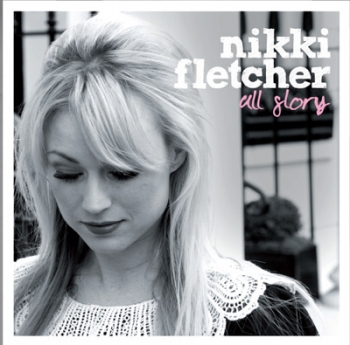 Artist: Nikki Fletcher
Title: All Glory
Label: Kingsway Music
Release Date: 7/8/12
Reviewer: Jonathan Andre
Tracklisting:
River Flow
Worlds Collide
Draw Me Close
You Are What I Need
Wait For You
All Glory
Worship leader and lead singer at their school of worship, Worship Central; Nikki Fletcher's first debut album, All Glory, is full of worshipful surprises as listeners delve into a place where all inhibitions and ambitions are left at The Door as we cross over to the other side to experience one of the most honest and raw emotive moments since Christy Nockels' Into the Glorious. Born and bred in New South Wales, Australia; Nikki and her husband Jonathan moved to London in 2008 where she now currently leads a worship team initially founded by worship singer and world-renowned worship songwriter Tim Hughes. Releasing her first album yesterday (July 8th 2012) filled with many co-writes with songwriters Tim Hughes and Martin Smith and produced my Christy's husband, Nathan Nockels; All Glory is able to present a collision of ideas from hope, trust and assurance, as we wrestle through life understanding God's certain plan for our lives; falling into His loving grace as we sing praises to the God '…who is able, all power and praise…' ('All Glory'). By listening to these alone (though only 6 songs!), I can boldly assert her place within British worship, and hopefully within the American CCM/worship market very soon!
Originally on Tim Hughes' Love Shine Through, Nikki's version (the song with co-written by both songwriters) is a more upbeat, anthemic build with a piano undertone compared to Tim's subdued acoustical worship moment with plenty of reverb and choir as listeners contemplate God's glory. In All Glory however, Nikki's last song on the EP is what makes this album stand out, certainly being my favourite in this 6 song lineup. Based upon Ephesians 3:20 '…now all glory to God, who is able, through his mighty power at work within us, to accomplish infinitely more than we might ask or think…' and how God's immense power shows us that impossibilities are nothing in God's sight; 'All Glory' is destined to move into churches as we, individually and corporately, embrace this anthem filled with heart and hope. Through a wide range of guitars and synths, as well as powerful vocals, Nikki creates a treasure and one of my favourite worship songs of the year as we soak into how great God's love for us really is: '…stronger than shame, it carries me back to You…it keeps all it's promises, unshakable…' Once we fully grasp that God loves His children and longs to provide us with all our needs, we can boldly proclaim that '…You are mighty…', even during the moments when we feel like He's far away. Well done Nikki for a certain album highlight!
It takes a great tactfulness to place the best song at the end, showing us: 'if this is how the album ends, then how does it start?' As we take a glimpse of the other 5 songs, we are met with an equal amount of passion and enthusiasm as Nikki stirs listeners to absorb themselves into God's river of love, showing that there is no substitute to the aching that we all feel, than Jesus Christ, healer and hope for humanity. 'River Flow', the first song, leads listeners into a kick drum beat and a motivation '…flow river flow…', for God's river to come saturate our hearts with goodness and mercy. An excellent start to draw in casual listeners, Nikki's singing style and country-rock influence leads the song into uniqueness as we are drawn into an album full of God's promises for His creation, as we sing along with Nikki as she cries out '…open heaven, flood our hearts, grace and mercy from above…' 'Worlds Collide' is full of poetic imagery as we are met with a comparison of God and man, and how '…You're the centre of the story, beginning and the end, Son of God the hope of glory; in You all life depends…' As Nikki moves on to proclaim that the power of the cross (and resurrection!) is enough for Christ to break through our walls to find our connection to Him, we are shifted musically, from a feet-stomper to a reflective melody full of keyboards as we are shown that He is '…steadfast through it all, You're the power and the peace, through all eternity…' Both 'Draw Me Close' and 'You are What I Need' both create a vulnerable atmosphere as we are filled with wonder and hope in the midst of the presence of God, with listeners realising Nikki's unending need for God's presence, and assurance that '…God is here with me…' ('Draw Me Close'). Both these melodies assert a bold claim that God is everything that we hope for or ever need in our lives, and how nothing else will compare to how '…in my regret and all my pride, in Christ alone, I am defined…' ('You are What I Need') What a fantastic fact to dwell upon, well done Nikki for these two piano-driven tracks, bringing out such lyrical richness as we contemplate the Father's love for His children!
Overall: Nikki's 6 song EP has led me to hunger for more worshipful melodies as I anticipate her full album later in 2012. As 'Wait For You' shows, we are made to soak in God's presence, with our hearts '…restless, let peace wash over me, lost in distractions, but You God I will seek…' Waiting for God may not be something that comes naturally for some, and we must be able to exercise this virtue of patience as we understand God's ways and how our desires and hopes fit into His plans (with His timing!). A certain purchase for fans of worship music akin to Christy Nockels, Nikki's debut is one to savour, and in my opinion, could possibly be the next Vicky Beeching in a few years time! Well done Nikki for a solid first EP. Can't wait for album no. 2!
RIYL: Vicky Beeching, Soul Survivor, Worship Central, Christy Nockels
Buy the Album: iTunes/Amazon mp3