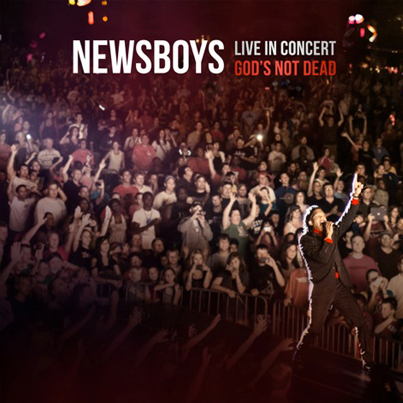 Artist: Newsboys
Title: Live in Concert: God's Not Dead
Label: Sparrow Records
Release Date: 10/23/12
Reviewer: Jonathan Andre
Tracklisting:
Escape
Born Again
Something Beautiful
The King is Coming
Your Love Never Fails
Here We Stand
He Reigns
Nothing But the Blood of Jesus
Mighty to Save
Save Your Life
Miracles
Jesus Freak
God's Not Dead (Message)
God's Not Dead
Revelation Song
Newsboys have undergone plenty of personnel changes throughout their 25 year musical career, with many band members coming and going, from Phil Joel on bass and Paul Colman on guitars to lead singers John James and Peter Furler departing at various points throughout Newsboys' career, John leaving in 1997 and Peter in 2009. Since ex-dc Talk member Michael Tait took over as lead singer of the band since In The Hands of God released in May 2009, much acclaim has been given to the band (as well as critics). Proving that Newsboys is more than just the members in it, the Michael Tait era has given the band and each of the members (Jody Davis on guitars, Jeff Frankenstein on bass and keyboards, and Duncan Phillips- the lone Aussie- on drums) two more studio albums (Born Again, God's Not Dead), countless more tours as well as an added fanbase, bringing in those who love Newsboys as well as dc Talk. Now releasing their new live album, I was intrigued to see how Michael would do a live set, considering that there are only two songs on the album that are from the Peter Furler era (Something Beautiful, He Reigns). Reminding listeners about the central message, that '…God's not dead, He's surely alive…' ('God's Not Dead'); this album, recorded at Sonshine Festival in Minnesota and Lifest in Wisconsin, showcases Michael's great singing ability, as well as a great live show that clearly showcases the band's dominance in the CCM industry, much more so now than when they started in 1987. With fan-favourites 'Born Again', 'He Reigns', 'Miracles' and dc Talk favourite 'Jesus Freak', as well as worship covers 'Revelation Song', 'Mighty to Save' and 'Your Love Never Fails'; this October release is as good a live show that Newsboys can do, and will sure to bring in many fans over a wide variety of genres, from CCM to worship, even those who love dc Talk will certainly enjoy this album. Though reminding me of how much I miss Peter Furler, Michael has brought this band into a new period in their musical lives, giving the band a new energy and revitalisation that will lead to more listeners around the world to be more accepting as Michael Tait as lead singer of the Newsboys.
First of all, it was very hard for me to become accepting of Michael Tait to start off with. During 2009 when the news broke that Peter was taking some time off from being the frontman of the band (which later turned to him leaving the band), I was hesitant, curious and intrigued to see how Michael would carry on the legacy and build from Peter's foundation. Now three years later, not only has Michael honoured Peter's hard work in reworking fan favourites 'Something Beautiful' and 'He Reigns' that appear on this album full of energy and vitality, giving a new rendition of some of Peter's classic songs; but Michael has also honoured Peter in not singing others, with 'Breakfast', 'Shine', 'Stay Strong', 'Entertaining Angels' and 'It is You' not present on this Newsboys record that is primarily Tait-focused. Though I should say that I sometimes miss Peter's songs, even if they are sung by Michael; this set list of 14 songs (plus one monologue from Jeff Frankenstein) is a great way to be introduced to this band that still are able to sell out arenas with pop-rock and worship melodies. Starting off the album with their hit song 'Escape', Michael Tait and the band bring out the energy to start the concert in guitar-driven rock fashion, with Duncan reminding listeners to '…don't believe the hype…' amidst Jody's guitar-driven solo full of intense passion and enthusiasm. Leading into the 2010 radio single 'Born Again', a testament of God's grace towards Michael during the lead vocal transition from Peter to Michael in 2009; the frenzied crowd is a great reminder of how influential these songs are to those who come to the concerts, and even if one hasn't heard of Newsboys before, going to a concert will be a blessing nonetheless. Newsboys are 'born again', with a new lease on their musical life with the song leading into an album full of praise and hopeful encouragement, all the while giving glory to God in the process.
Hearing 'Your Love Never Fails' as a pop-dance praise melody instead of the anthemic build-up sound that we've seen through Jesus Culture's version is a different and unique interpretation of the hit song, as we are reminded of God staying the same throughout time and history, with his unequivocal and unending love given to all of creation. Still, Newsboys have created their own version of the song which has just the same amount of enthusiastic joy and intense passionate energy as the Kim Walker-Smith led Jesus Culture recording. 'Mighty to Save', recently covered off their album God's Not Dead, is shortened to a 3 minute track (omitting the second verse) whereas 'Nothing But The Blood of Jesus' is a slowed down reflective hymn redone with Michael singing against the eerily electronic keyboard as mid-way through the 3 and a half minute song, he lets the crowd sing out '…oh precious is the flow, that makes me white as snow, no other fount I know, nothing but the blood of Jesus…' A beautiful moment when everyone just comes together to proclaim Christ's majesty, Newsboys lead the listeners into a worshipful set-list with the ever-reliable 'He Reigns', arguably Newsboys' most loved and remembered hit (other than 'Shine'). Starting off the song with an altered guitar intro coupled with a keyboard riff and Michael urging the crowd to move '…side to side just like this; like one big black gospel choir with a lot of white people from Minnesota…'; Michael has started to 'own' this track originally made famous by Peter, placing his own slant on the powerful worshipful track as we are shown the truth of His glory and majesty. Similarly with 'Something Beautiful', Michael flawlessly sings his heart out to showcase a song that is just as good (with or without Peter at the helm).
All of the songs (except for 'Something Beautiful' and 'He Reigns') are from either Born Again or God's Not Dead, with the Newsboys highlighting the post-Furler era with worship covers and guitar driven energetic pop melodies. 'Save Your Life', only on Born Again: Miracles Edition, is one of my favourite Newsboys pop songs of late, and it is great to see this on this live record. The energy of Michael's vocals is certainly not comprised against the guitars or the percussion, as we remember that in order to save our lives; we ought to lose them- submitting everything we are to Christ in exchange for freedom beyond recognition. 'Jesus Freak', dc Talk's most famous song, has been covered by the Newsboys ever since Michael was lead vocals, even producing a great version of the song featuring rapper KJ-52 on Born Again. Though missing the second verse and no KJ-52 on this live recording, the live atmosphere and great guitar work from Jody still reminds me of the influence this song still has, 17 years later! The awkward moment at the beginning of 'Here We Stand' when Michael asks the crowd to look up at the screens, read the words and sing along with them seems a little insulting, assuming that most of the crowd would be Newsboys fans and would've heard the song on their 2011 album God's Not Dead. Despite this minor editing hiccup, 'Here We Stand' is a great song of praise to the King, with some great 'ohhhh' moments from Michael as we sing along with this anthem, reminding ourselves that '…with a shout we cry, open wide Heaven's gates, let Your glory fill this place, here we stand in awe…'
Originally written and recorded by worship-alternative artist Daniel Bashta, Newsboys have been able to turn a song of proclamation of God's existence into a world-wide anthem in 'God's Not Dead'. Featuring a monologue by Jeff as we are reminded of how creation tells the story of God's existence and personable nature, this live recording of one of the most riveting anthems of today's generation is as good the studio version, with Michael screaming out '…my God's not dead, He's surely alive…', and though Kevin Max wasn't there to sing the bridge, the song is still awesome. Jeff's soliloquy of truth-declaring reminded me a bit of Carman's spoken song, 'There is A God', as we contemplate, wonder and understand how the world came to be, and the meaning behind it. Giving listeners assurance that Christ is indeed alive and living inside of us, this song is a good segue into 'Revelation Song', arguably one of the most underrated worship songs of the 21st century so far. Based off the declaratory proclamations in Revelation, the song made famous by Kari Jobe and Phillips, Craig and Dean is a perfect end to a live album full of reminders of Christ's unending love for His children.
Overall: Though I would've been more pleased if I saw some of the older Newsboys songs (like 'I'm Not Ashamed', 'Devotion', 'In Wonder', even 'Glorious' and 'You are My King (Amazing Love)' were sorely missed, not to mention newer hits like 'Way Beyond Myself', 'We Remember' or 'Dance'); Newsboys have been able to deliver a set list that showcases some of the best live music there is within the Christian music industry at the moment. With doubts surrounding the change from Peter to Michael during 2009, Newsboys have been able to forge on, and though many may say that Newsboys is just a name now, and that Michael has taken them toward a route that was totally different to where Peter and John had in mind before; the ever-continuing popularity of this Australian band (only Duncan Phillips is Aussie), coupled with this great live recording featuring a well-balanced mix of live crowds and instruments, reminds us of how much God has used this group of Christ-loving men to spread the Good News of Christ to the nations. One of my favourite live albums this year (along with Passion: White Flag and Live Worship at Vertical Church), Newsboys' powerful album is also a reminder of new music to come. With great anticipation for new music to come in 2013, this is a good album to purchase if you're fans of dc Talk or of just great modern worship with a rockier edge. Well done Newsboys for such an entertaining and compelling album!
RIYL: Third Day, Peter Furler, dc Talk, TobyMac
Buy the Album: iTunes/Amazon mp3