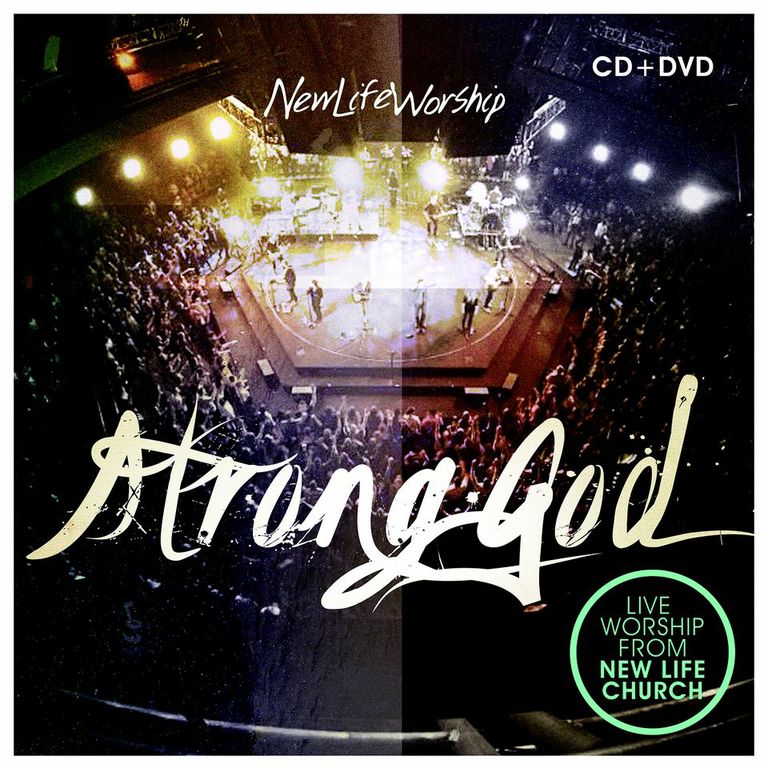 Artist: New Life Worship
Title: Strong God
Label: Integrity Music
Release Date: 8/6/13
Reviewer: Jonathan Andre
Tracklisting:
Jesus Reigns (featuring Jon Egan)
All To Him (featuring Cory Asbury)
Victorious God (featuring Brad Parsley)
Strong God (featuring Jon Egan)
More Than Enough (featuring Abby Merkel and Nico Perez)
More Than Enough (Reprise)
Ascribe (featuring Cory Asbury)
Unassailable (featuring Jon Egan)
Unassailable (Reprise)
Who Compares (featuring Brad Parsley)
Love Divine (featuring Rachael Kiehne and Jonathan Moos)
Alive and Free (featuring Brad Parsley)
When one surveys the landscape of worship movements and bands in the Christian music industry at the moment, they can easily use more than two hands, and quite possibly be at a loss about what to listen to and which artists to look into and follow. From artists like Paul Baloche, Kari Jobe, Chris Tomlin, Meredith Andrews and David Crowder, to bands like All Sons and Daughters, Hillsong, Bethel and Rend Collective Experiment; it can be easy to forget a release like New Life Worship's newest album (released in the first week of August 2013). With Passion, Hillsong and Jesus Culture primarily being the more favourable and popular worship movements currently, this band from Colorado, led by Desperation Band worship leader Jon Egan, gives us great worship certain to be a winner amongst listeners of lots of live music. While it was the first album from New Life Worship that I've listened to from start to finish, I must admit that this album is possibly one of the better worship albums from Integrity Music this year (alongside All Sons and Daughters Live and Martin Smith's God's Great Dance Floor Step 01). Featuring Cory Ashbury from IHOP (International House of Prayer) as well as Jon Egan and worship director Brad Parsley, New Life Worship (the worship division of New Life Church, a megachurch in Colorado Springs) have delivered 12 songs full of energy and enthusiasm. A great album to purchase if you're fans of worship from artists like Desperation Band, Gateway Worship or Hillsong, we are met with heartfelt songs for the church. With songs from Jon my favourite, Strong God is one of my favourite worship albums within the last half of the year, reminding us through both the title track and the album as a whole that our God is full of strength and that He is faithful to His promises that we can rely on Him using His strength as our guide, hope, inner compass and reminder that '…there is none higher, there is none greater, there is none stronger than our God…' ('Strong God').
'Jesus Reigns' starts off the album with an explosive guitar sound to create a sense of epicness about the melody, lyrics and material being delivered by worship leader Jon Egan. The voice behind Desperation Band and their songs 'Overcome' and 'Here in Your Presence'; Jon declares with all his heart and mind that Jesus reigns, preparing our own hearts through powerful lyrical moments that '…from the oceans to city gates, from the depths to the highest place, there's a truth that will never fail, we declare…' As we witness a song that's able to bring listeners of it into spontaneous and congregational worship that reminds us of how elevated and worthy God is on His throne, we are able to come prepared with nothing to give but our lives as a token of thanks to our Father. While some may see this album song opener as a carbon copy of something Hillsong may perform in their live set, Jon's infectiously enjoyable voice and powerful emotions shown through his vocal delivery on this song is something that'll certainly promote 'Jesus Reigns' as one of my favourite songs on the album. The title track, 'Strong God' (also performed by Jon on this album) is by far my favourite Desperation Band recorded song (alongside 'I Am Free' and 'Overcome'). On this album as one of the standouts, New Life Worship deliver a moment of worshipful praise as we collectively '…sing out, raise your hands and shout out, awesome is our strong God, mighty is our God…' The song has become an anthem since Desperation Band recorded it on their 2012 album, Center of it All. Co-written with worship leader and artist Meredith Andrews, it was once again brought to the fore earlier on during the year, with the song being one of the highlights on the Dove Award nominated Worth It All. Released to radio format in both Desperation Band and Meredith Andrews's discography; it once again delivers a powerful anthemic moment here on this latest New Life album. Full of enthusiasm, emotion and powerful moments where the congregation take over and sing as one to our own strong God, this is a great song to employ in Sunday worship services, and alongside 'Oceans (Where Feet May Fail)', 'Strong God' is my favourite worship song of 2013! Well done Jon and New Life for such an emotive and compelling song recording!
With Jon being the primary songwriter and contributor to many New Life Worship albums in the past, it is on Strong God that a variety of musicians and singers take part, with each new worship leader on each of the songs providing a unique representation of corporate worship leading on the album. Jon continues to lend his vocals on 'Unassailable' (and the reprise to the song), both standing at a combined 9 minutes as we witness a moment of powerful worship with everyone lifting up the name of Christ and declaring Him to be the unassailable one- unable to be attacked, or defeated (as google defines the term as). Declaring God to be forever-reigning is something that we as Christians can offer Him at the least, considering His very own sacrifice for our pardon of sin and debts. With this song rising up from a piano ballad to invite listeners into a guitar driven anthem full of intense charisma and emotional emphasis drawn to the fore by Jon as he leads by example with abandon; this melody co-written with Brad Parsley and worship leader Dustin Smith will certainly be recorded as a studio version and hopefully placed on Desperation Band's new album next year (I'll be pleasantly surprised if they don't). With the guitar and keyboards alternating in terms of which instrument takes the prominent lead at different times of the song, the spontaneous section after 'Unassailable' that lasts for around 3 minutes is a beauty to listen to, as this is a great moment for us to be lost in- praising God with not much words, and just our hearts to convey our thanks as we hear the anthemic style music. It is in these spontaneous moments where the energy and rawness comes out, and this is certainly true of 'Unassailable'. With this little section after the main song reminding myself of the similar efforts Jesus Culture does with their longer tracks, Jon and the rest of the team have delivered a standout in the track, and also one of my favourites on Strong God. Well done Jon for one of my favourite songs on the album (next to 'Strong God') and hopefully one that'll remind listeners that '…every knee will hit the ground, every tongue will resound, that You are Lord…every eye will open wide, every heart realise that You are Lord…'
Apart from Jon, other worship leaders like Cory Asbury (from IHOP), Brad Parsley (Worship Team Director at New Life Church), Abby Merkel and Rachael Kiehne all deliver very sound worship material fit for the Sunday morning service. If you're looking for new songs for the church to introduce to the congregation, look no further than this album. Full of biblical truths, worshipful moments and emotive choruses that create an anthemic and uplifting feeling; we are met with songs that rival much of the live worship albums released this year so far. Originally recorded by Desperation Band and placed on their 2012 album as an opening track, Cory Asbury lends his vocals to 'All To Him', a declaration of worth, thanks and adoration to our Father who extends His hands of forgiveness to each of us who believe and accept. The compelling and hopefully life changing words of how '…our Saviour is Jesus, our future is Jesus, all to Him, all to Him we owe everything…' is a lyric line that is perhaps one of the most powerful on the song. God is our Saviour, Friend and Father, holding together our futures as we are given a promise that everything that happens in our lives are being used by Christ to shape us to become godlier men and women in His sight. Also delivering the more reflective 'Ascribe'; Cory lets listeners know of the qualities of God, listing some of the heartfelt attributes of God packed into 4 and a half minutes. The riveting bridge where Cory declares that God is '…great and marvellous are Your works O Lord. Just and true are all of Your ways in all the earth. Alpha and Omega, Beginning and the End, forever we'll sing the praise of the Lord Most High…' is a great reminder of why we ought to deliver our praises, knowing that because of God's love and never-ending pursuit of us, we can be forever in communion with Him both now and for eternity.
From the Brad Parsley led melodies of 'Victorious God' (an upbeat somewhat repetitive melody describing how Jesus conquered death, reigning victorious and advocating for us constantly), 'Who Compares' (a worshipful ballad giving thanks to the Lord and reminding us that there is no one that can compare to or with Him), and the upbeat dance worship anthem album ender 'Alive and Free', a party-esque track that celebrates Christ's resurrection; to the duet of 'Love Divine', sung by Rachael Kiehne and Jonathan Moos, which starts off slow as a piano ballad and starts to build up pace and introduces electric guitars as the bridge starts up; it is the duet of 'More Than Enough' that is my favourite track on the album that isn't led by Jon Egan. Sung by worship leaders Abby Merkel and Nico Perez, we are met with a light electric guitar introduction as Abby channels some Brooke Fraser to invite listeners to seek more of Jesus, His glory, and grace. The chorus that declares that He is '…great in power, great in splendour, great in wonder, more than enough, strong and able, true and faithful, Jesus Saviour, more than enough…' is enough truth there to comfort, console, uplift and unify as we sing aloud (either individually or as a group) that it is Christ and everything that He is that is more than enough for us and the lives we lead. Again following a similar structure to Jon Egan's song 'Unassailable', it is once again the spontaneous second track that tags onto 'More Than Enough' that truly captures the moment of worship as both Abby and Nico use that as a platform to engage in the free worship normally associated with longer songs. With 'More Than Enough', 'Unassailable' and 'Strong God' arguably becoming some of my favourite worship songs since 'Oceans (Where Feet May Fail)'; both Abby and Nico ought to be commended for providing such a poignant and well thought out song that's certain to be in churches for many more months and years to come!
Overall: While not necessarily in the same category in terms of popularity as Hillsong, Passion, Bethel Music or All Sons and Daughters, New Life Worship nevertheless deliver well on providing worship songs for congregations on the Sunday morning (or evening), with their goal to continuously remind us of God's great grace being a success. While what drew me to this album was Jon Egan and his reputation in Desperation Band, the album as a whole provided me with some decent melodies and heartfelt songs, with myself finding that I enjoyed the other tracks around the same as Jon's. From 'More than Enough' to 'Unassailable' and 'Strong God'; this album that releases on the same day as ones from Audrey Assad, The Digital Age, Soulfire Revolution and Tricia Brock has given us great moments of clarity as we are reminded of God's great strength and power to deliver us out of any situation we are in. One of the standout albums of August, this is a perfect purchase if you enjoy corporate live worship albums a la Hillsong or Bethel!
RIYL: Bethel, Hillsong, Gateway Worship, Elevation Worship
Buy the Album: iTunes/Amazon mp3