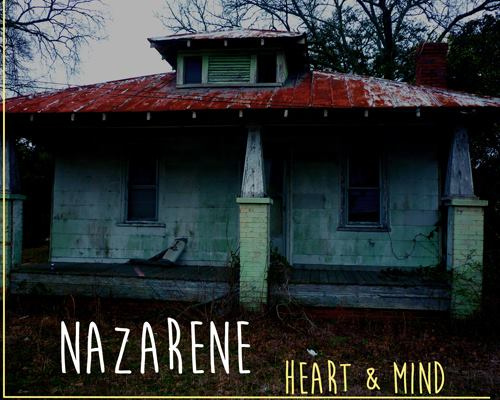 Artist: Nazarene
Title: Heart & Mind
Label: N/A
Release Date: 03/07/2014
Reviewer: Vince Azzarello
Tracklisting:
1.  Still Breathing
2.  Lost
3.  Roots
4.  When The Memories Return
5.  Jericho
Heart & Mind is the debut EP from Wilmington, North Carolina natives Nazarene. Formed only one year ago, the guys from Nazarene are pretty green behind the gills. But even in their short existence they've gone through a trial by fire, with hurdles like a name change and two founding members leaving the group. With all that can and does happen to young, promising bands, those usually aren't great signs. However, I believe Nazarene has the tools and the talent to make it through and carve out their own niche in the hardcore/metal genre.
The punishing attack begins with "Still Breathing", an excellent opener and my favorite track on the EP. The clanging cymbals introduce a dissonant guitar chord, given strength through the drums that lead you to the powerful vocal entrance. The screamed, "I am consumed by fire" wakes you up from whatever stupor you were in and immediately demands your attention. If the crunchy guitars and emotion-filled screams haven't got you interested yet, keep listening: the song doesn't truly kick in until about 1 minute in. Although most of lyrics on this first track deal with a struggle and the inability to move on, there is hope to be found. Lyrics like, "I'm still breathing, I'm still here and I'm still breathing" gives the listener a glimpse of hope. Musically they keep things interesting with occasional riff changes and strong drum play.
"Lost" is a more generic track. The musical changes throughout the song are still there, yet they seem familiar to the genre. In several places the screaming subsides and the vocalist talks a few of the lyrics. The lyrical pattern seemed unfocused, at times feeling out of place. Loneliness is the topic here, with lines like, "Encouragement only lasts for days", but they hope to find a path away from this depression through God.
"Roots" follows, decrying the faults found in our society, like apathy and the lack of compassion. It's the shortest track on the EP, clocking in at 2:30, but that isn't a bad thing. I enjoy the weight of the guitars, but yet again this track suffers from a lack of originality, and the cadence of the lyrics is muddled in spots.
The tempo is pulled back but the passion isn't on "When The Memories Return". The dreary tone partners well with the somber topic of past struggles and sins, including self-inflicted wounds (cutting). The guitars sound like they are moaning, weeping at the pain of the vocalist. Nazarene won't be known for singing beautifully, but the vocalist does a respectable job when he proclaims, "I choose to be with You". There is a haunting balance between sing and scream, and it works well here.
Ironically, the most positive song on the album is also arguably the hardest. "Jericho" begins with the entire gang shouting, "I've been building up these walls for years!" But the walls have been penetrated by God and friends, using love to "rebui[d] this broken soul." This is a fun track to shout and will surely be a show favorite. As I write this review, I can't help but bob my head to this one.
Overall:
I'm very glad I gave Heart & Mind several listens, because honestly after the first I wasn't too impressed. I didn't hear some of the nuances in their performance that shone through after more spins. They have all the ingredients you want in a hardcore group: crunchy guitars, chaotic vocals, powerful drums, and a positive message. We have heard bands similar to Nazarene before in the hardcore world, but the diversity found in a few of the tracks gave me something to look forward to. On this freshman EP, they have shown musical talent and creativity. They also have a long way to go if they ever hope to establish themselves in the metal music scene. If they are able to push through the hardships and continue to expand their sound, I could see them gaining quite a few fans and having a successful run.
Don't look at my 2 rating and immediately write them off. I wanted to give it a 3, but because of the slightly sub-par production quality I had to slip it down. This is a 2 with a lot of potential.
RIYL: Behold! The City, Nothing Til Blood, Altars, To Speak Of Wolves