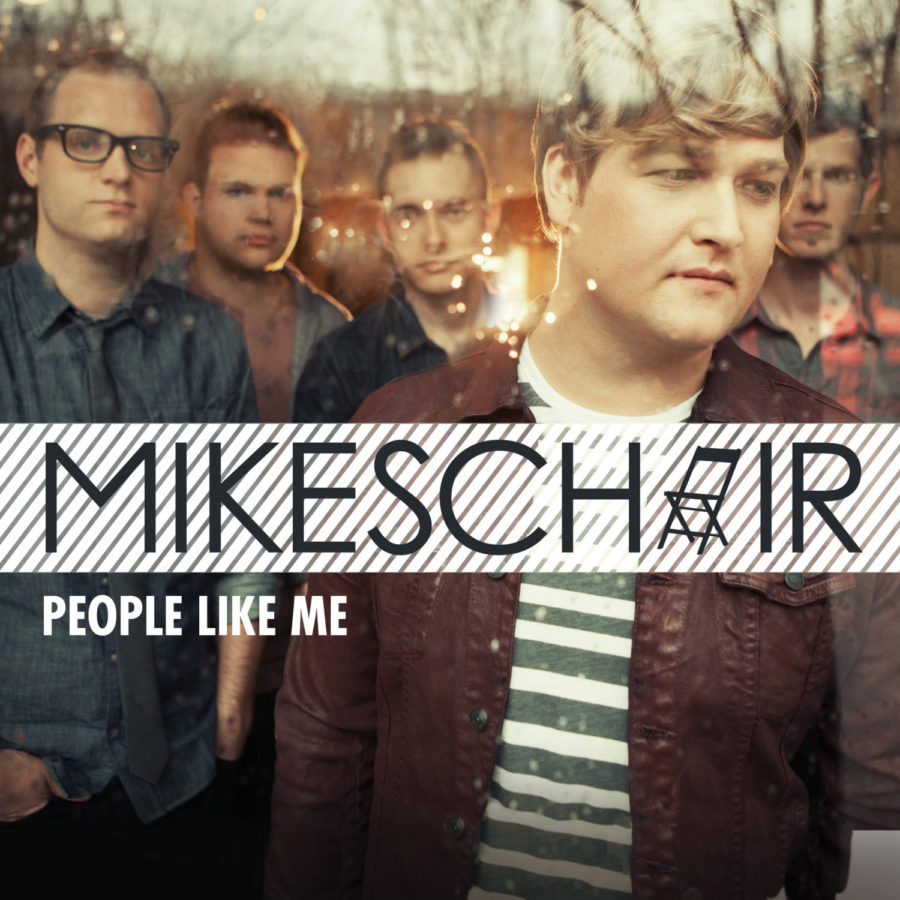 Artist: Mikeschair
Title: People Like Me EP
Label: Curb Records
Release Date: 12/17/13
Reviewer: Jonathan Andre
Tracklisting:
People Like Me
All I Can Do (Thank You)
This is Our Moment
Let the Waters Rise
Someone Worth Dying For
Named after the lead singer Mike's armchair, the band absurdly called MIKESCHAIR have had a respectable musical career since their debut self-titled album on Curb Records in 2009, featuring the hit singles 'Let the Waters Rise' and 'Keep Changing the World'. Releasing their second album A Beautiful Life in 2011 that earned them a Dove Award nomination for Best Pop/Contemporary Album of the Year; Mikeschair continued to showcase their musical arrangements with their 5 song Christmas EP released in 2012, featuring 3 Christmas carols and two originally written Christmas melodies, reminding us of the season drawing near. Now releasing another 5 song EP, this time featuring 3 originally written melodies from their new 2014 album, as well as their beloved hits 'Let the Waters Rise' and 'Someone Worth Dying For', listeners are able to have a great snapshot to what their new album would sound like, while also being able to hopefully draw in newer fans of their music with the introduction of possibly their two most poignant and powerful hits throughout their whole music career. With each song reminding us of our worth in God's eyes, Mike and the rest of the band utilise acoustic guitars and a whole lot of symphonic and orchestral sounds to create a sonically epic anthemic experience for the listener. From motivational and encouraging 'This is Our Moment' to a humble melody of gratitude 'All I Can Do (Thank You)', mikeschair have laid a fantastic groundwork, and if the first three song are any indication of the quality of their brand new album next year, then I'm sure that album will be a great success, most probably being in my top albums of 2014!
'People Like Me', the first song on the EP, the title of the EP, and the last radio single to be released this year from their new album released next year, is perhaps one of my favourite songs from mikeschair ever. Real and honest, raw and powerful, this melody starts off with a synth keyboard and Mike declaring out the heartfelt and confronting lyrics, of '…what if I told you, what would you say? Would you stand me, would you walk away? What if my walls came down and you saw everything? All of my weakness, all of my scars, all that I've hidden deep in my heart for so long, and I'm scared to set it free…' Looking at these above lyrics, I myself sometimes am apprehensive of showing my real self at times, just like Mike. And what is so great about 'People Like Me' is the honesty, with Mike not afraid to voice his concerns and what is prevalent on his heart. With the song hopefully impacting listeners to seek within themselves and see if there are things they themselves are hiding because of fear; we are called in this song to be real and honest, even if it means to unveil the deepest secrets, without any assurance that the person we're going to share it with is going to love us, accept us or look at us the same afterwards. A call to be vulnerable, this is a message of trusting that even if everyone else shuns us because of what demons we have inside of us, we know that '…grace was made for people like me…', knowing that Christ stands by us regardless if anyone else does. As Mike lets us know that '…we're all afraid that if we expose ourselves and we're honest and we're saying 'hey, this is what I'm in the middle of, this is what I'm dealing with', that everyone around us, including the Lord, is gonna walk away…', we as Christians are able to understand that even if we may think that this is true, we know that Christ never abandons us, even and especially at our weakest. A song that'll hopefully bring listeners closer to God rather than away, the band ought to be commended on a melody that's certain to be one of the most played songs on radio next year!
'This is Our Moment' is an anthem about taking our chances and seizing our moment in life, sort of like a 'carpe-diem' moment in song. While not necessarily speaking directly about the Lord, we are still reminded of the moments in our lives; that are certainly God-ordained, that we ought to take, grasp, and run with. The running theme of this moment being ours to take hold of is one to be continually encouraged with, as we understand that as we delve more into God's presence, He will show us opportunities that will be our moments, for us to shine for Him as well as show others the light and love of God as they see us and what we say and do. Motivational and just as enthusiastic as any of their previous melodies, Mike again challenges us with the EP opener, 'All I Can Do (Thank You)'. The most CCM out of the new melodies written and recorded, Mike and the rest of mikeschair bring together booming drums, powerful guitars and some underlying synth, and give us reason to declare our own thanks to the Lord as we hear Mike proclaim out in the chorus that, '…All I can do is thank You for this life I never deserved, wanna thank You for the grace I know I don't have to earn…' Truly a melody about thankfulness and grace if there ever was one, 'All I Can Do' ought not to be a guilt-trip into giving God thanks, but rather an understanding that because of what Christ has done, that it is out of the love and gratitude of His sacrifice that we can thank Him with our deeds, actions and worship towards Him. With all of these three melodies infusing together a symphonic sound that's equally as unique and profound, this different side of the band is sure to bring in more listeners of the symphony/synth genre.
Overall: Ending the album with their famous melodies 'Someone Worth Dying For' (a song about whether or not we believe that God thinks of us as something worth dying for) and 'Let the Waters Rise' (an emotional plea to the Lord to bring the waters higher if it means for us to continually trust Him and realign our own earthly priorities in life); mikeschair continue to bring us heartfelt melodies with a message of hope and restoration. Great for any fan of mikeschair's previous music, this is also an EP to listen to even if you haven't heard of the band before, or if you're wanting to listen to something alongside the musical leanings of other artists like Aaron Shust, Matthew West, Brandon Heath or Josh Wilson. With mikeschair delivering a great central theme of honesty and vulnerability throughout these 5 songs, People Like Me EP is hopefully a great precursor to what we have in store from these men in 2014! Well done Mike and the rest of mikeschair for giving a powerful, poignant and promising EP that paves the way for their new album All or Nothing in 2014.
RIYL: Josh Wilson, Brandon Heath, Matthew West, Aaron Shust
Buy the Album: iTunes