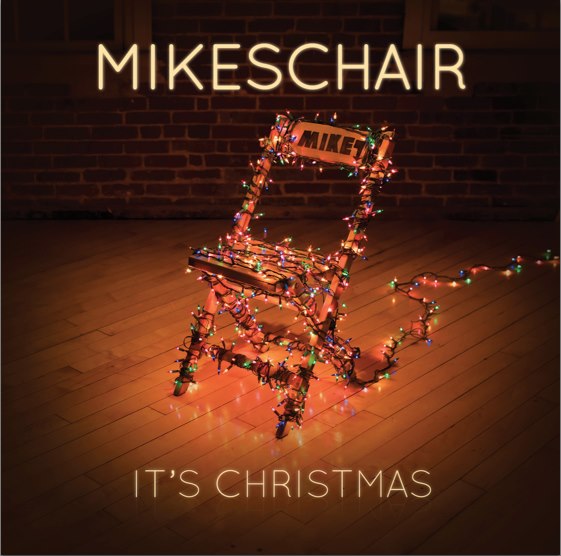 Artist: MIKESCHAIR
Title: It's Christmas EP
Label: Curb Records
Release Date: 11/13/12
Reviewer: Jonathan Andre
Tracklisting:
Redemption Song
Hark! The Herald Angels Sing
God Rest Ye Merry Gentlemen
O Come All Ye Faithful
It's Christmas
Named after the lead singer Mike's armchair, the band absurdly called MIKESCHAIR have had a respectable musical career since their debut self titled album on Curb Records in 2009, featuring the hit singles 'Let the Waters Rise' and 'Keep Changing the World'. Releasing their second album A Beautiful Life in 2011 that earned them a Dove Award nomination for Best Pop/Contemporary Album of the Year; Mikeschair and their beloved and increasingly recognisable lead vocal in Mike Grayson have been able to release their first Christmas album titled It's Christmas. Though it's only 5 songs, this heartfelt collection of Christmas songs boasts 2 original tracks- a major feat when there seems to be a repetition amongst artists to re-sing and perform the same or similar Christmas carols continuously each year. Both original tracks shine in this album of 5 songs, with 'Redemption Song' being released as a download from Mikeschair's Facebook site at the end of 2011. Reminding us that Christ's birth is the reason for our worship and declaration, we are met with a worshipful atmosphere as Mike and the rest of the band show listeners their favourite Christmas carols, as well as some originals too. Bringing hope, cheer, laughter and peace in a time where so many can live in a moment of despair and tragedy, these songs are a call to action from all who are singing it, reminding us that in the midst of celebration and festivities, remembrance is the key as we declare that He is '…Christ the Lord, hosanna we adore Him, we adore Him, Christ the Lord…' ('O Come All Ye Faithful').
'Redemption Song' was released on Facebook in Christmas 2011. With many listeners hearing the song online for almost a year before it was released on an EP format, I was curious to see how the song was, considering that I had only signed up to Facebook in July and therefore listening to the song now was the first time hearing it. Starting off with an electric guitar hook as Mike paints a picture of millions of people around the world singing in the streets and declaring Christ's birth, 'Redemption Song' is one of unification as we join together with Christians around the world and celebrate the moment when Christ entered our own stories to bring us back, inviting us to join His never-ending one. Filled with sleigh bells and a call to '…sing along, this is our redemption song, love has come…to save us, Emmanuel is here now, go and tell the broken-hearted, love has come…to save us….'; Mike has crafted a reminder of Christmas's true meaning, to clear the noise and clutter surrounding us and focus on Christ the gift to us in His birth, death and resurrection. Well done MIKESCHAIR for a poignant melody, and one of my favourite original Christmas songs of 2012.
Christmas carols are always great to hear, as artists at their own interpretation and spin onto already favourite melodies, and add their own musical leanings towards it. 'Hark the Herald Angels Sing' incorporates a pulsating drum beat, an energetic repetitious guitar riff and a backing vocal choir to create a rock track that employs these musical techniques to draw in fans of Kutless, Sanctus Real or even those who enjoy RED or Skillet. One of my favourite renditions of the carol, the drum-only third verse really utilises the drums well, and reminds me of the moment in Jars of Clay's 'Drummer Boy', when Dan Hasteline starts to play the drums every time the song is performed live. Reminding us of how the angels were proclaiming Jesus's birth, 'O Come All Ye Faithful' starts off with a borrowed guitar riff from 'Drummer Boy', and initially I thought there was going to be a medley between the two songs. One of the most known carols by within both the Christian and mainstream industry, my favourite part has always been the '…o come let us adore Him…' part, and as Mike declares these words, his passion and praise is evident as I too sing along with him, declaring God's worth amidst the strings on the track that create an anthemic and orchestral feel. Adding their own tag in the song '…Hosanna we adore Him, we adore You, Christ the Lord…' is nice and well-fitted as I reflect on how it would certainly fit in the worship song 'O Come Let Us Adore Him'- the rendition of the Christmas carol that adds another two 'chorus's at the end- 'we give You all the glory' and 'we'll praise His name forever'.
I cannot think 'God Rest Ye Merry Gentlemen' without being reminded about Meredith Andrews' powerful rendition of the beloved Christmas hymn, and sometimes I think that the original rendition feels incomplete without the 'he has come for us' refrain written by Meredith. MIKESCHAIR on the other hand add strings and a drum kick and an additional verse that I've never heard before- '…"Fear not, then," said the angel, "Let nothing you a fright, this day is born a Saviour of the pure virgin bright, to free all those who trust in Him from Satan's power and might."…' to craft their own rendition, reminding listeners of the good news that needs to be declared to the world, as well to myself as I hear the carol in a new light and view it before a chorus was even added. Finally, 'It's Christmas' is a piano-only track, and one that is a fitting last song to the EP, as Mike reminds us of the season that is fast approaching. Showing listeners that '…it's Christmas, reminds us of the promise and His name is Jesus, rejoice coz God is with us…', the piano and violin accentuate the lyrics and reflective nature of the song as we soak in the meaning of redemption come to Earth- a humbling experience to know how much we need a Saviour and that Jesus is the answer to our deep questions and unsureness.
Overall: With many Christmas albums and EP's this year from artists like Francesca Battistelli, Steven Curtis Chapman, Hillsong, Jeremy Camp, Mandisa and Josh Wilson; MIKESCHAIR have provided us with a heartfelt collection of songs that will certainly remind us of the season drawing near as we are encouraged daily by these lyrics. From riveting anthems to slow reflective songs, It's Christmas EP is great for every MIKESCHAIR fan and the lover of Christmas music. A great addition to any Christmas playlist, the song 'Redemption Song' alone ought to be an indicator of the quality of the EP. Well done MIKESCHAIR for such an enjoyable and compelling album.
RIYL: Sidewalk Prophets, Big Daddy Weave, Aaron Shust, Leeland
Buy the Album: iTunes/Amazon mp3