Album Review :
Mike Farris - Shine For All The People
By Scott Swan in Reviews | Comments closed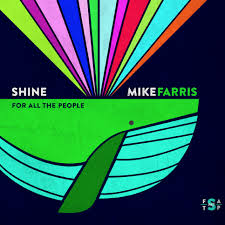 Artist: Mike Farris
Title: Shine For All The People
Label: Compass Records
Release Date: 9/16/14
Reviewer: Scott Swan
Tracklisting
River Jordan
Jonah and the Whale
Sparrow
Mercy Now
Real Fine Day
The Lord Will Make A Way Somehow
Power of Love
Something Keeps telling Me
How It Feels to Be Free
This Little Light
About 15 years ago, I attended a concert with a friend at a local joint called The Hoosier Night Club in Terre Haute, Indiana. Don't ask me what a Hoosier is because even though it's my home state's nickname, I don't know anybody that actually has a clue what it means. Nevertheless, the entertainment that night was a rock band called The Screaming Cheetah Wheelies. Now, despite the fact that a brawl broke out in the front row and eventually spilled over onto the stage knocking over a large speaker, I learned a few things that night: Bands don't like it when knuckleheads mess with their expensive sound equipment, and also, the leader singer of said band is absolutely amazing. He easily belted out lyrics with a soulful wonder that gives instant goosebumps. That singer's name is Mike Farris.
A few years later, Mike went on to find the Lord, kick addictions to both alcohol and pain meds, and was finally able to continue his solo music career. His latest release, Shine for all the People is a culmination of that long road, fighting off demons, going to AA meetings, and finding his spiritual foothold. His reward? How about a Grammy nomination for best "Roots Gospel Album." Not to shabby.
So, how would I describe the sound on this record? Well that's not easy. It's a combination of a lot of different styles and genres. Let see, there's certainly rock, blues, Gospel, R&B, New Orleans Jazz, and how about a little Motown thrown in for good measure. Be advised, the musicianship on this record is second to none. He was able to gather a lot of "A" list musicians and you can certainly tell, the artistry is breathtaking. However, Mike's voice is the real star here. He carries the tunes with the same smooth, effortless delivery I first notice all those years back. It's a voice that's seems to say, "I've been through the dark side, trust me, it's much better here in the light." 
First track "River Jordan" begins with rolling drums and an amazing horn section, eventually settling into a nice bass driven groove. For all you bass geeks out there, it's a groove reminiscent of a classic James Jamerson lick. One that flows like a river, winding and cutting it's way, all the while carrying the tune on it's back. Bluesy "Jonah and the Whale" follows with a classic sound that harkens back to a style you might have heard at a Detroit nightclub back in the 60's (Not that I was alive then). It just has that kind of atmosphere about it, perpetuated by what sounds like a classic Hammond B3 organ. It's the kind of tune in which it would be a near impossibility to not bounce your head or move some body part to the melody. It actually makes me wish it was at least two minutes longer, and I don't often say that about songs.
Following these opening gems, are two soulful Gospel tunes, "Sparrow" and "Mercy Now." Mike's pipes really shine here, gloriously shining a light on our need for God to sustain us with our daily physical and spiritual needs, and also our reliance on Him for the mercy He so graciously gives, despite our short comings. With "The Lord Will Make A Way Somehow" you might imagine Mike heading up a Southern Baptist worship service complete with full backing choir. An encouraging track that is sure to leave your soul lifted. One of my favorites on the record, is the Motown-ish, "Something Keeps Telling Me." You really get a sense of Mike remembering the tough times in his life, and through it all, God still made His presence felt no matter how bleak the moment was. 
The last group of tunes are just a celebration. Both of a life restored, and also the potential of a future life that has been given over to God. With the reins handed over, he finishes the aptly named record, Shine for all the People, doing just that; letting his light shine. Both "How It Feels to be Free" and a tasty remake of the Sunday school classic, "This Little Light," do that in the most admirable fashion. Both are foot stompers that send you out on high note, perhaps even prompting the listener to shine their own light a little more brightly.
Overall: This is an amazing record that I would recommend to any music lover. The musicianship alone is enough to warrant top billing, but combine that with perfectly paired, Gospel laced messages, then you have a real, heart moving masterpiece. As I'm writing this, the Grammy's are tomorrow, so I will be checking to see if he gets the nod for the award, but you won't need the Grammy's to tell you this is a great record, just listen, that will be proof enough.
RIYL: early Motown, Double Trouble, Screaming Cheetah Wheelies