Album Review :
Michael Ketterer & United Pursuit - The Wild Inside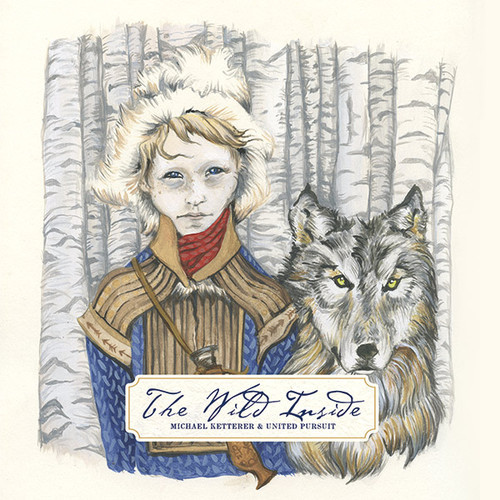 Artist: Michael Ketterer & United Pursuit
Album: The Wild Inside
Label: United Pursuit
Release: 02/24/2014
Reviewer: Josh Hamm
Tracklisting:
Wild One
Awaken The Child
For Freedom
Be Your Heart
Praises
Shine
My Salvation
Dry and Broken
Pressing On
The Real Thing
Coming Alive
One Who Lives
United Pursuit is a community of musicians based out of Knoxville, Tennessee. Started by missionaries Nathan Fray, Jake LeBoeuf, and Will Reagan, it's expanded behind its humble beginnings as a tiny recording studio and house of worship to become an umbrella for great artists and creating music that's been heard and played around the world. Michael Ketterer is a somewhat recent addition to their family, and from what I can tell from both this album and his last full length, Love / War / Solar System, it's been a good fit.
Featuring anthemic worship that doesn't fit the mould, The Wild Inside reminds me John Mark McMillan's Borderland, albeit more traditional in its lyrics and with a heavier emphasis on emotional overflow. There's also a decidedly 80s vibe (which seems to be a part of a larger trend in the current worship music scene…), mixed with some electronic elements that gives it pop feeling without losing the large sound of U2 to mind. It's also an interesting mix lyrically. It's mostly a blend of traditional worship lyrics, with spontaneity and above average delivery (you can tell that United Pursuit artists have been behind hits such as "Break Every Chain", "Fill Me Up", and "Come Away", all popularized by Jesus Culture). But it also has a person tinge to it that gives a deeper undercurrent to the songs, grounds them so that what could come across as cliche by another band becomes meaningful here.
The album has a strong opener with "Wild One" (re-purposed from Ketterer's previous album Love / War / Solar System): it's a slow, prayerful cry of desperation that sets the stage for an album that's near bursting with longing and desire to reconcile ourselves with God. It transitions to a lively synth and perky, reverb happy guitar, creating a nifty groove in "Awaken The Child", which is another highlight of the album. I'm not a huge fan of the chorus, but the song as a whole is too interesting not to like.
Unfortunately, I can't make that claim about the album as a whole. While it's certainly full of gems, it's difficult to separate them from the lacklustre songs. The Wild Inside suffers from a condition I've previously dubbed "The Hillsong Syndrome": too many songs sound too similar for comfort, and while listening to any one individually is fine, listening to the album as a whole is tiresome.The songs are different, but their general gist isn't diverse enough for my taste.
Now, that being said, it may be that I'm not in the right mood to listen to this style of music for just over an hour; because there is some very fine musicianship going on in this collection of songs. The offbeat percussion of "Praises", plus the faded strings and the unique inflected vocals drive it home. "Pressing On" connects on a level that gives me shivers. The percussion, punctuated with driving strings and subtle guitars is reminiscent of Future of Forestry, and the production is pitch perfect. The piano opening "The Real Thing", and the subsequent song, inexplicably draws me in towards it. The closer, "One Who Lives," is great, leading in with a soft opening and then building into a massive choral chorus that pours out the album's emotional buildup fairly well.
Overall: While not perfect, The Wild Inside is an ambitious and powerful album. It's not often that I come across a worship album that's as musically impressive and inspirational as this one, at least, without being flashy and drawing attention to itself. Michael Ketterer and United Pursuit have done an admirable job bridging the gap between musical creativity and mass appeal, staying relevant while expanding the boundaries of what is relevant in Christian worship.
RIYL: John Mark McMillan, Jesus Culture, The Remission Flow, Kim Walker, The Choir