Album Review :
Memphis May Fire - Unconditional
By Scott Swan in Reviews | Comments closed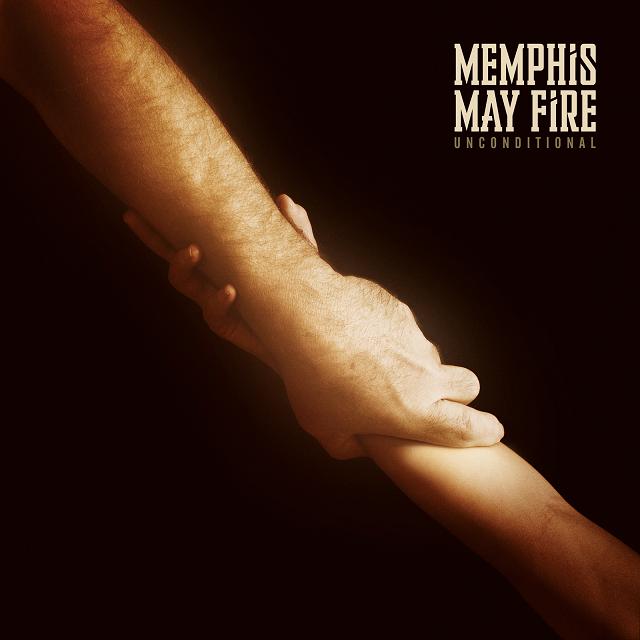 Artist: Memphis May Fire
Title: Unconditional
Label: Rise Records
Release Date: 03/25/14
Reviewer: Scott Swan
Tracklisting:
No Ordinary Love

Beneath The Skin
Sleepless Nights
The Answer
Possibilities
Speechless
The Rose
Not Enough
Need to Be
Pharisees
Divinity
For some unknown reason, Memphis May Fire has been one of those bands that has escaped from my radar. I just haven't gotten into them. Not by choice really, just more happenstance, I guess. I just knew they seemed to be pretty popular, and I needed see what's going on here. So with a fresh perspective and a totally clean slate, I am throwing myself headlong into their newest release "Unconditional". After I few songs, I knew that not getting my ears hooked up with this band before was a big mistake. It's one of those moments you feel like giving yourself a swift kick in the rear.
For me, MMF's sound is a little hard to put an exact label on. I guess I would describe it has hard/heavy rock with some metalcore interwoven throughout. The entirety of the musical composition is extremely well thought out. Hard driving guitars bring the groove, while other musical elements like strings and some electronica parts that add a pleasing atmospheric feeling to the album. Lyrically, the songs really come to life with Matty Mullins's sharp vocals and intense emotional delivery on the screams. I felt the themes on this record were very human, but also quite spiritual.
For example, You really feel the anguish and hurt in the tune "Sleepless Nights." Dealing with Matty's own battle with anxiety and depression. You know this pain is not known from second-hand knowledge, but born of experience, as the following words express: "I live inside my poisoned mind/It leaves me paralyzed (it leaves me paralyzed)/My visions blurred/My words are slurred/I think I might, might die tonight."
Then the very next song "The Answer" provides the hope for this apparent hopeless situation:"I never would have found my way if I didn't realize I was lost in the first place/Amazing grace how sweet the sound/I never could have picked myself up off the ground/Now I see it's not about the things I've done/but what you've done in me./Now I see fear is irrelevant because you know my every need." A nice interplay between these songs here, not only lyrically, but also through the composition of the music. There certainly is a "full" sound to this record. As I said earlier, it can almost be described as symphonic. I plethora of instrumentation centered around the heavy guitar grooves and some serious drumming. The bass drum on this record certainly has that metalcore feel.
I'm always a sucker for a "change the world" type of song. The tune "Possibilities" is just that type. A hard rocking tune that mixes some great drumming, with an inspiring chorus. A cool portion of this song is toward the end with the heavy screaming of "Remove the veil from your eyes!/We could move mountains if we only tried!" The band turns it down a notch with track "Speechless." An atmospheric number that speaks of wanting to drop your defenses in order for true love to take root. Although dragging a little, it does bring a nice change of pace and shows the band's versatility. It's also clear in the softer moments of this record that Matty is not just a screamer, but he can really sing.
One of my favorite tunes is "Not Enough." The brisk pace driven by Kellen McGregor's crunching guitar licks, that doesn't relent much. With uplifting lyrics like, "This world wants me dead/Dead to the truth and buried from the inside out/But I cannot be shaken, I won't be moved./My crown is eternal/My crown is eternal! My crown is eternal," it's hard not to get on board with this tune. I have noticed several band that have songs about hypocrisy lately (must be something to it), and MMF is no different here with "Pharisee." I sharp tongue rocker about practicing what you preach and modern day Pharisees who are living a lie.
Overall: MMF has a lot to offer with this release. Trying to find things wrong with this record is not an easy task. The music is solid with some really great and lasting moments. The lyrics are passionate, with a lot of spiritual content. With all of this said, it may seem strange to say there is still something missing that would have put a really good record into the category of great. Some might disagree, but I just wish this album had more of an unpolished edge to it. I like it when the vocals and guitars slap you across the face, and I think maybe it's that element I wasn't getting enough of here. Just a little to "put together" for me. Nevertheless, a very solid record that listeners throughout the rock genre will be able to get something out of and enjoy.
RIYL: akissforjersey, We Came as Romans, The Word Alive