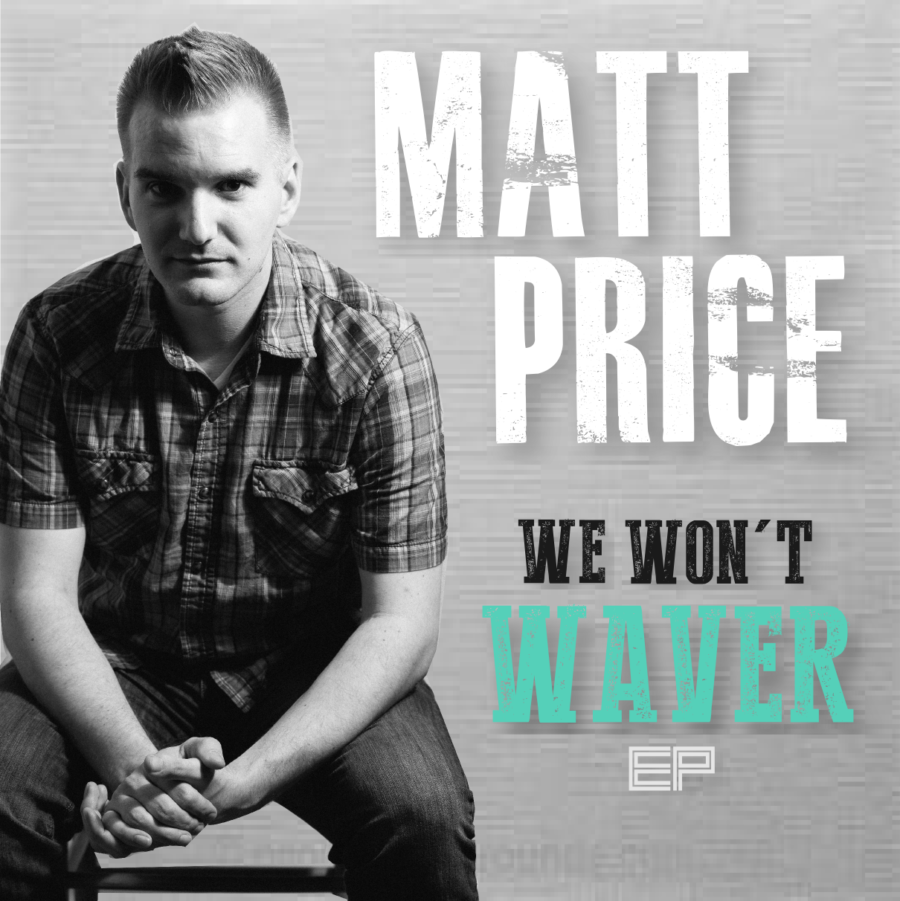 Artist: Matt Price
Title: We Won't Waver
Label: independent
Release Date: 9/24/13
Reviewer: Jonathan Andre
Tracklisting:
The One We Want Tonight
When the Sky Falls
Let Your Life Flow
One Life
We Won't Waver
God Who Saves
Heaven and Earth
Singer songwriter Matt Price's first EP We Won't Waver released on September 24th, and while I have never heard of this artist before (in fact, this is his first EP or album ever), his EP has been one where I've listened to it and initially thought I have heard him before (even though I know I haven't). It's funny how some artists could sound similar, with Matt echoing vocal similarities to Jadon Lavik and Matt Butler from Newsong. While his music portrays a great CCM sound, his music to accompany his radio friendly tracks is nothing but unique, powerful and nicely choreographed together to produce some of the most enjoyable CCM-like songs since Mandisa's Overcomer. With Matt influenced by Michael W. Smith mostly in his pursuit of a career in worship music, we are able to witness a heartfelt moment as Matt '…was so moved and touched, and I knew from that moment on that I wanted to make music that would impact others deeply. I knew that God was calling me to ministry…' With Matt working with producer Cindy Wilt Colville (Building 429, Matthew West) to create this EP, as well as sharing the stage in some of his live shows with artists like Newsong and Francesca Battistelli, We Won't Waver is a great album if you enjoy artists similar to the style of Matt, from Newsong, Matthew West and Jadon Lavik, to Aaron Shust and Chris August.
With only 7 tracks on the album (it could also be called a long-ish EP); Matt wastes no time in declaring what he longs for listeners to hear and understand, with the opening track 'The One We Want Tonight'. With big drums and a strumming electric guitar solo start akin to something that Kutless or Building 429 would do; Matt declares that God is the one we want tonight (and every day and night after as we continuously long for His presence everyday). An explosive start that places Matt's genre of music (just from listening to the first track) right in the same place as Building 429 or Newsboys; Matt's enthusiasm and energetic vocals is clearly heard on the first track. Standing at a very short 2 minutes 53 seconds; he proclaims out his message quickly yet effectively, reminding us of His own personal choice to declare Christ as His desire, and also allowing ourselves to see within our hearts if we're going to do the same. 'When the Sky Falls', a piano ballad and something that reminds us of what a radio single from Matt sounds like; is a message full of trust and hope, as we witness a Job like situation and Matt crying out at the end of it all that '…even when the skies fall, and the ground shakes, You never change, Your love remains, even when the floods rise and waters rush away, You never change, Your love remains…' With light acoustics and electric guitar, Matt's powerful vocals permeate every inch of this uplifting anthem, a song that's destined to become a standout on this album and throughout Matt's music career as he continues in months and years ahead.
Also investing in the radio hit trend with the slightly electronic 'Let Your Life Flow', promoting a message of encouragement to us to allow God's love to flow from us to others as we unconditionally love on the people we meet just like how God unconditionally loved us; as well as the piano prominent 'One Life' that promotes a theme of unity, hope and us Christians showing Christ's love to those we meet; Matt's messages always continue to bless and hopefully impact the lives of listeners around the world. With the title track again placing the keyboard in the foreground as Matt delivers his decent VOTA frontman Bryan Olessen impersonation in a song that fervently and powerfully reminds us of how '…we won't be shaken by the struggles that come, our hearts awakened by the power of Your love, in You alone we place our hope, our future secure, no we won't waver, You are our anchor…', We Won't Waver is an album that continuously channels a hopeful message that whatever comes in this life is nothing compared to the love and acceptance by God to us that will hopefully be used by us as comfort in the situations we face each day. Ending the album with themes about fervent and undeniable praise to our Father (the light electric guitar driven 'God Who Saves') and the thankfulness from us to God for the love He gives to us and that He has the power to '…move heaven and earth…' ('Heaven and Earth'); Matt's balance of both ballads, upbeat songs and other melodies to reflect upon provides us with a nice mix across these seven tracks.
Overall: Not knowing anything about Matt Price may be a good thing when it comes to reviewing this album- with no preconceptions, and no expectations, Matt's album provides us with great CCM, worship, pop-rock and reflective music all within the confines of 7 tracks. With his voice and music providing comparisons between him and other bands like VOTA, Building 429, Jadon Lavik and Newsong; Matt Price, if his second musical offering (whether it is an EP or an album) is just as good as his first, his future within the CCM and pop/rock music industry will continue to grow from strength to strength. From the title track to 'Heaven and Earth' and 'When the Sky Falls'; this album, though released on the same day as albums from Phil Wickham, WOW, Dara Maclean and The Neverclaim, is worthy to take a listen to. Though relatively unknown, I'm sure this album, albeit a bit short, will certainly place him on the map as one of the rising CCM stars of 2013 so far. Well done Matt for such an inspiring and compelling debut EP!
RIYL: Newsong, Building 429, Jadon Lavik, VOTA
Buy the Album: iTunes/Amazon mp3