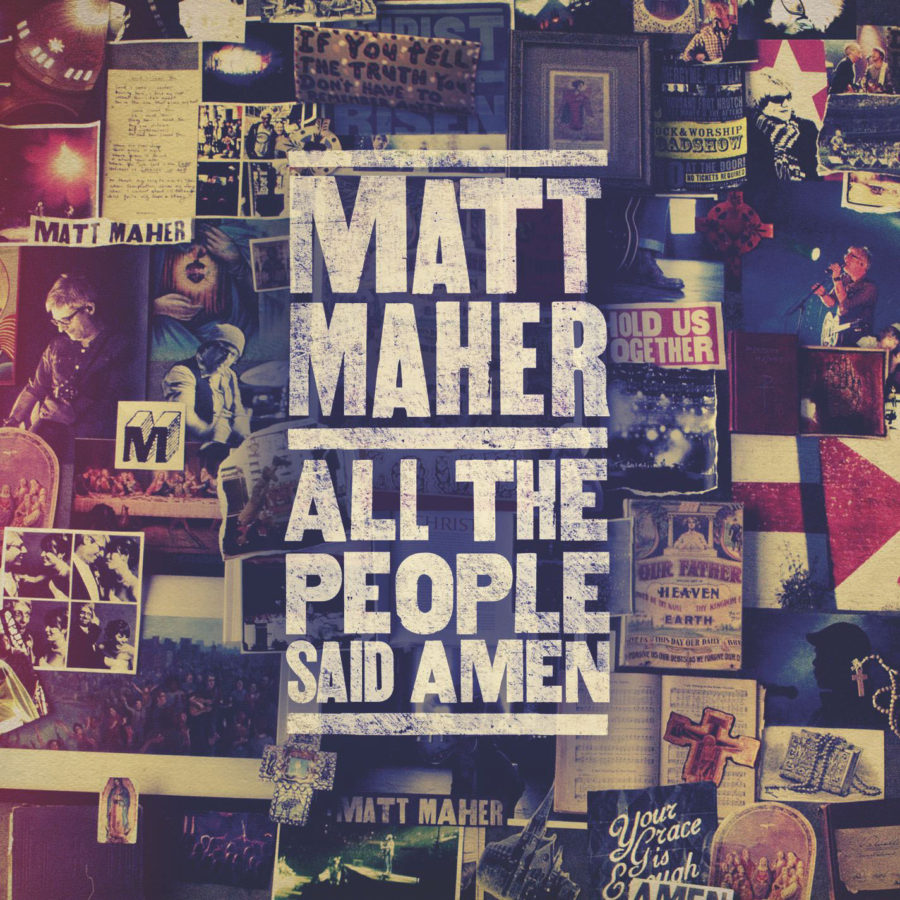 Artist: Matt Maher
Title: All The People Said Amen
Label: Essential Records
Release Date: 4/23/13
Reviewer: Jonathan Andre
Tracklisting:
All The People Said Amen
Alive Again (Live)
Burning in My Soul
Lord, I Need You
Great Things (Live)
On My Way (Live)
Hold us Together (Live)
Your Grace is Enough (Live)
Adoration (Live)
Christ is Risen (Live)
Turn Around (Live)
Mighty Fortress
It is Good (Live)
Famous for his radio hits like 'Your Grace is Enough', 'Hold Us Together', 'Christ is Risen', and more recently 'Turn Around' (with Country Christian trio Red Roots covering the song on their 2012 album The Middle of Nowhere); Matt Maher's enthusiastic passion and heart for worship is evident through the songs he writes and the music he makes. With him and fellow contemporary artist Audrey Assad being the only Catholics within a largely Protestant Christian music industry (that I know), what Matt's music has shown me personally that God doesn't care about denominations when it comes to making worship music, with much of Matt's music being sung in a variety of both Protestant and Catholic churches around the world. Releasing a mostly-live album in All The People Said Amen with four brand-new studio tracks, Matt's lyrical ingeniousness and maturity has improved as he delivers some of the most passionate and personal songs of his musical career so far. Featuring all the fan favourites like 'Christ is Risen', 'Adoration' and 'Alive Again'; as well as the heartfelt and declaratory song 'Burning in My Soul' (sung by worship leader Brett Younker during the Passion 2013 Conference) and 'Lord I Need You' (co-written with Audrey Assad); this is a great album to purchase if you are a Matt Maher or even Audrey Assad enthusiast, or even if you enjoy great modern worship music in all its formats. Recorded throughout 2012 when Matt was on the road touring, we are given a different glimpse into the already loved and appreciated melodies; as we see the congregation and the loud crowds providing a great addition as the musical atmosphere is improved with a live audience, worshipping alongside Matt as well. Releasing on the same day as Martin Smith's debut CD and All Sons and Daughters' first live album; Matt's new record is sure to be a winner amongst fans of worship music, especially fans of Passion artists, like Matt Redman, Chris Tomlin, Christy Nockels and Kristian Stanfill!
'Lord I Need You' is the first radio single from Matt Maher's latest album, and while it was on Passion 2011: Here For You and sung by Chris Tomlin, the song didn't really impact me when I listened to the Passion 2011 album, however, listening to Matt's version (in fact, Chris Tomlin sung it as a cover, it was Matt who wrote the song with Audrey Assad!) has given me a great appreciation for this heartfelt song, even encouraging me to go back and listen to Chris's rendition of the song again. Starting off the song with a light acoustic guitar presence and Matt prayerfully uttering the humble and heartfelt words of '…Lord, I come, I confess, bowing here I find my rest, without You I fall apart, You're the One that guides my heart…'; we are given a song about coming close to Christ and longing for His presence within us and with us through all circumstances- whether good or bad. Declaring the simple yet equally profound words of how much we need God can be easy for some to declare yet hard for others. Matt reminds us of how much we need the Lord's presence through our daily walk with Him as we hear both him and Audrey perform such a wonderful song full of great harmonies and keyboards; and how '…the whole idea of being dependent on God is just really counter-cultural, but I think that's sort of at the heart of the Gospel—the way of freedom is through surrender…' Humbling to know that it is in our weakness where we find our relationship with Christ growing stronger as we rely more on Him and less on ourselves; 'Lord I Need You' is another great example, just like his songs before, that theological boundaries can be crossed and our differences be laid aside as collectively we cry out to God of how '…every hour I need You…' Well done Matt for one of my favourite new studio songs on All the People Said Amen!
While this new album from Matt is hardly a new record (9 out of the 13 tracks are from his previous records and are just recorded live when he was on tour throughout 2012), the new music that Matt does debut on this album is truly heartfelt and encouraging, enhancing the album but quite a great amount (if the album was made entirely of live renditions of previously recorded songs, I'm not sure how high I would endorse the album!). From 'Lord I Need You' to the fan favourite 'Burning In My Soul' (recently heard during the Passion 2013 conference with worship leader Brett Younker leading the track), Matt's enthusiastic passion shines through. Singing about passion, burning and fire is something many Christians may want to avoid (and why won't you- singing about these things may consciously or even subconsciously bring up images of hell and the like…), yet Matt never shies away from the uncomfortable. Listening to a song that reminds us about unity amongst denominations as we cry out to the Lord '…all together, waiting here as one…', 'Burning in My Soul' does a great job with bringing listeners together in worship and uniting the church with its dedication to shine for Christ, rather than giving us ammunition to divide us on issues that outsiders would say are petty and minor. 'All The People Said Amen', the title track, is an acoustic style country song that reminds us of the unity we humans have- that we're not alone in our pain and that '…we are all the same, in need of mercy, to be forgiven and be free…' An encouraging song that hopefully allows listeners to agree with Matt and understand that whatever differences we have in the sight of men do not translate with what God sees, our equality with God is sure to rouse our spirits as we collectively and individually cry out 'amen' to Matt's assertions and affirming truths. 'Mighty Fortress', the last studio track on the album, gives us a quiet and solemn reminder of God's strength and might, and while the theme isn't that different from Christy Nockels' anthem of the same name (recorded and released on her 2009 album Life Light Up), we can never get enough of the messages and themes that remind us of how '…You are our hope neverfailing, a mighty fortress is our God…' With just the acoustic guitar and strings, Matt's fervent and poignant lyrics are certain to impact many listeners with their powerful truths that show us the beauty and wonder of Christ and the hope given to us through His timely and undeserving sacrifice for us. Well done Matt for 'Mighty Fortress', as well as the other three tracks, that are hopefully going to promote and propel Matt more as a well-respected musician, regardless of his denominational belief system.
The great thing about live tracks is that we can hear the song in a new light with the crowd behind the singer, echoing and repeating the words with great passion as maybe the song in lengthened to encompass a repetition of the chorus, a lengthening of the bridge, or even the crowd singing a section of a song on their own to show us listeners who weren't there at the concert what they have been missing. With Matt choosing some of his beloved tracks to be included on All The People Said Amen, all the fan favourites are there, from 'Turn Around', to 'Christ is Risen', 'Your Grace Is Enough', 'Alive Again', even lesser known tracks like 'On My Way', 'It is Good' and 'Great Things'. With much of these live tracks starting off in a similar way (acoustic guitar and Matt's vocals, while midway through the song, the other instruments come in and the anthem moves into a crescendo and the song builds up to a great finish), it is the song's familiarity and its subject matter, rather than the instrumentation as with other live albums, that will pull in the listener as Matt uses his lyrical prowess and heartfelt praise to create a sense of worship amongst listeners. 'Turn Around' speaks about how even at our lowest, all we have to do is just turn around, rather than the complicated and sometimes legalistic answer we sometimes give of having to furiously repent and atone for our mistakes to the point of guilt washing over us. 'Your Grace is Enough' is a song about the grace of God showering over us, and that it is enough for us to come into God's presence, while 'Great Things' proclaims the greatness of God, and how '…You alone have done great things, I can't boast of anything…'
'Hold Us Together' presents to us some great guitar work and Matt reminding us that it is God's love that holds us together for all time, while the fan favourite 'Christ is Risen' proclaims Christ's resurrection and is possibly the perfect track for an Easter Sunday. While it was a little disappointing to not see 'Rise Up' within the track listing for All The People Said Amen (this was perhaps my favourite song from The Love in Between), it's nice to see the lesser known song and possibly even the most underrated melody, 'On Your Way', be included as part of Matt's live section on the album. Previously on Matt's 2011 studio record, we are met with a journey of sorts, as Matt divulges what our hearts are thinking and feeling, and how everyone is on a journey from birth to death, figuring out our place and our value in this life. With an explosive electric guitar, Matt asks the poignant questions of '…how can you go home again if you're not sure you've ever been? Can a lost man find his way back home…' Our lives are a work in progress, and as we continue to delve more into God's presence, we can be assured that the journey we travel will not be by ourselves as Matt lets us know that we can't travel to our destination by ourselves. One of the pleasant surprises on an album that gives us the best of both live and studio aspects, 'On Your Way' provides All the People Said Amen with a sense of relateability to listeners needing assurance throughout their daily travels. Well done Matt for showing us a different side of a best-of project, together with some studio hits that are sure to become favourites from Matt in months to come!
Overall: All The People Said Amen is a snapshot of Matt's musical career so far. Giving us some of his beloved songs from albums released previously as well as releasing 4 new songs that show us the style of music he is venturing into in the next chapter of his musical life, we are provided with a best-of project that is a standout in 2013, alongside Shawn McDonald's The Analogue Sessions as one of my favourite albums of the year that provides great renditions of already enjoyable studio tracks. Releasing on the same day as Martin Smith's debut album God's Great Dance Floor Step 01 and All Sons and Daughters' new live album, Matt's latest musical offering is sure to attract listeners of his music as well as fans of other similar contemporary/worship artists like Chris Tomlin, Audrey Assad and Kristian Stanfill. While listeners could potentially be hesitant in listening to his music because of his Catholic faith, Matt continues to bridge the gap between Protestants and Catholics (alongside Audrey Assad) to always provide us heartfelt songs that can be sung by both these diverse denominations alike. From the poignant 'Lord I Need You' to the anthem 'Burning In My Soul'; Matt's heart for the presence of God is evident in both himself and the live crowd accompanying him throughout much of the album. Full of life, encouragement and enthusiastic motivation, this is one of the albums you shouldn't miss if you love great modern worship alongside a similar musical vein to artists from Passion, Kari Jobe and Audrey Assad. Well done Matt for such a poetic, engaging and compelling album, and one of my personal standouts in April 2013.
RIYL: Audrey Assad, Kari Jobe, Chris Tomlin, Kristian Stanfill
Buy the Album: iTunes/Amazon mp3