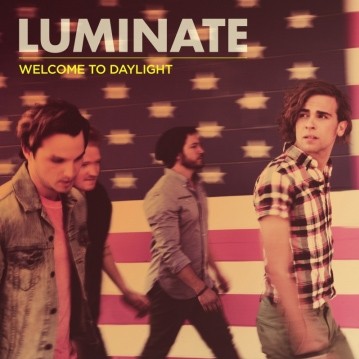 Artist: Luminate
Title: Welcome to Daylight
Label: Sparrow Records
Release Date: 8/28/12
Reviewer: Jonathan Andre
Tracklisting:
Welcome to Daylight
Wake Up
Banner of Love
Heal this Home
The Only Thing that Matters
Never Give Up
Battle for Peace
This Ends Tonight
Love is Loud
Living in a Memory
Hold Us All Together
Filled with guitars, electronics and a very distinct vocal in Samuel Jay Hancock, Luminate started in contemporary Christian music ever since their top-charting hit 'Healing In Your Arms' back in late 2010. Now almost 2 years later with their sophomore album Welcome to Daylight, Luminate have been able to stretch the musical boundaries to create some of their most lyrically sound and ingeniously choreographed songs of their career, full of heartfelt songs of humanity in all its struggles and the God who walks beside us giving us the comfort that we need. With comparisons musically and lyrically to pop worship band Leeland and British worship band Delirious?; these four men from Texas have created an album to savour, produced by Pete Kipley (The Museum, MercyMe) and Christopher Stevens (Sanctus Real, TobyMac) and featuring an abundance of honesty as Sam points out that '…It's a record full of hope and joy, leaving our past regrets behind, allowing the Holy Spirit to overcome our fears, and embracing the life of hope and purpose that God has for all of us. You might even find yourself wanting to dance to a song or two…' Full of liveliness, this dance/worship/pop album is one that is bound to place a smile on your face, regardless of what musical genre you love!
'Banner of Love' originally from the Jesus Calling compilation released March 8th 2011; is re-recorded to be the first single on Welcome to Daylight. Filled with a more electronic leaning, the message is still the same as Sam cries out '…I want show Your love, I wanna lift You higher, I wanna reach out and touch this world…', showing listeners that wherever we go, our main objective is to show Christ's love to others, to '…raise a banner of love up high on these city streets…' With lyrical themes to Delirious's 'Paint the Town Red', Luminate have created a mixture of electronics and hauntingly refreshing vocals from Sam to unveil a message of what it means to be a servant of Christ. Complete with keyboard synths and a great gang vocal towards the end, we are reminded of how as Christians, the Lord has made a great impact upon us that we can't help it but let others know. As lead singer Sam give his assertion, '…we wanted this song to be high energy because it's a song of motivation about being the hands and feet of Jesus in our everyday life…' Well done guys for producing a well-polished melody full of an abundance of energy as we individually and collectively ask God to come and be our banner of love, in our own lives and in the lives of others that we meet in our daily walk with Christ.
'Love Out Loud' reminds me of some guitar experimentation akin to David Crowder*Band, with Luminate declaring God's presence and wonder through all of creation, that '…I can see Your face, I can see Your hands, I can see Your fingerprints, You're everywhere I am, I can hear Your voice, what a beautiful sound…' Reminding me lyrically to 'Fingerprints of God' by Steven Curtis Chapman, and how everything that we see was fashioned by God's hands, Luminate take the theme one step further through all the percussion and looping beats; to boldly assert that Christ is calling to every one of us, through His marvelous handiwork of creation, whispering to those who are seeking that '…every single day we are walking proof that every living thing is an echo of You…' A song to get lost into as we look outside and marvel at God's creation, this is also a call for us to share Christ's love with those who can be blind to God's direction, as we proclaim to them that Christ's '…love is loud…' 'Wake Up' and 'Welcome to Daylight' both start the album with a freshness filled with guitars to move us out of our slumber as Sam proclaims we ought to '…wake up, it's a new day, open up your eyes…step into the light, cos the dead man's sleeping, the new man is alive…now's your time to live…' ('Wake Up'). As these two melodies start to speak hope into the listener, reminding us to seize the day and live life to the full, because of what Christ has done; we begin to understand how precious life really is. With musical parallels to plenty of David Crowder's melodies in his latest album Give Us Rest, the rousing anthem of 'Welcome to Daylight' gives us a meaning if we are searching, stating plain as day that '…live is here and now and it's just begun and destiny is breaking through, welcome to daylight…' A constant refreshing memento that we are a new creation in Christ, both these upbeat guitar-driven dance beats are 2 great songs to start off an album of realisation, redemption and restoration!
With a musical start full of electronic vocal distortion, Luminate's 'Never Give Up' is one of the most powerfully sung melodies on the album, giving an appeal to the rock music lovers. As we are met with the knowledge that sometimes life is hard and how we are '…beaten down by all this hurt, it'd be so much easier to run away…', Sam sings through the encouraging words about how as followers of Christ, we will '…never give up when it all falls down…', giving the listener a ray of hope in the midst of hurt and pain as they turn to God for their remedy. One of the most musically experimented tracks on the album, 'Never Give Up' is one of my favourites, and possibly a radio single in the future. 'Only Thing that Matters' starts with a rousing keyboard riff and percussion beat as Sam gives a declaration that Christ is the only thing that should matter in the life that we all live. As he declares that '…I'm ready for the healing, for my life to begin, there's no use in waiting, You traded life for my sin…', we are encouraged to take a step on the road to a life full of adventure, excitement, fear and hope, all with God alongside us! 'Living in a Memory' expands on theme of taking a step for Christ, giving permission for listeners to forget their past and stop '…wasting time living in a memory, I'm not wasting life, waiting for a chance to breathe…'; featuring a percussion looping undertone creating one of the most musically ingenious songs on the record. Though only 2:49 in length; this heartfelt reminder of moving on from the past is a great addition to a record quite difficult to wrap into a genre (in a positive way!). 'Battle for Peace' shifts the musicality of the record, implementing a folk-acoustic stance towards this worshipful melody, as Sam vulnerably lets the Lord know that '…I will fall down at Your feet, I'm trading this battle for peace…' As listeners gain an appreciation of Samuel's devotion to Christ; we understand that there is a battle within us for our attention, with this song an inspiration of how we should respond to Christ calling us to his side. Well done Luminate!
Two of my favourite songs are 'Holds us all Together' and 'Heal this Home', each with their reminders of how Christ is the redeemer of all things in life. Reminding us that '…You took the place for me, living water wash me clean, Your promise lives inside our hearts…'; 'Holds us all Together' gives a rousing proclamation that Christ is bigger than every circumstance, holding us together as we live our lives in sync with Christ and His love inside us. But it is 'Heal This Home' that strikes a chord (though I'm not married!), reminding me that there is no situation, not even a broken marriage, that God cannot fix. With a strong percussion, great backing vocals and a guitar emphasis, Sam cries out that '…when it feels like there's no way to fix what's wrong, love is strong and God can heal this home…' Well done Sam for painting a real portrayal of how some situations are, as well as giving a solution that '…God restores and opens doors…'
Overall: Luminate are slowly becoming one of my favourite emerging artists from the past few years, along with Tenth Avenue North, Kerrie Roberts, Sidewalk Prophets and Chris August. With such musical diversity and honest lyrical portrayals of Christ's love for His creation, Welcome to Daylight should never be missed, no matter if you love classical or hard rock. Almost certain to receive a Dove Award nomination for Best Pop Contemporary Album of the Year; Luminate's sophomore record is one to write in the record books as one to catapult these 4 men into becoming one of Christian music's most lyrically relevant artists towards young people. Well done Sam and the team for creating one of my favourite albums of August!
RIYL: David Crowder*Band, Leeland, Delirious?, Sanctus Real
Buy the Album: iTunes/Amazon mp3