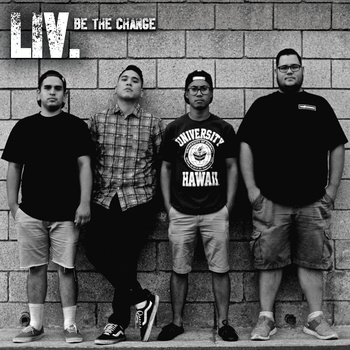 Artist: LIV
Title: Be the Change
Label: On The Attack Records
Release Date: 3/18/2014 4/24/2014
Reviewer: Scott Swan
Tracklisting:
Livin' In Victory

Make Moves
'Till Next Time
Roots
A Standard Issue
Rise
Miles
Be the Change
The New Liberation
Explosive. Passion. Motivating. Forceful
These are a few of the words that come to my mind while listening to the debut record, "Be the Change" from California punk hardcore band LIV. There's a term that is used in the sport of football (American) that is called "smash mouth." When a team is playing smash mouth football, they are not using tricks or gimmicks. They are just lining up and running the ball right through the heart of the opposition, and they can do nothing to stop it. Such can be said for the sounds that will penetrate your ears when you spin this release. A balanced mix of street punk infused hardcore, driven by blistering raw guitars, intense vocals, and a message that will want to make you stand up and take account of yourself. Without a doubt, smash mouth.
A groovy bass line starts off the opening track "Livin' in Victory," and is then quickly off and running. Setting up the brisk pace of the album while also serving as a quick introduction to the band. At just a minute and nineteen seconds, don't blink or you'll miss it. The same can be said for the record as a whole, clocking in at just under twenty-three minutes with just nine tunes all together. "Be the Change" is like a vapor, here one minute, over the next. In somewhat standard punk form, you probably find yourself thinking,"Well, that was quick, but definitely intense and worth every second."
"Make Moves" keeps it rocking with the phrase "Make moves, step out, this is our voice, this is our choice,"  also including a mention of making our "Father proud". Incorporating dueling raspy vocals, LIV combines group punk shouting with the heavier hardcore screaming that after some time, I found quite pleasing to my musical palliate. The song "Roots" talks about remembering where you come from, and staying faithful during those times when it seems the hardest to do so. There are constant themes running throughout the record of staying positive, doing the right thing, and placing your hope in things you can trust.
For me the standout track of the record is the title track, "Be the Change." I repeatedly listened to this song several times in row after I first heard it, and then kept going back to it later, as well. It's just one of those tracks that is special, where everything just seems to come together musically and lyrically. At over four minutes, it is also, by far, the longest tune on the record. It starts off with what sounds like someone delivering a powerful prayer or a pleading message. It then melds into a melodic groove with inspiring, uplifting words that surprisingly caused a wave of emotion in me. It is a simple theme of a person (any person) having a bad day, but still having the will and the strength to claim a good attitude. Being willing to step up and cause change to the environment around them for the better.
"We can start a new way of thinking /We can have a new way of life /We can change our whole generation /If we change our minds
Your day may suck and your smile is gone/ But together we say love on/ Whether or not they're nice to you /Together we'll say love on/"
I find the straight forward lyric presentation combined with the groove of the tune to be very inviting. I still have not seemed to have tired of this tune. If I had to guess, "Be the Change" will likely end up on my "songs of the year" list somewhere. Awesome to hear the group shouting together "Love On!" at the end of the chorus.
Overall: While there is little variance in the music on this short record, it really does pack a rocking punch. The guitars sound great, and in my opinion, the entire album is pretty tight musically. The production is clean, while still leaving some room for the rawness you would expect to hear from a punk record. If you are a fan of punk, I think you will have no trouble liking this album. Hardcore fans should also give this a listen, you might dig it as well. It seems to be from the street, simple, straight to the point, and carries a load of great messages. For this being a debut record, I would think there would be even better things to come from LIV.
RIYL: The Culprits, Jump Ship Quick, Close Your Eyes, Ambassadors of Shalom