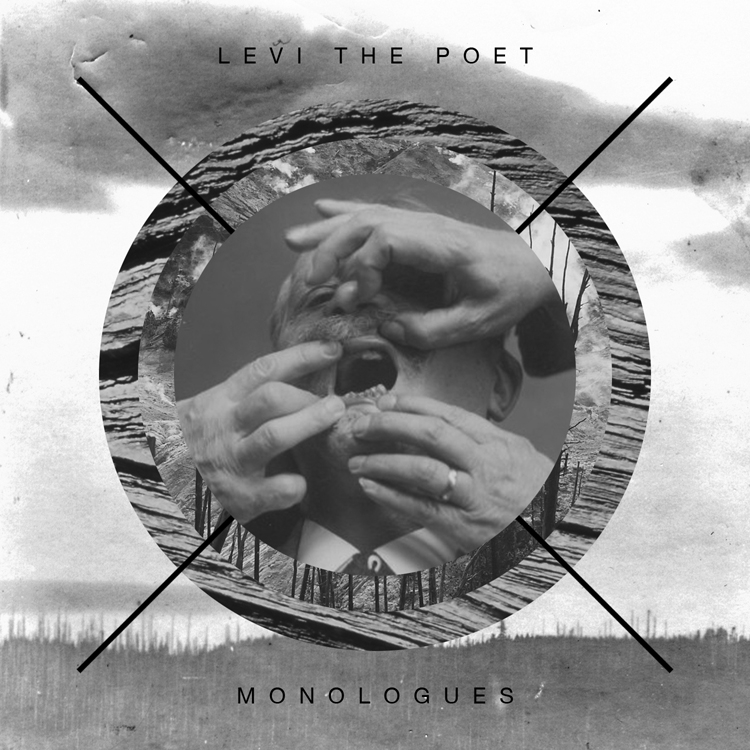 Artist: Levi The Poet
Album: Monologues EP
Release Date: November 22nd, 2011
Trees
Kaleidoscope
Bluer Eyes In The Fall Seas
Leviathon
Memories
Levi The Poet w/ Ghost Ship
I was given an interesting task that I knew I could not pass up. To score a man not based on key, pitch, or musical ability. To score him based on cadence, rhythm and words.  A difficult task for a musician to take on but I knew this was something I had to do. When I was sent an email to do a review on the new Levi The Poet EP "Monologues", the first thing I thought was how can I judge a mans portrait of words. This is my attempt.
From the first second of the first track, "Trees", Levi has you captivated with every screeching word and every gasp of air he breathes in. Speaking about tour and how lonely it gets with his girl at home. He opens the door on what it must be like to be an artist on the road in a different light then others do.  With every word spoken you feel the passion he has to want to get home after a long journey.
Move on to the other tracks and with every word you get pulled in even deeper on the journey of what must be this mans life. From the tale of a hard hearted woman selling her body ("Kaleidoscope"), to a captivating tale of Jesus asking his followers if they remember the memories that they have shared ("Memories"), there is not a dull moment throughout "Monologues".  Sure there are moments when you may get over hearing the deep wheezy breaths taken line to line but close your eyes and sit back and you will get what Levi is trying to say.
The track that sticks out in my mind every listen is "Leviathon".  A track presenting the times around his fathers suicide. A tale of the depression his dad had from the passing of time. Telling the tale "as detailed as the demons did with the four white walls as their canvas", Levi conveys the feelings and the questions he has of his fathers passing. The compelling details on the events leading up to that fatal moment leave one to feel what it must be to lose a family member in such a brutal way.
Overall: This is a pretty short review because there is not much to say. Levi The Poet is a master of words and cadence and has the ability to reveal his life through poetic intelligence. Though most will say he is a Bradley Hathaway knock off with more angst and others may say that he resembles a version of La Dispute with no music, but it isn't the style that is original. Because there is nothing original about the delivery and I do not thing that is the point of Levi's ministry. I believe the point is to get his point across and for the world to see that there is a light at the end of the tunnel. No matter the hinderance and trials that we go through as human beings there is always something to cling to and that is Jesus.