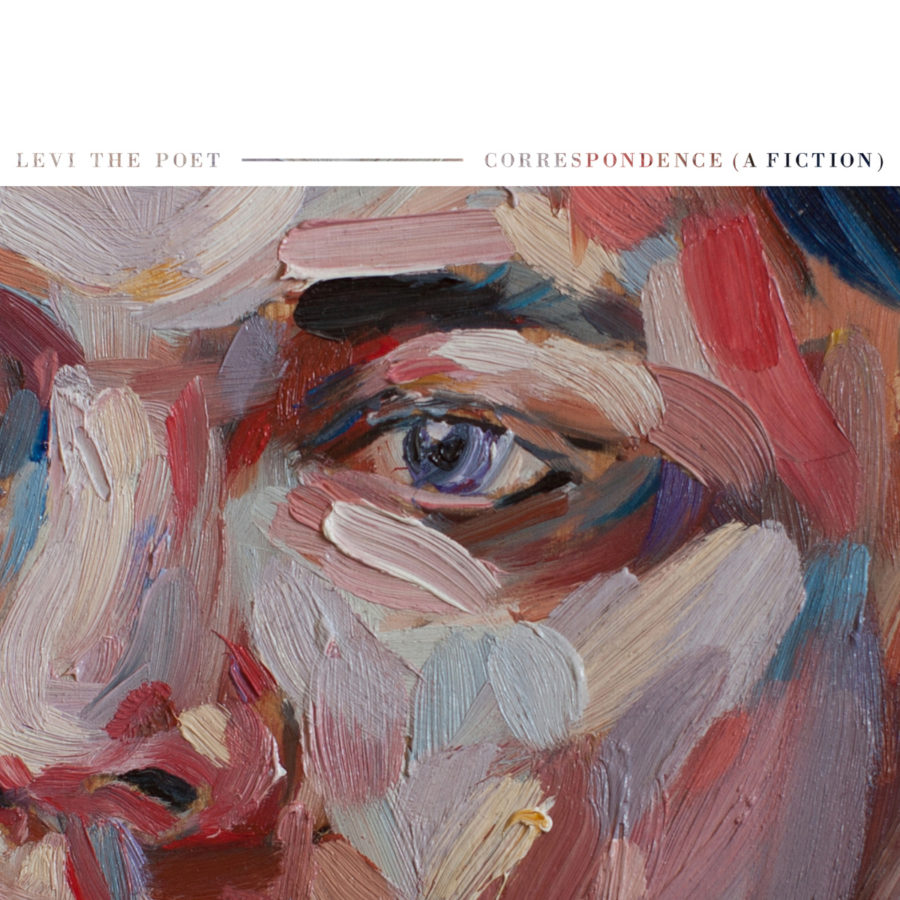 Artist: Levi the Poet
Title: Correspondence (a fiction)
Label: Independent
Release Date: November 17, 2014
Reviewer: Ian Zandi
Track Listing:
Chapter One: When Hearts Are Large
Chapter Two: Tombstone Love Note
Chapter Three: The Great American Game
Chapter Four: Rooster Cogburn In Indian Territory
Chapter Five: Tuxedo Black
Chapter Six: Traditional Values
Chapter Seven: Orphan Theism
Chapter Eight: White Whales Like Black Plagues
Chapter Nine: Cap Gun Death
Chapter Ten: [Like Cushions]
Chapter Eleven: Cul-De-Sac Colonies
Chapter Twelve: Shores, And The New World
Levi the Poet has been doing his thing for over 5 years now. What exactly is his thing? Its not clearly defined, but it does revolve around poetry. After accidentally becoming "Levi the Poet" in 2009, he proceeded to create several recorded ventures of spoken work. His first album that could be labeled as "music" was released in 2012 under the name Seasons. Two years later, he has returned with his first Kickstarter-supported release Correspondence (a fiction).
Naturally evolving from his previous works, Correspondence is his most accessible album to the general public. While he used to convey his emotions by assigning his screaming vocals to read his works, Levi now collaborates with Alex Sugg (of Glowhouse) to form a more cohesive and mesmerizing piece of art. The ambient and tension-building soundtrack to the spoken word makes for an audiobook-like storytelling experience.
There are seven main plotlines known to writers and one of the most well-known is the tragedy. This is the story that Levi chooses to translate along with several themes such as mortality, love, loneliness, revenge, nautical and beauty. The story is told through a series of letters between a sea captain's daughter and a landlocked lover (letters=chapters=songs=poems. Are you keeping up?). Each of these letters are exchanged between lovers through repurposed alcohol bottle that are discarded by the captain.
To make things simpler, Levi the Poet describes the album/story "Moonrise Kingdom meets Moby Dick". He actually name drops Moby Dick alongside several modern and old references such as the Dread Pirate Roberts (The Princess Bride), Rooster Cogburn (True Grit), Field of Dreams, and mythical beings such as Poseidon. These references may place the story somewhere in modern times, but the timeframe really does not matter. The naivety of young love is a story that transcends time. Time is not a figure in a child's imagination.  Additionally, he puts his own infliction and thoughts on some events, resulting in some humorous rants including "Monster movies were made for men on first dates", "but for the love of god, no acoustic guitars, I hate campfire-acoustic-guitar-guys" and wondering aloud whether anybody had actually heard the ending of Romeo and Juliet rather than just romanticizing it.
I have always respected poetry but never really invested myself in it in the way that I have paid attention to this album. I didn't actually have a problem investing myself into this album as it is very intriguing. Like a "normal" story, it could be easy to zone out. Alex's orchestrated instruments and Levi's colorful lyrics provide the perfect antidote for that. Makes the poetry more accessible than, say, Allen Ginsberg's Howl.
With references in "Chapter 7" about C.S. Lewis' definition of beauty, this record reminded me of another one of my recent favorites adapted from Lewis' works, Heath McNease's The Weight of Glory. I think that Correspondence, much like The Weight of Glory, will be a hidden gem that needs to be shared among those who don't know about Levi and his poems.
When I learned that Levi the Poet was from Albuquerque, NM, I thought that it was odd that he would pick a nautical story considering that New Mexico is a landlocked state. I can't imagine how that must be as I have always lived right off of the California beaches my whole life. Somehow, I can still relate to the desert musician with his dry humor. He gets some brownie points* for that.
*Brownie points cannot be redeemed for real brownies. Cash value 1/100 cents
Overall: The grim details of the end of this tragic story might make you think "Wow, this guy must be real fun at parties. Why does he have to be such a downer?" Seeing how great of a storyteller he is, I think he really would be fun at parties. While the stories may have depressing notes, he tells it like it is. Honest. By throwing some instruments in the mix, he has expanded his general audience and made a grander production. He really is the best at what he does. If you ever do get the chance of a lifetime to be at a party with Levi the Poet, just remember one thing. Don't bring an acoustic guitar.
RIYL: Propaganda, Beautiful Eulogy, Heath McNease, Josh Garrels