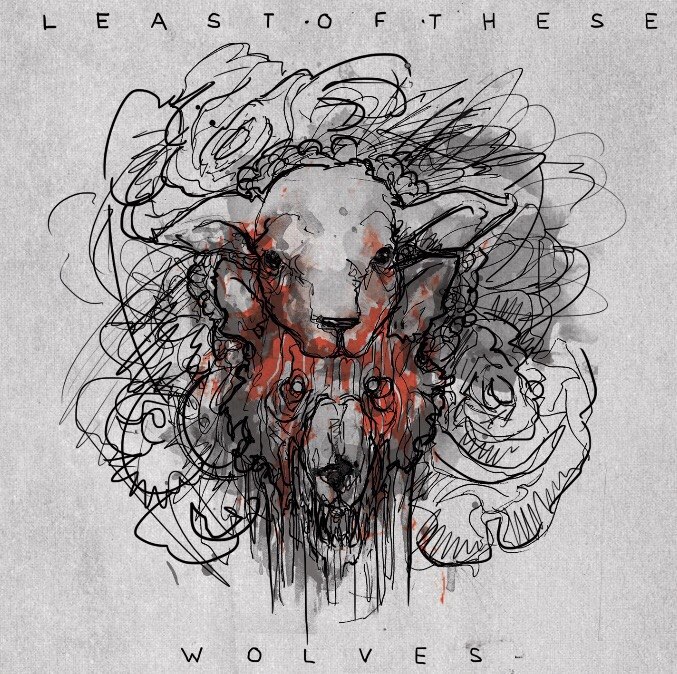 As an artist, it's hard to find your creative identity when circumstances that inspire and incubate your work come and go constantly. One moment, you're pursuing one influence; the next, you're pulled a different direction entirely. Between member changes and switching up the songwriting process, the opening lines of Creo seems befitting of the band's current situation – "I'm not sure who I am anymore."
Wolves is the latest offering from Least of These and follows Mere Image (2015) and Change Will Come (2013). The band's change and growth seems to be equal parts creative and necessity – but Wolves brings plenty of new elements to the table that makes it truly stand out from the rest of the band's discography.
Creo starts with ambient guitars over sleighbells – which immediately reminds me of SONS' Keep Quiet. The vocals turn to screams, but the music stays pretty calm. It's a powerful juxtaposition that is present in plenty of my favorite albums. The song has plenty of groove, and tremolo picking adds another layer of emotion.
Creo blends seamlessly into Overcast, a personal favorite from the EP. Beyond the instrumental progression, the lyrics here are cutting: "Goodbye my friends, I've had such a good time. Thank you so much for distracting my mind. Love conquers fear, at least for tonight. Self-loathing's here to put up a fight." Again, there's a presence of screaming vocals. I feel need to clarify the screams are used sparingly and strategically. The EP is more indie than post-hardcore, though I certainly appreciate both extremes.
Overcast, much like its predecessor, bleeds into the following track. In an interview, the band mentioned the influence of cinematics – and that's present in the ambience, flow, and repeating lyrics concepts on the EP. I appreciate this level of attention to detail and it makes the EP that much more enjoyable.
Paradox exhibits many of the musical elements of the first two tracks, but it's more in line with what you might expect from K Sèra or Kiven; there's a theatrical, jazzy feel to it. Naturally, this means there's a bit of tension in the melody structure. This is appropriately complemented by more screaming.
Winter feels like a mirror-image of Overcast, and some of the lyrics even resurface here. There's a different kind of screaming used here – more like strained singing, if you will, that reminds me of Matty Mullins a bit. "What happened to grace? What happened to faith?"
The title track (and lead single) wastes no time bringing the heat, leading with a guitar line that would have been at home on My Epic's Yet. Overlapping vocal lines form a the basis of a strong ending. In terms of guitarwork, this track is the real highlight.
The EP closes on Cadence, a lyrically-forward track that serves as a critique of wrongful divisions in the church. "What happened to grace? Could it be we're wrong here? We are the wolves, we are the wolves." Unlike many songs that tackle this subject, it comes from a place of humility by also acknowledging the problem is both external and internal. It's coupled with amazing instrumentation and everything I'd hope for from a closing track.
Ultimately, Least of These has caught my interest again and released one of the best collections of songs I've heard this year. While I've had ambivalence to their previous releases, Wolves is a progressive powerhouse with ambient, theatrical, and post-hardcore elements that's instrumentally-cohesive and lyrically-challenging. It's equally parts thrilling and thought-provoking and leaves me eager for their next release.
For fans of: A Hope for Home, SONS, K Sèra, My Epic