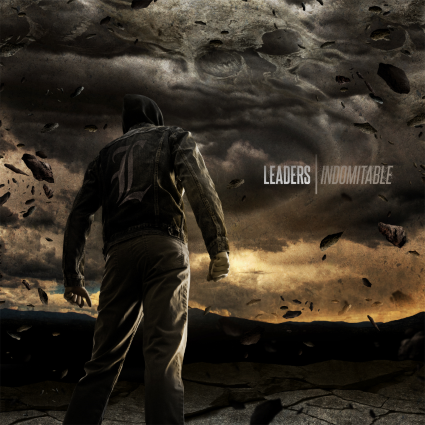 Artist: Leaders
Album: Indomitable
Label: Facedown Records
Release Date: 09.3.13
Reviewer: Lee Brown
Track Listing: 
Hell

Weak Minds (Ft. Brook Reeves)
Dead End
Nightmares
Indomitable
Underdogs
I Know You
Walkers
Pharasaical
Struggles
My Home
As I've continued to note, Facedown Records has been on something of a roll this summer. In spite of having lost several key bands from their roster, the label has continuously put out strong fare in the heavy music genre. For fans of the label, that run will not stop with Leaders' second Facedown effort Indomitable. Following their debut Now We Are Free, the band returns with a refined sound, some amazing Quiggle cover art, and what everyone should come to expect from Facedown bands; relentless brutality set to the backdrop of bold faith.
Those who may not be as familiar with the Facedown family… or, more pointedly, Leaders… will likely find all they need in the band's first video off the album for the song "Hell" (embedded below) to know if this is a band that will capture their hard earned dollars. That is not to say that the album is of the one-note or one-hit variety at all, but that "Hell" captures the essence of what comes to comprise the rest of the Indomitable experience.
"Hell" brings a lyrical and visceral assault that utilizes grungy guitars and straightforward intensity of vocals to produce a powerful and aggressive sound. One thing that stood out on "Hell," for me at least, was the incorporation of some 90's to early 00's grunge guitar and vocalization. I know the band has formerly shared the stage with the likes of Flyleaf and Brian "Head" Welch, and there could be some influence mixed in there. Around the 1:30 mark (or so) in the video above, you even begin to hear some of that Brian Welch-esque influence mixed into the vocals.
Lyrically "Hell," as a sample set for the rest of the album, brings faith-filled lyrics that admit the struggles of life, raging of hell, and even the Church's role in sometimes adding to the problem. Lyrics such as, "Is this really what you want? God is calling your name. Don't let it be too late!" hit their mark with poignancy. Throughout the experience of the album, the lyrics are never overwhelmingly masterful, but neither do they fall short. They lyricism hits a subtle balance between transparency (which is often decried for it's simple nature) and the depth of intensity.
Make no mistake, Leaders has something to say… and they say it well. That being said, their specific themes and topics are also common place for their faith-based flavor of the metal genre, and (more specifically) within the Facedown Family.  Themes of hearing God's voice, the voices of the world, pharasaical Christianity, and finding home in God are not uncommon within these, but is continually welcomed in an (overall) genre that is often lost in the mire.
For many listeners, the highlight track on this album will come with the second track "Weak Minds." Veteran metal-head Brook Reeves of Impending Doom brings and even more intense vocalization to Leaders' already pounding style. "Weak Minds" takes a hard look at truth and the sad fact that many do not stand up for the truth in this world. "Weak Minds" bleeds directly into "Dead End," which begins with the line, "I can still hear your voice in my head, louder and louder." These two songs bleed together thematically in subtle ways and musically share some intense double bass pedal usage and brief spoken word moments. At times the musical pattern are reminiscent of For Today's Portraits  and sometimes bleed closer into some In the Midst of Lions style riffing.
The image of hearing a voice "louder and louder" (with that specific phrase) is reused and flipped for "Nightmares." Where "Dead End" brought imagery of hearing God's voice through the noise, "Nightmares" focuses on the horrible things that still try to compete to make their voice the only one that is heard. However, this track is not a hopeless look at humanity, but a triumphant proclamation to satan himself that the victory is already won. This theme continues through the title track, which features the band laughing at the enemy.
"Underdogs" incorporates some more 90's KoRn-esque guitar work which is well blended into a more distinct hardcore styling and layered into the background. As with the past few tracks, the focus is on the fact that though "we" are the underdog in the fight… just "try and stop us now." Overall, "Underdogs" is a really pleasing experience that nicely bleeds into "I Know You." "I Know You" starts with some skillfully patterned drumming and guitar work that serves as a great underpinning for some heavy vocals. More than most other tracks "I Know You" really shows off the band's talents at their height as there is a nice atmospheric feel created throughout.
"Walkers" returns to the tried and true (and some would say over-played) theme of being the Walking Dead through Christ's death. Musically, "Walkers" brings in some great atmosphere with blaring alarms layered into the background at points and a return to some old-school hardcore styling that reminds of No Innocent Victim on the one hand and more recent acts like Those Who Fear at the same time… and, of course, there is a little Brian "Head" Welch/KoRn style added in for flavor. It is notable that Welch has taken to calling Love and Death's fans "walkers" when Leaders has produced a song that could much better serve as an anthem to that end.
"Pharasiacal" continues to bring some more old-school elements into the mix with faster paced drum/guitar layers that mix together with some quicker vocalizing. Thematically, "Pharasaical" covers the topic of the obvious pharasaical Christianity that surfaces through "cowards" who take religion's chains but not Christ's freedom. This musical pace and classical hardcore stylings continues with "Struggles," which feels a little more skewed towards Dynasty's recent release.
"Struggles" is one part anthemic fight song and one part lyrical healing. For the person facing the world that is "trying and trying and trying to drag me down," "Struggles" is really a welcome dose of medicine that reminds us that "God is in control." The repetition of that line serves to really sink the message into our cortexes and is certainly my prescription for anyone facing particularly difficult times in life.
The album concludes with "My Home." "My Home" is a perfect example of where Indomitable does a great job covering somewhat common themes within the faith-based flavor of the hardcore genre with style. The clean vocals (unique to this song) balance the beautiful brutality that is questioning God in the midst of trials. The proclamation of this song is eternally straightforward, "God, I've finally made it home after losing everything I've owned, but it's all still worth it, now that I'm finally home." The album fades out nicely with a beautiful piano solo.
Overall: Leaders' brings a worthy addition to an already great run of Facedown albums. Fans of hardcore in general and the Facedown Family in particular owe it to themselves to check out this layered experience that captures your attention from the start and grows on you with each listen. Though the themes and (often) the execution are standard fare for the genre as a whole, Leaders has a passion and conviction that grips you and won't let you go.
Indomitable is a great album from start to finish, with no filler added. For some, the guest appearance by Impending Doom's frontman will be worth the admission price alone. I would rate this album above other recent Facedown releases by Colossus, Dynasty, and Those Who Fear (all good albums, mind you), though I would have liked the overall variety to up the ante just a bit to really stand out from the pack.
RIYL: Impending Doom, Those Who Fear, Colossus.