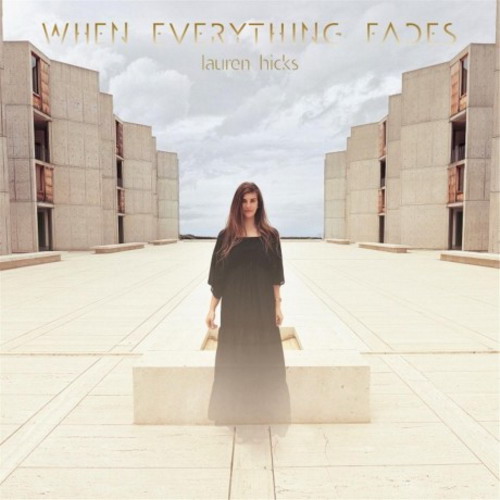 Artist: Lauren Hicks
Title: When Everything Fades
Label: independent
Release Date: 12/26/13
Reviewer: Jonathan Andre
Tracklisting:
Takeover
Hero
Find You
Calling (Interlude)
Wildflower
Hopeless Heart
Pray (feat. Kristen Hicks)
Grace
Hero (Remix)
I was scrolling through noisetrade the other day as people so often do, and I managed to stumble on a song 'Hero', by up and coming artist Lauren Hicks. Immediately intrigued to listen to more of the artist after hearing the song, I managed to check out her album When Everything Fades on Spotify. With her voice likened to a combination of Kari Jobe, Audrey Assad and Bethany Dillon, I would say that Lauren is one of the most unique and refreshing new CCM/worship artists since Audrey and her 2010 debut album The House You're Building. Despite at times the rawness of the production, it does nevertheless provide a great amount of authenticity and realness as I hear these 9 tracks. A conglomeration of genres and the marrying of pop, CCM, worship, electronic and anthemic ballads has led me to be excited for Lauren and her music ministry, and as more and more people hear her music, I'm sure they'll share the same sentiment. As the year of 2014 progresses, I'm sure Lauren will be able to bring in more fans and lovers of her unique style of worship and pop, and while Lauren is no Chris Tomlin or even Kari Jobe, her frank honesty and encouraging portrayal of worship in its true form is expressed, regardless of the background instruments and tempo in each of these tracks. From the first radio single 'Hero' to a unique rendition of 'Amazing Grace', and a heartfelt prayer to God, asking Him to break us from the mundane and routine in 'Find You'; Lauren's distinct and powerful voice is a great highlight to the album and is able to bring the songs to the fore as I listen to an album that could possibly would've been in my top 5 independent artists of 2013, if I would've known about her and her music sooner.
'Hero' was released as an iTunes single on November 19th, and is possibly one of my favourite 2013 songs that I sadly didn't hear during that year (others were also 'Free People' by Seth and Nirva, and 'Architecture' by Jonathan Thulin). Starting off with a piano and cello introduction, Lauren takes us straight into poignant declarations, as she proclaims to God that '…Your love for me, has brought me through the rain, You took away my pain and made me whole…' Straight to the heart of the song that calls us to understand and believe that God is our own hero in all circumstances, regardless of whether we're feeling it or not, Lauren emotionally reminds us that God sees all the things within us, the hopes, the emotions, the passions and dreams, and reminds us that He is in control, as a hero, but more than that, as a Father, Healer, Saviour and Friend. Reminding me lyrically of Bethany Dillon's 'Hero', and the theme placed in that song of God being the hero in our lives and the one we have been searching and waiting for (or even the one even when we haven't really been searching or looking for Him), Lauren places her heart and emotions out for us to hear within not just this song but throughout the album in general. The identity building lyrics of the lifting up of Christ and that He sees '…the passion inside my heart, and it consumes me, You show endless mercy, I call You faithful and worthy, You are the fire that hides the dark…' is something all of us should listen to and reflect upon- with these lyrics some of my favourite in the entire song. Arguably the best produced track on the album (from this track alone, you cannot even tell that she is an indie artist), 'Hero' offers us the best of Lauren. And while on some other tracks on the album, you can tell from the rawness of production that she is indie, it is that same rawness that will hopefully draw listeners and label producers into her music, and her interest and popularity will hopefully increase and her music can have more appeal and impact to the listeners around the world. Also ending the EP/album with an electronic keyboard remix of 'Hero', Lauren ends the album as strongly as she began- with her using her voice to lift God's name on high and declare Him the hero above all others. A great way for us to deliver our praises to our Father, Lauren's passion and enthusiasm is much more mature and wise than her 19 years on this Earth!
'Grace', though I initially thought this was a cover of the Michael W. Smith 2006 track, is actually a great and clever rendition of 'Amazing Grace'. Starting off the melody by singing the first verse of 'Amazing Grace' to the tune of 'Amazing Grace (My Chains are Gone)', Lauren suddenly breaks into a new melody and delivers the insightful and encouraging words of how '…it was Your grace that found me, relentless love that led me to the life I now know, and in the darkest valley, I know that You will guide me, and I see the light…' Adding in a timeless hymn onto an already powerful tag is a great way to give to us a heartfelt song that places Lauren's own slant on the most famous Christian hymn of all time; Lauren's vocal similarity to Kari Jobe, especially in this song will certainly bring in Kari Jobe listeners and supporters, and together with the reputation the hymn brings with it, 'Grace' is certain to do well for Lauren throughout 2014, and is my vote to be made into a music video later on in the year if Lauren wants to do one (if there's a MV for 'Hero', that'll be cool as well…). Featuring Kristen Hicks as backing vocals (I'm assuming that Kristen is related to Lauren somehow, considering I can't find her anywhere on iTunes or anywhere on the internet), 'Pray' is another heartfelt display of emotion and encouragement, as both women of God interchangeably take lead vocals to remind us of our own necessity to pray to our Father in the circumstances we are in. Against the piano, the start of the melody reminds me very much of something that was recorded in the style of something in the 1990s, similar to artist styles like Avalon, Crystal Lewis or Jaci Velasquez. Something unique and different to hold and be thankful of, Lauren's ability to create songs (especially this one) and make them seem like they're from a different era is a great gift. 'Pray' is one of these songs, unveiling to us a hope that assures us that '…you can find your place with the one who holds you, pray…that all your fears fade away, breakout to a brighter day…' With just the piano and the harmonising vocals, the lyrics and the message is accentuated, and together with 'Grace' and 'Hero', form a great backbone and anchor for not only the album, but the style of music Lauren embraces as well.
The first song on the album, 'Takeover', is an electronic and big drum anthem that is a great start to the album. As Lauren utilises the instruments to bring the anthem that's full of enthusiasm and passion, the theme of God taking over our lives and bringing us close to Him in the variety of circumstances we readily experience, is extremely felt through this song, as Lauren proclaims to God to '…fill me with Your fire, I want more of You, a heart full of desire, I am consumed, oh Lord take over…' 'Calling' is a great interlude between two upbeat tracks as we hear a sublime and reflective moment of how God calls us to be His, and longs to change us and our attitudes to love, God, life and everything else whenever we come to Him and surrender. And while it can seem a little out of place when placed between two upbeat songs, it does however break the album into two parts, and does its job at giving listeners a break between upbeat material as we reflect on a mellow and hopefully identity building song of comfort. Preceding 'Calling', 'Find You' is a marrying of synths and light piano, and Lauren gives listeners a confronting, yet hopefully inspiring message of trying to break from routine and seek after the Lord, finding the parts of Him that give us purpose and meaning. Once we find out what God wants and longs for us to accomplish on this Earth, we can truly rest that no matter what happens in our lives, whatever God longs for us will come to fruition. While at times the keyboard moves in and out of the foreground of instruments, Lauren's powerful vocal still ring at the same intensity, bringing the same emotion with it as the rest of the melodies on the album.
Overall: Using heavy synths to relay a message of God giving us hope and a clean slate even in the moments when we don't even deserve it ('Hopeless Heart'), while also giving us a picture of God being the wildflower in a field of wheats, as well as a sunshine in the midst of the rain that washes over everything ('Wildflower'); Lauren's infectious enthusiasm continues to be a firm and central part of not only these songs, but in each of the others. With Lauren's message firmly planted in the gospel of our own salvation, her unique sense of colliding together synth, pop, worship and electronic pays off quite well, especially for a debut project. Sounding very much like Kari Jobe, fans of her music, as well as others like Bethany Dillon, Lindsay McCaul and Audrey Assad will fall in love with the voice of Lauren, as well as her music. With this project just being the start of Lauren's music ministry and encouragement to both herself and others about the heart of God and the life of walking in Christ; When Everything Fades and the themes of reliance on the Father is certainly living up to the album title. With this song further proving that noisetrade is a great way to discover new artists, Lauren's first effort is one that ought to be commended. Well done Lauren for such an inspired and emotional album experience.
RIYL: Lindsay McCaul, Bethany Dillon, Kari Jobe, Audrey Assad
Buy the Album: iTunes/Amazon mp3