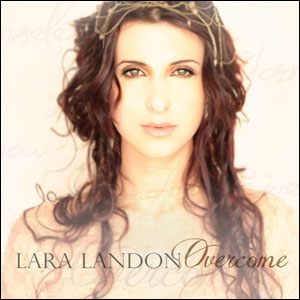 Artist: Lara Landon
Title: Overcome
Release Date: 05/01/2012
Reviewed By: Sara Walz
Tracklisting: 
Better For The Breaking
Falling
Defenseless
The Storm
Leah
Closer Than You Know
The River
Look East
I Want You
I See God In You
Overcome
The Spirit of the Lord
Originally hailing from California, Lara Landon moved to Nashville to attend Belmont University to study music and hone her craft. After graduation she released her first album in September of 2009 and was met with success. For her sophomore album, Overcome, the singer-songwriter songbird hit a sweet note, taking the listener on a musical ride from a place of hopelessness to a place of hope. Hope is something Landon clings to and bring to the lives of others. Music isn't her only ministry, she also is the co-founder of a non-profit organization called New Reality International. New Reality International exists to provide holistic care to those suffering injustices and poverty worldwide. Her lyrics reflect her heart for the world.
The album starts with Lara singing without instrumentation, "This is me, this is me broken." The music comes in slowly, with an acoustic guitar added, then full band, then the beauty of strings. It really is a foreshadowing of the building of the whole album. The title of track one, "Better for the Breaking," is aptly titled as the whole song centers around coming to the realization that when you come out the other side of brokenness you are better for it. As you move into tracks two and three there is a sense of darkness. They are very piano driven and really emphasize that sense of desperation. As you move into "The Storm" (track four) you start to get a glimmer of hope. Landon sings, "I will let you in, come into my house find shelter from the storm." The sound on this track takes on a different feel, with some Spanish guitar layered over a simple beat and smooth vocals.
The second half of Overcome becomes lighter, both musically and lyrically. "Closer Than You Know" is a bouncy track that reminds us that we are offered a chance to come into a grace that we are undeserving of. "Look East" is the most exotic sounding track on the album. Heavily inspired by Middle Eastern sounds, with vocals that go from ethereal and breathy to low and strong, she sings of a promise that Jesus will come back for us one day and we live in light of knowing that our God is faithful. The first single off of Overcome, "I See God in You" is an upbeat, pop song that is the most radio-friendly track on the album, it even includes some electric guitar which is missing from the rest of the album. It encourages the listener to see what God sees in every person they encounter, Landon says, "When we recognize every person has the Creator's fingerprints all over them and that they mean the world to God, we will treat them with the love that Jesus commanded us to!"
Overall: Overcome is a heartfelt release that shows that Landon's main focus is showing the love of Christ. Lyrically the album moves on an intentional journey from hopelessness to hope. Musically the whole album has an understated vibe, driven by piano and acoustic guitar with touches of strings, flutes, and a sitar sound thrown in to keep each track individualized. Landon has created an intimate album that brings the listener into the feeling of a hushed sanctuary.
RIYL: Plumb, Nichole Nordman, Imogen Heap