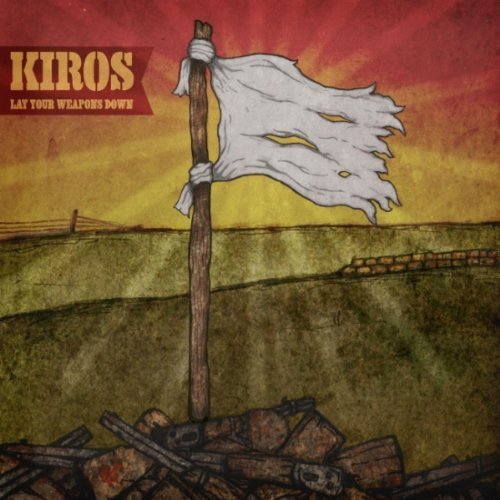 Band: Kiros

Album: Lay Your Weapons Down

Label: Ain't No Grave Records

Release Date: February 7th 2012
Reviewer: BrodyB
Broken State
One Thing
Outlaws and Prodigals
Unshaken
What Can Stop Me Now
Good Intentions, Bad Directions
Passing Through
Found Me
Desperation Calls
Something Beautiful
At this point in time I feel that most readers on IVM are quite familiar with Ain't No Grave Records. They have a roster that boasts some heavy hitting acts in the Christian music community such as Sleeping Giant and As Hell Retreats. Needless to say it comes as quite a surprise that Kiros, a straight up rock band, would find a home on a label that prides itself in it's heavy acts. But if you put that surprise aside and give Kiros a fair listen, what you will find is a solid rock group full of passionate and catchy anthems.
The record starts out with Broken State which is perhaps my favorite track off "Lay Your Weapons Down". It is a song that sets the tone for the rest of the album, providing driving guitars along with solid drumming, all implementing a strong back bone for Barry MacKichan's voice to really shine through, especially in the catchy chorus. Outlaws and Prodigals is a passionate outpouring. While it is a little bit of a slower song, it has enough grit to keep the over all rock sound of the album. The chorus is mostly what stands out to me in this track as MacKichan's question of, "Aren't we all just outlaws/
Aren't we all just prodigals/With glimmers of a greater love/And shadows of our fall?" is backed by an acoustic guitar the first time through, but each time the chorus is repeated, another layer is added to the music, such as strings. Up next is Unshaken, a song I am positive will be a crowd pleaser in Kiros' live show. The song starts off with a drum lead beat until exploding into the chorus as MacKichan proclaims, "We are we are unshaken/We are we're wide awake and/
Living for something worth dying for/We are we're never breaking/We thrive on what's at stake when/Living for a love we can't ignore!". Unshaken also features some of the best guitar work on the album, with an impressive lead throughout. Passing Through is another stand out track on the record. It mixes things up a bit providing a primarily acoustic, more pop rock feel than the other songs on the album. I also really liked the lyrical content as it is about enjoying life now and appreciating the things that we have, but that we need to realize we are just "Passing Through" and going on to another life. The album closes with a song of praise, Something Beautiful. This song is just that; something beautiful. While being a slower song, it keeps an upbeat feel still while shining brightest during the anthemic chorus as MacKichan pours out, "There is beautiful in broken things/Hope that soars on fractured wings/Design in all the chaos/And found among the lost/And I can't forget the moment when/Despite all that I had within/You saw something Beautiful in me". A very fitting way to end the record.
While Kiros provides an incredibly solid release with, "Lay Your Weapons Down" there were a few things that I wish would have been slightly different. Kiros shows they have a very solid skill set at playing straight up rock music that will have fans pumping their fists in no time. However, I wish they would have added a few unique sections to their songs. Something that made you think, "This is Kiros!" as opposed to sounding so similar to counterparts in the genre like The Classic Crime. I also felt that the songs in the middle of the album began to kind of blend together and did not really have any outstanding parts within them, making the middle stretch of the album a little slow.
All the negatives aside, Kiros has released a fantastic album in, "Lay Your Weapons Down" and have solidified themselves as a band that made my "Ones to Watch" list. This album is great for fans of a straight up modern rock sound similar to something The Classic Crime might put out. While they are perhaps an odd signing to ANGR, they are a great one addition to the roster with a combination of great lyrics and a true passion, Kiros is sure to be a favorite of many.