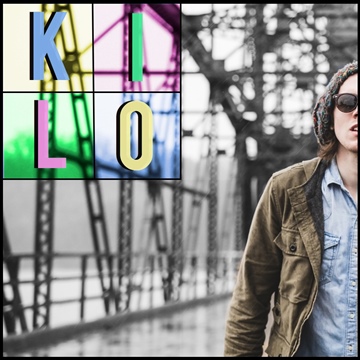 Artist: Kilo
Title: Kilo EP
Record Label: Independent
Release Date: 08/21/2013
Reviewer: Sara Walz
Tracklisting:
Living In Reality
Hearts On Fire
The Meaning of Life
Synesthesia
Be A Man
Ethereal. Dreamy. Truth. Unabashedly Christian. Not cheesy. Pop. Indie. Rap. Alternative. These would all be words that I would use to describe the EP recently released by Kilo. The 5-song record is not easily summed up in a few cliche phrases. Smart writing and a unique blend of genres draw you in and keep you engaged for the length of the album. Frontman Patrick Kiloran says on Kilo's Facebook page, "I knew where my passions were: in creating and performing meaningful music. However, my goals and hopes no longer lie in the prospect of "making it" or "becoming popular" or even in "creating art." My goals have changed due to the inner-workings of Jesus Christ, the Son of God. My hope for this band is that it becomes your band. I want it to simply be a means of serving you, the listener, by giving you thoughts to think about and ideas to ponder. I want it to only be a means of bringing me to you; to meet you; to laugh with you; to cry with you; to be a part of your life, and you a part of mine."
Layers of keys or guitars over drums create a full, rich sound drawing the listener in. Smooth vocals transitioning into spoken word/rap and back to an airy falsetto crafts an engaging sound experience that leaves you trying to do your best impression of Patrick's soar-y vocals. There isn't one thing that stands out above anything else when it comes to the music, it's masterfully mixed and blended so well you almost forget that it's separate instruments coming together to make this beautiful piece of art (yes, even if it isn't about 'creating art' I am calling it that.)
Kilo hits the nail on the head when it comes to making songs that cause you to wrestle with yourself. There is questioning on a human level, "How can you believe in nothing?" (Living In Reality) which moves into a telling that you have to rely on Someone other than yourself to find purpose, "you can't, you won't find it in your heart, you gotta look up and out to see who you really are." (The Meaning of Life) to a song that aches with longing, "Break me down and build me up again, I wanna be a whole man for you" (Synesthesia.)
Overall: A poignant release that feels like the outpouring of a modern missional heart. Sonically it's The Rocket Summer meets Paper Route with a little Mod Sun thrown in the mix, lyrically it's poetic truth.