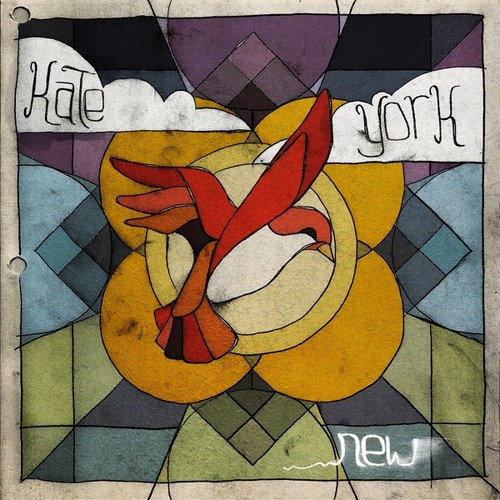 Artist: Kate York
Title: New
Label: independent
Release Date: 7/24/12
Reviewer: Jonathan Andre
Tracklisting:
Lay Down Your Sorrows
Fall Into the Flood
For Your Glory (feat. Leeland)
Abba Father
You Took the Blame
New
Blessings of the Lord
'…I made this record during one of the hardest seasons of my life. It felt like everything was against me when I was making this. It's taken longer to release than I had hoped, but I have to believe that it's coming out right on time. It really is the most meaningful record to me that I've been a part of making. I know a lot of artists say that about whatever new record they're putting out, but I honestly mean it. There was something different about this one. Hoping you'll feel what we felt in those 11 days of creating it…' Independent artist Kate York has been within the music industry for a number of years now, from 2004 with her self-titled EP, up until her 2011 EP Fly Away. With her musical genre focussing upon acoustics and pop driven music for the mainstream market, it is in 2012 that she breaks her mould to encompass acoustic worship music, releasing her most vulnerable album to date New. Whether the album title means that Kate is trying out a new musical genre and moving into Christian folk, or she's just trying something new to bring in new fans and encouraging her old ones with some motivational melodies; Kate's 7 song EP is musically and lyrically one of the best EP's I've listened to in a while ever since The Digital Age's Rehearsals EP. From the hauntingly refreshing percussion and electronics driven 'Fall Into the Flood' to the worshipful duet with Leeland 'For Your Glory'; this is a must for any Kate York fan or for those who love acoustic folk worship songs akin to JJ Heller, Audrey Assad and Kari Jobe.
Every single song on New is a constant and great reminder that God is able to give us something new, exciting and far beyond we can ever see, hope for or even imagine. Starting off the album with the liberating 'Lay Down Your Sorrows' full of glockenspiels, acoustics and a looping percussion beat; we are called to drop down everything that we may continuously hold onto so that we can move from the old to new- to '…lay down your sorrows o troubled of heart, come to the tree on the hill as you are…' Sometimes starting anew can seem like an impossible challenge as we worry about the 'what ifs' and whether we can still feel worthy in God's sight. However, this song is able to make us feel comfortable with such transition, from struggling by ourselves to surrendering to our Friend, Helper and Saviour as we hear the big thumping drum beat colliding with acoustics and a assurance that '…there is no burden too heavy for Him, there is no battle scar He cannot mend…' Reminding me of the poetic melodies sung by Audrey Assad in her album Heart, 'Lay Down Your Sorrows' is a great introduction to an album full of joy-giving and encouragement as we are motivated to take a plunge into something new and unknown, knowing full well that Christ is with us wherever we go.
'Fall into the Flood' is where Kate sings her best to imitate songstress Amy Grant with her vocals in this humble melody of longing and asking fellow listeners to commune with God, acknowledging and understanding that He can '…wash away the sorrows, fall into the flood, come all ye sons and daughters to the arms of the Father, there's no greater love, fall into the flood…' With such poignant lyrical moments like these, it's no wonder why this song is one of my favourites on the record. With an invitation attached to this song calling those who are weary, tired and uneasy to bask in God's eternal, unending and unequivocal love for us; 'Fall into the Flood' uses strings, looping percussion and layered harmonies by backing vocalist Laura Licata to encapsulate one of the most honest, transparent and refreshing moments on this 7 track EP. Both 'Abba Father' and 'Blessings of the Lord' are worship songs that exalt His name and remind creation that God intimately knows each one of us and longs for the connection between created and the Creator. As we continue to deepen our relationships with Him, we can truly soak in the truth that '…the blessings of the Lord, makes a poor man rich…' No matter what our life circumstance is, we can be confident of who we are in Christ, and whether we're in good times or bad, we can still praise God. With both these songs incorporating an acoustic vibe with a looping percussion pedal and harmonious vocals, these two worship songs pave the way for some of the most poetic and beautifully crafted songs since Audrey Assad's 'Wherever You Go' and 'New Song'.
'New' provides the same theme that is evident in Steven Curtis Chapman's 'All Things New', offering the comfort that Christ is continuing to weave our lives together to create something new and exciting, sometimes and more often than not out of something less than ideal for each of us; whereas 'You took the Blame' gives us a solemn and sometimes comforting portrayal full of electronic reverbs as Kate offers up a moment of tranquillity and nearness to Christ as we collectively declare along with Kate that '…we raise our voices up to heaven, now we sing and praise Your Holy Name, all our sins are washed away forever, You took the blame…' But the real gem of a song is found in Kate's duet with Leeland Mooring (lead singer of worship-rock band Leeland), 'For Your Glory'. Originally hearing this song on the new ABC TV Show Nashville, in the TV episode, the character played by Hayden Panettiere sings the song in a church and creates more of a gospel-like hymn instead of the folk-worship anthem that is depicted in this original version. Written in an almost hymn-like way, this is arguably the best song on the album, and the addition of Leeland is one full of life and vibrancy as he adds something to the song that would be lacking if he wasn't there. The added stanzas of 'Blessed Assurance' written and sung as the bridge to this song is a nice rendition of the timeless hymn and seemingly fits and flows with the song. Ultimately a worship song at heart, it is still great to hear a song written by both Leeland Mooring and his brother Jack (both members of Leeland) was chosen to be on the network ABC show. With such exposure given to this song, I'm sure that viewers of Nashville will be intrigued and may possibly check out Kate York (like I did) or even Leeland as a result. As we are continuously reminded that how we live our lives is a response to what Christ has done and that our lives ought to be given as a total sacrifice, we are able to live fully for Christ, without holding back any part of us that we may still hold onto. God wants all of us, and even the darkest parts of us, He longs to and wants to repair. Well done both Kate and Leeland for creating such a poignant and compelling song that's destined to rise in both the Christian and mainstream charts.
Overall: With her music similar to folk-worship artists like Audrey Assad and JJ Heller (with maybe a little Brooke Fraser added in there), Kate York's debut worship album is something to savour as she pulls back all her layers and sings vulnerably to create 7 moments of hope and healing as we are corporately and individually reminded of God's goodness in our lives everyday. With more of an acoustic presence, I can boldly state that even fans of hard rock can appreciate or even enjoy this album; with heartfelt motivational messages the key in this musical collection as Kate lets the lyrics speak to the listeners and become the catalysts in their own lives for change. Full of earthy vocals and folk music roots threaded through each song, this is a perfect album for someone's Christmas present, or even if you want to enjoy some laid-back worship music with a subdued undertone. Well done Kate for such an inspiring EP and one of my favourite of the year.
RIYL: Audrey Assad, JJ Heller, Kari Jobe, Brooke Fraser
Buy the Album: iTunes/Amazon mp3