Album Review :
Judgement X Day - The Altar
By Scott Swan in Reviews | Comments closed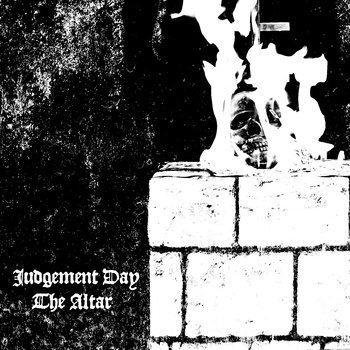 Artist: Judgement X Day
Title: The Altar
Label: On The Attack Records
Release Date: 1/20/15
Reviewer: Scott Swan
Tracklisting
Age of innocence
Seek
Visions of a Sanctuary
Rise
The Altar
New World Prophecy
Knowing this debut EP from Judgment X Day was an On The Attack Records release, I expected a certain heavy rawness that could well describe the last release that I reviewed from the label, LIV. Thankfully, I was not let down here, as the short six track EP from the Southern California group conforms to that definition quite accurately. I would would also add to that definition, a hefty, robust metal sound that I personally had no trouble getting on board with.
I love the beginning of the first tune, "Age of Innocence." As an acoustic guitar picks softly, light rain and a developing thunder storm in the background foretells of some rough weather on the horizon. Then, like a lightning bolt strike, pounding drums and and a weighty guitar comes in to sound the alarm. Shouting cries of "Scream for the innocent, Scream for the ones we lost" filter into a slowed down ending, signaling the end of the storm, at least for now.
Speaking of lightning, "Seek" streaks across the landscape at breakneck speed. The themes of this track include seeking God to "break the curse," and "slay the beast." In typical punk form, it goes by fast at two minutes and twenty seconds, so don't blink or you'll miss it.
In contrast, "Visions of a Sanctuary" treads along at a totally different pace, chugging and grinding throughout, including some interesting vocals that reminds me of Tibetan monk chanting. Depicting the ultimate judgement we will all one day face, the music carries the weightiness of the words on it's back like a pack mule slugging up a steep mountain.  The following track is amazing, literally thirty-three seconds in length, "Rise" rips by in a flash. A little energy drink tune that is sure to give you a wake up call if needed.
Next, the title track comes out of the gate with a more classic metal sounding riff, featuring a ton of double petal drumming and end times imagery. This is probably my favorite track on the release, musically speaking, it just plan rocks. The perfect tune if head-banging is your thing. Finishing things off, "New World Prophecy" sort of takes up were "The Altar" left off. Mostly spoken word stuff here though, while only full voice singing for the last few stanzas. Ending with an ominous sounding piano being played over the sound of a hard rain, the same rain that started things off the EP.
Overall: If you like your music raw, fast and heavy, then look no further. The band put a decent little EP together that is sure to get your blood pumping as well as give you something to think about. For what it is, I think it's fairly well done overall and if you are looking for an album to do construction demolition to, this would likely fit the bill nicely.
RIYL: LIV, Revivalist, Refuge