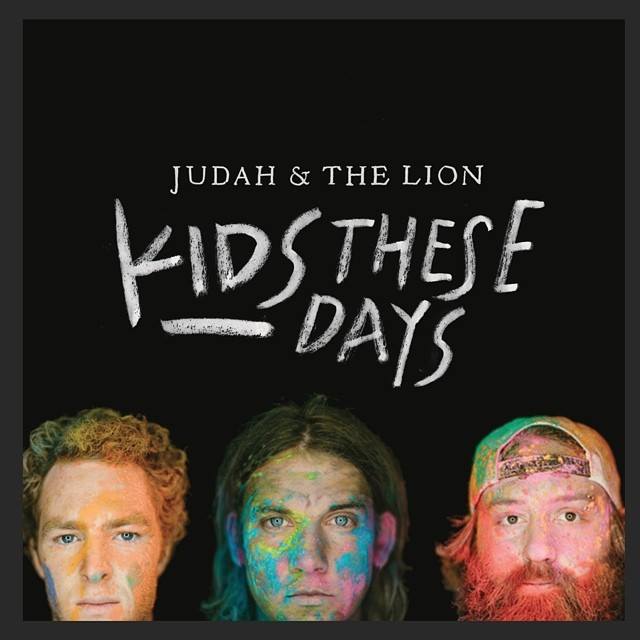 Artist: Judah & The Lion
Album: Kids These Days
Label: Good Time Inc.
Release Date: 09-09-2014
Reviewer: Sara Walz
Track Listing
Kickin' Da Leaves
Hold On
Everything Changes
Twenty-Somethings
Scared
Mason-Dixon Line
Rich Kids
Sing Me Your Song
Love In Me
Water
Somewhere In-Between
If you are looking for some killer EDM music this is not the album for you. If you're looking for some unbelievable americana, bluegrass, folk, with a sprinkle of country music, look no further. For their debut LP the Lion boys brought everything to the table and it paid off big.
You know you're in for a great ride when the album starts off with a three-part a capella note that immediately transitions into some fast-paced banjo action. There's a healthy balance of upbeat songs mingled with slower tunes to create a well-rounded and incredibly listenable album. Each song has it's own personality, "Water" is steeped in southern-rock and is the grittiest track on the album, "Mason-Dixon Line" is probably the most country offering on the record and "Everything Changes" is a stripped down track that really highlights the mandolin. True to Judah & The Lion fashion there is a fantastic amount of harmonies and gang-vocals.
Lyrically this album reads like the diary of every twenty-something ever as they navigate life. Not to the extent that it feels like Taylor Swift's journal entries, more the longings and truths of the soul than the fleeting feelings of the heart. While not a concept album there are some definite themes throughout the album, one of the most notable; being young and not having all the answers. In an interview with Billboard, mandolinist Brian Macdonald said, "Kids These Days is just about making the choice to be happy and content with our current situations." "Rich Kids" shows a wisdom beyond their years singing "Ain't it funny how the simple things in life are the only things that really matter?…We're rich. We don't got no money." While "Hold On" has a message that transcends age despite the band members all being in their early 20's, "You're comfortable with your own life, you're bored to death but you can't let it go. You're fighting all your fears inside, your heart it runs but you don't follow."
There was a transition from the band's first EP, which was essentially a worship album, to their second EP, Sweet Tennessee, moving away from worship and towards a more mainstream approach. Kids These Days picks up where Sweet Tennessee left off, while not as overtly "Christian" in a lyrical sense their faith is far from hidden. "Sing Me Your Song" is from the perspective of a distanced loved one (presumably God) and is a reminder of an unending love singing, "All your veils have disappeared, will you let me through so my love can replace your fear? This foolish fight and I'll be here until the end, put down your sword so we can be the ones that win." Macdonald says, "Like our previous music, the new album also has strong themes of hope and love."
Overall: I really did try to find something that I didn't like about the album while listening to it and I failed. There was a sweet balance between serious and silly, fast and slow, bright and gritty. And singable melodies that say the words that every searching heart has tried to say. 5/5, would highly recommend.