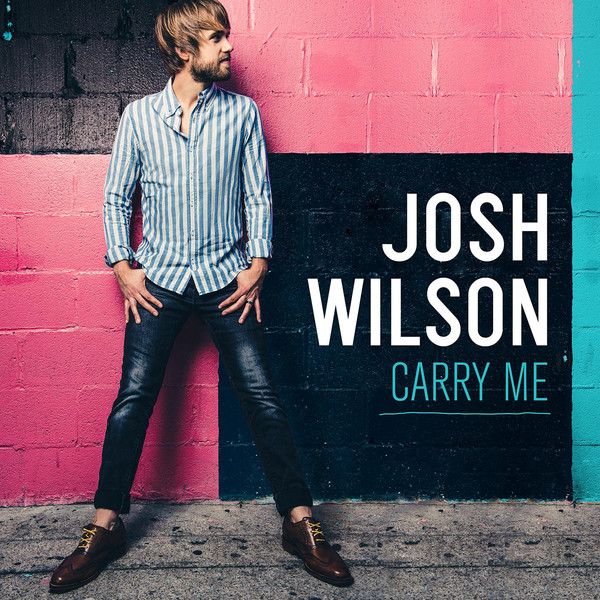 Artist: Josh Wilson
Title: Carry Me
Label: Sparrow Records
Release Date: 4/9/13
Reviewer: Jonathan Andre
Tracklisting:
Pushing Back the Dark
Carry Me
Faith is Not a Feeling
I See God in You
Grace Enough For You
Wake Me Up
What a Mystery
Let There Be Light
Here I Am Anyway
Symphony
One Safe Soul
What I Know Now
A multi-instrumentalist musician and one of the most honest and gifted songwriters throughout the last decade alongside Brandon Heath, Jason Gray and Mike Donehey, Josh Wilson always has a great ability to pen some of the most heartfelt and relevant songs that have ever been released since his first debut album Trying to Fit an Ocean in a Cup released in 2008. Signed on to Sparrow Records (home of artists like Sanctus Real, Mandisa, Kari Jobe, Britt Nicole and Matthew West), Josh always reminds us of God's never-ending grace and our response to it in heartfelt melodies like 'Before the Morning', 'Fall Apart', 'Saviour Please' and 'They Just Believe'. With frank honesty and a humorous personality (just watch the trailer for See You and you'll see what I mean!); Josh's fourth studio album is one of his most personal albums to date, with the title track and thus the album as a whole birthed from his anxiety issues, and the realisation for him to give over everything to God. Vulnerable and confronting, sometimes even powerful, emotional and encouraging; Josh weaves together personal experience and worship to present the album Carry Me, alluding to his own personal situations when he required the Lord to carry him through that time, while simultaneously reminding us that in every situation, God is carrying us every step of the way. One of the most talented musicians within the CCM industry (I don't think I can even recall someone who plays the acoustic guitar, electric guitar, bass guitar, keyboards, ukulele, banjo, glockenspiel, as well as some percussion) with his song writing skills comparable to that of Andrew Peterson or Steven Curtis Chapman; Josh's unparalleled feat for creating 12 songs that speak deeply to the soul has led me to declare this album to be my favourite of the year- and my first album to receive 5 stars since Music Inspired By the Story. With the variety of instrumentation (through some ballads and other upbeat songs) being a great asset for Josh to bring in listeners who appreciate various musical genres and sounds; we are given melodies that explore a wide amount of themes, from anxiety ('Carry Me') to faithfulness in God throughout all circumstances ('I See God in You') and running the spiritual race and leaving our baggage behind us ('Pushing Back the Dark'); Josh has delivered some of his best songs throughout his whole career, and some of the most compelling and poignant songs of 2013 so far!
'Carry Me', the title track of the album as well as the first single, is one of Josh's personal songs as we analyse the lyrics as well as the stories behind the composition and process of writing the song. With an acoustical flair and atmosphere featuring light percussion and a looping beat possibly recorded by Josh to loop through the background as he plays various other instruments; 'Carry Me' addresses the issues of worry, anxiety, stress and panic attacks- ever since Josh had a panic attack himself during the process of creating his latest album. As explained in a press release, '…I prayed [during the attacks] for…[the peace] and each day would say, 'God, I can't make it without you. I literally can't breathe without you. I need you to carry me.' And He did carry me, and He still does. He carried me through each day even before I experienced the anxiety, but I just didn't realize it. It took these difficult moments for me to realize how much I need Jesus…' Opening up on an emotional and spiritual level that I haven't really seen much in many artists songs lately, Josh shows us that even musicians can feel the weight of worry and stress. Still living with anxiety to this day, it is 'Carry Me' that reminds myself (and I'm sure him as well) that even in the midst of trials, God still carries us through them, and from the opening anthem of 'Pushing Back the Dark' to the quiet and reflective 'What I See Now'; we are reminded through lyrical moments of God's hand through our disappointments, triumphs, failures and successes. As I reflect upon the advice given my Josh himself to us through a blog post early in January when the song debuted, '…we all need Jesus to carry us. We are lost without him. As Augustine said, "our souls are restless until they find their rest in You."…perhaps everything seems to be going well in your life, but even if that's the case, Jesus is the only one who can sustain you, whether you realize it or not…' Standing at 3:25, the lasting effect of this song will certainly be much more than that as I listen to possibly one of my favourite songs this year so far. A frontrunner to be nominated for Song of the Year at the 2014 Dove Awards, Josh's first radio hit from this April release has given us hope and encouragement that our lives are held in the secure hands of our Father in heaven. Well done Josh for this powerful personal testimony of the one who holds the universe, yet also holds our hearts too!
'Pushing Back the Dark', 'I See God in You' and 'What I See Now' were all released in some form ('Pushing Back the Dark' and 'I See God in You' via the media player on his website, 'What I See Now' through an acoustic video on Youtube) before the release date of Carry Me on April 9th 2013, and each of them shine and showcase Josh's powerful and encouraging songwriting and poignant messages drawn out in each track, as well as clever instrumentation and heartfelt honesty. 'Pushing Back the Dark' draws upon layers of acoustic guitars (possibly all played by Josh) and hours of post production to place various instrumentations upon the 3 and a half minute song. Creating one of the most musically powerful songs on the album, 'Pushing Back the Dark' reminds us of the spiritual race we all run, and that even when we're feeling like we're knocked to the ground, we know in our hearts that '…whatever you do, just don't lose heart, keep on pushing back the dark…' With a lyrical similarity to TobyMac's 'Get Back Up' or Jenny Simmons' 'Don't Lose Heart', we are called to greater things than whatever place we are in right now through this encouragement and motivating moment of bright hope. The bridge of '…let your light so shine…' pays great homage to the old hymn as we are reminded that we all have a light inside us all waiting and bursting to come out. 'I See God in You' is a similarly personal track (almost just as personal and poignant as the title track) as Josh shows us various scenarios where he sees the image of Christ in- through his 94 year old widowed neighbour of nearly 30 years as well as a fan from one of his concerts not too long ago. Inspired by real people, 'I See God in You' shows us that as everyday as someone is like a neighbour or even a special needs child that conversed with Josh during one of his concerts can reflect the love of Christ. As we are called to show God wherever we go, we are given great examples of love unconditional as we are called to humbly respect these individuals that Josh speaks about. As circumstances could seem to be hopeless to the human eye, God shines a light on and transforms them into something that we can learn from and admire as we realise that with Christ, our imperfections and mishaps can be the things that show others Christ's love the most. Album ender 'What I See Now' is as reflective as many of Josh Wilson's tracks that show us a message through poignancy as Josh delivers in this album ender a melody where he addresses his past self in song, during middle school, early twenties, as well as reflecting upon life now as a 29 year old and looking forward to what Christ has in store for him. Writing what he would say to his past selves that what he sees now is God's hand over the moments that may not have made sense or may have hurt during the moment when he experienced them, we are called as listeners to reflect upon our own lives, and understand that even through the disappointment and heartache, God is still moulding and shaping us to the people we are called to be. With an acoustic guitar and keyboards, Josh points towards time and Christ as both the ultimate revealers of our pasts and the effect of God weaving through our mistakes to create a beautiful masterpiece is a crucial point for us not to worry about our lives at the moment. An album ender to lift our spirits, well done Josh for a reminder of God's goodness to us always!
'What a Mystery' and 'One Safe Soul' showcase Josh's caring side for those around him as he uses these two melodies to express his love for his wife. With these two lyrically similar, yet uniquely musically different songs reminding us that it's not good for us to be alone, the value of having someone with us (in Josh's case it's his spouse- yet it could be a best friend or sibling for us) that could be there for us no matter what, challenging us nicely when we are at fault and love us like Jesus loves creation. With handclaps, whistles and a repetitious keyboard riff to create a joyous acoustic melody, 'What a Mystery' describes the moment when Eve was made out of Adam, and the mystery involved with such a feat that God has accomplished, while the acoustic guitar plucking song full of reflection and introspection calls us to look inside at our own feelings and find the person that '…sees all the wrongs I try to hide, but you stay right by my side when all the world does not, you're the one safe soul I've got…' The poignant words that describe man's greatest fear as being alone (alongside his second greatest fear of being completely known) shows us how much we need human connection, without being judged or condemned by what people see. As these two songs provide us with a central focus on relationships and our need for them within our lives; Josh invites us on a journey of discovery and encouragement, from providing a song that reminds us that our faith in Christ is not a feeling and is not swayed by emotions but by the truth and promises of God ('Faith is Not a Feeling') to declaring to Christ to let ourselves shine intentionally and brightly for Him '…so the whole world sees, You in me…' ('Let There Be Light').
With pulsating drums, violins and looping percussion, 'Here I Am Anyway' would certainly fit on Music Inspired By The Story, with Josh speaking about Moses and his time in front of the burning bush, and how we can have moments when God calls us to do something we feel we're inadequate for. As Josh reminds us that even if we have insecurities and the worries, we will have much as we obey Christ and surrender what we do have, the passions and our fears as we declare that '…God I don't have what it takes, but here I am anyway…'; this song highlight will definitely impact listeners (myself included) in the upcoming months as we focus on stepping out in faith in response to God's calling. With 'woahs' and a nice acoustic guitar section, 'Grace Enough for You', in a similar way to 'Here I Am Anyway', shows us to let go of our hurts and burdens as we discover that God's grace is big enough to encapsulate every sin that we have ever done or yet to do, stepping out in faith knowing the Christ has got us covered. Yet it is the 3:16 length of 'Symphony' that is truly a musical masterpiece, as violins, kick drums, acoustic guitars and electric guitars all come together to create a symphonic and orchestral sound as Josh sings about the symphony that God is creating, and that every person has something important to give and bring to the song that God is creating- the never ending one where each note is more powerful, poignant, and emotive than the last. As we are reminded of our part to play in the grand symphony of life, we are given a chance to unlock the potential inside us as we listen to this joyous and rejuvenating song. Well done Josh for such a powerful melody about how '…every breath we breathe is a melody in the love song to our God who made every soul to sing, every life to bring out the beauty in this world…'!
Overall: Truly powerful in its imagery and poetic nature, Josh presents to us a plethora of musical genres and themes to present to us Carry Me, a musical reminder of God carrying us through the storms of our lives as we let go of everything that holds us back. Musically unique and possibly even the best produced album of the year so far, Josh's heartfelt vulnerability encourages listeners to re-evaluate their lives so far, especially in the confronting 'Wake Me Up', which starts off with a poignant line- '…where have a been all my life?…' From powerful declarations like 'Here I Am Anyway' to the vulnerableness of 'Carry Me', no message is deemed superficial or even 'better' or 'worse' than the other as each song presents a heartfelt theme that is crucial, prevalent and often pressing as we hear Josh's poignancy through layered musical instruments and some of the best songwriting I've seen since Andrew Peterson's Light for the Lost Boy. While many may argue or debate about my 5 star rating (after all it is a personal opinion!), what is not arguable is Josh's intense passion for Christ, with each song showing this through the personal melodies and the joyous songs where Josh welcomes us into join him for the celebration and thankfulness Christ deserves. With every song having something to say and the album not giving us any downsides, fans of CCM or even folk or acoustic melodies will certainly like Josh and his music. A talented musician that reminds us of the talents and skills each of us have that we ought to use and bring before the Lord as we bask in His love He has for us, Carry Me shows us that God carries us through all points during our life- not just the highs or just the lows. With Carry Me being one of my favourite albums of the year alongside Kerrie Roberts' Time for the Show, Meredith Andrews' Worth it All and Hawk Nelson's Made, this is certainly my pick for album of the year so far! Well done Josh for such a poetic and compelling album!
RIYL: Matthew West, Andrew Peterson, Steven Curtis Chapman, Leeland
Buy the Album: iTunes/Amazon mp3