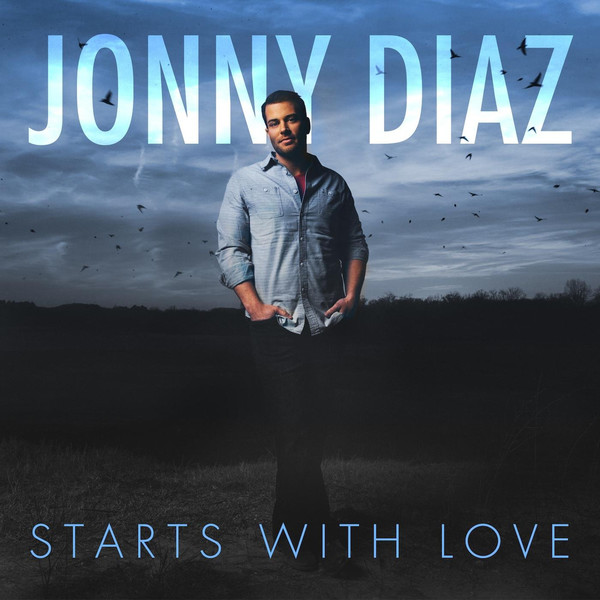 Artist: Jonny Diaz
Title: Starts With Love
Label: independent
Release Date: 10/1/13
Reviewer: Jonathan Andre
Tracklisting:
Upside Down
Starts With Love
Whole Word
Scars
Hello L.O.V.E.
Jonny Diaz's music ministry started way back when he made indie albums starting from 2003, and even though he's still a relatively new face amongst a CCM industry that welcomes and popularises artists like Jeremy Camp, TobyMac, Natalie Grant, Matthew West or Chris Tomlin; Jonny's music still gives listeners heartfelt melodies. Rising to popularity and fame because of his motivational melody 'More Beautiful You' (not too long ago, I heard that song on speakers in a Dan Murphy's alcohol shop), providing hope and identity to many teenagers (especially girls) and their families; Jonny has continued to wear his heart on his sleeve when it comes to music and his message, from 'Beauty of the Cross', a song that speaks about how someone suffering on a cross can create such beauty given to us all, to 'Break My Heart', a melody that pries on our own issues about being confronted with the uncomfortable as Jonny longs for God to break our hearts for the things that are important to Christ Himself. Now releasing his independent EP before his debut album release in 2014 on Centricity Music (home of artists like Andrew Peterson, Jason Gray, Lindsay McCaul, Remedy Drive and Aaron Shust); Jonny's sound and style of acoustic pop is enough for listeners to be given a 5 song EP still on the CCM side, but a little different than the mainstream CCM that has been quite popular on K-Love for a number of years. Re-releasing his single 'Scars' (the single version was 3 minutes 23 seconds, here on this 5 track EP, it's 3:34… though I can't tell the difference), alongside 4 newly recorded tracks; Jonny's passion to bring life-affirming and identity building music shows through these tracks, with the overall theme of the album being that it starts with the love we have for Christ and for each other when we decide to give out what we have to those we are in communion and fellowship with. Releasing on the same day as the new album from Dustin Kensrue and Phillips, Craig and Dean's Christmas album; Jonny's under-the-radar EP release is a perfect gift if you're looking for something to reflect and relax to, and different compared to the somewhat overplayed and continuously musically similar melodies on radio.
Hearing this song last year as a single from iTunes, it's good to see Jonny's heartfelt melody 'Scars' on this short EP. Starting off with a light electric guitar riff to bring in listeners who love an easy-listening song that doesn't bore them to sleep but neither confronts them with heavy electric guitars or powerful drums, Jonny invites us to soak in the knowledge that '…we don't have to hide scars, they just strengthen our wounds, and they soften our hearts, they remind us of where we have been, but not who we are…' Understanding that it is our scars that give us a timely and often a much needed reminder by God of what He has brought us through and what the circumstance shaped us into, it doesn't however determine who we are as a person in Christ. With light piano and Jonny's powerful vocals, 'Scars' has already ministered to many people, portraying a message of hope as we lay down our baggage and preconceived thoughts about what our scars are to us, and our own issues as to whether we believe God enough to allow Him to take them or not.
Also another standout track amongst the collection of five songs, the title track 'Starts With Love' employs great instrumentation in acoustics and a slightly electronic vocal as Jonny invites us to ponder some deep and thought-provoking words right from the start. The truth of how '…if you're gonna preach, it's gotta be more than what you say, something you can see, it's gonna be living, gotta be breathing…' is very truth and applicable, as Jonny gives us the hard, firm and hopefully encouraging song about how we have to live out our faith and place it into action if we want those around us to see Christ within us and working through us through the deeds we accomplish for our King. The notion of 'faith without works is dead' is quite central in the song and album holistically, and Jonny incorporates this message quite well in a non-intrusive way. Also providing us with themes about following Christ and understanding that sometimes the things He says can seem quite 'upside down' to us (the light electric guitar and CCM driven 'Upside Down'), the strings and acoustic 'Whole World', reminding us of God being in control and weaving through each circumstance we experience; as well as the fun and acoustically bouncy 'Hello L.O.V.E.', presented to the singles and couples out there as Jonny presents a scenario where we are taken on a journey where the persona falls in love; Starts With Me EP is a nice addition to any listeners collection of CCM and acoustic tracks, and one of the most satisfying EPs/albums that have had not much/no publicity leading up to their release date!
Overall: Jonny Diaz has always been an artist that writes and records humble and poignant melodies, whether signed or as an indie artist (as shown through this EP). Recently signed to Centricity Music (this album was done independently before his signing), Jonny's presence on the roster brings along with it a sense of honesty and frankness that continues to boast the artist roster on a label that's relatively new. Just like how a change from Sparrow to Provident has led Steven Curtis Chapman to revitalise his own music career, so too has the change from Fair Trade Services to Centricity for Jonny and his music style. One of the most enjoyable acoustic pop albums/EP's since The Sonflowerz's Love Walked In EP, Jonny's message of us being real before God and each other as we start with love and our deeds flow from there is a great part of why this EP is worth buying and enjoying. Well done Jonny for such a powerful EP. Can't wait for a full-length album in the future!
RIYL: Bebo Norman, Josh Wilson, Warren Barfield, Brandon Heath
Buy the Album: iTunes/Amazon mp3