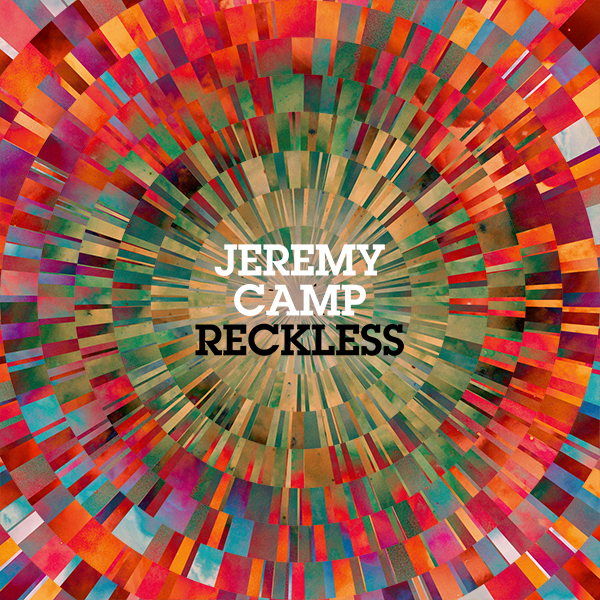 Artist: Jeremy Camp
Title: Reckless
Label: BEC Recordings
Release Date: February 12th 2013
Reviewed by: Jonathan Andre
Buy the Album: iTunes/Amazon mp3
Track Listing:
Reckless
The Way You Love Me
Free
Paradise
We Must Remember
Shine
Come Alive
My God
We Need
Reign in Me
Without You
Jeremy Camp has been within the music industry for more than a decade, since releasing his first album titled Stay in 2002. Over the course of these 10 years, Jeremy's impact towards Christian music has led him to be one of today's most popular and influential CCM artists, from chart-topping songs like 'Take You Back', 'This Man', 'The Way', 'Let it Fade' and 'Walk By Faith'; to one of my all-time favourite Jeremy Camp albums, Speaking Louder than Before that released in 2008, earning him a Grammy Award nomination for Best Gospel/Contemporary album in 2009. Now readying to release his 8th studio album on BEC Recordings, Reckless is a reminder to all his fans and first-time listeners about his own reckless all-in behaviour when it comes to following Christ, and how we all should just dive in deep into Christ's Word and promises, even if we may feel afraid or hesitant about the consequences. With Jeremy being reminded throughout the writing process of this album that '…not that it wouldn't be a challenge [surrendering music]…but I wouldn't be devastated because this is not my life. Christ is my life…', we are called through these 11 tracks as followers of Christ to continuously listen to His promptings and words of encouragement, affirmation and peace, as we are given a call to lay down anything that may be a hindrance to our deepening relationship, even if it is the passion that we enjoy- a good thing that if enjoyed too much, may place our spiritual life in jeopardy. While not as musically polished compared to his earlier albums, and while not as musically striking as Sanctus Real's Run or lyrically poignant as Jenny Simmons' The Becoming, this is a great album to purchase if you enjoy the continual progression from hard rock to pop/CCM that many artists are doing nowadays (inclusive of artists like Kutless, Sanctus Real and The Afters), or if you enjoy Jeremy Camp or even fit for someone in need of an album to lift up and inspire. With Jeremy giving us a great tool and medium to show us what it means to be reckless and live like that for Christ, this February release is one that will certainly be one of the most popular CCM albums of 2013!
'Reckless' is the first radio single from the album that released to radio late last year, and right from the first drum kick and guitar strum, Jeremy delivers a poignant and motivational message of being reckless and living whole-heartedly abandoned for Christ. With this edgy track reminding me of a similar theme in 'Speaking Louder Than Before' and how it is our call as Christians to be witnesses and evangelists right where we are as we speak up about our Christ the King; 'Reckless' asks the question of us of how we'd feel if Christ asked us to live wholly for Him, giving up anything that He knows will hamper us from deepening our relationship with Him? Things like movies, TV, listening to music (Christian even), reading books and the like; while all of these aren't necessarily harmful and each can be used as a vessel by God to us to tell us something new of what He wants us to see, God can easily speak to us that it is these things He wants us to give up in order for us to pursue Him more and soak more in His presence. Obedience is the key, and as Jeremy cries out '…I won't waste any more time, my life's Yours it is not mine, use me Lord no matter what's at stake…', we are given a glimpse of vulnerability as Jeremy surrenders his own life and declares for God to use him, no matter what he is asked to give up or get rid of from his life completely. A bold song and certainly fitting to be the opening track on the album, 'Reckless' is one of my favourites from Jeremy since 'The Way' on We Cry Out: The Worship Project. Well done Jeremy for such a moving and awe-inspiring track, as well as a great stop-motion music video to accompany one of the most heartfelt songs on Reckless.
'The Way You Love Me' is the second radio single from the album (according to BECRecordings.com) and listening from the first electric guitar strum, I can tell that this song will certainly be a hit in months and even years to come. With Jeremy reminding us that '…You purified the hidden parts of my heart with open arms, Your healing touch is not far…'; we are met with one the most honest songs Jeremy has written throughout his career. With the prophet Jeremiah being the influence and inspiration behind the song, as Jeremy gives us great clarity in how we understand how God loves us; it is because He is a good God and will always love His children that we cannot stay silent about His love. Though a fade out (normally I prefer songs that have a definitive ending rather than the fade technique instead), Jeremy's second song after 'Reckless' continues along the theme of standing first and foremost for God and witnessing anywhere possible, as we are reminded about Jeremiah, where he says in Jer. 20:9 that '…if I say, 'I will not mention him, or speak any more in his name,' there is in my heart as it were a burning fire shut up in my bones, and I am weary with holding it in, and I cannot…' 'We Need' also carries on from the theme of spreading Christ's love, this time to those living in less fortunate situations than us, either in our own suburb, city, state, country or even internationally. Encouraging the act of social justice through cleverly placed guitar riffs and a prominent keyboard emphasis, this 3:39 length song reminds listeners of the motivation of our deeds, and how '…I'll move cause You move me…' Out of our adoration and love for Christ, we can't help but share it with others. Jeremy states the message loud and clear- '…we can't just say, 'Here's some food. Here's some stuff.' We have to be able to give the gospel, share the hope and have a real heart for that…' One of the most awkwardly uncomfortable songs on the album, yet completely necessary, compelling and encouraging at the same time; 'We Need', together with 'Reckless' and 'The Way You Love Me', serve as a great platform to launch the album into truths about our identity, the need for us to fully understand Christ's love for us, as well as sharing it with everyone that we meet. Well done Jeremy for such a great song with conviction, confidence and certainty.
'Paradise' is one of my favourite songs on the album, both describing the moment when we leave this earth and see heaven in all its splendour and glory, as well as providing a great worshipful moment as we all cry '…hallelujah, hallelujah, every knee will bow and say…we'll bring glory to Your name…' With his strong vocals and a light drum beat that shows listeners all the signature signs of a radio single in the making, 'Paradise' gives us great assurance and confidence to live with great anticipation of that day, but also places a reality check in place- between now and then, we ought to '…surrender all my life…' Surrendering every part of ourselves can be scary, and often discomforting, daunting, awkward and uneasy; however, it is 'We Must Remember' that gives us the confidence that is yet to be filled from listening to 'Paradise'. Often repetitious in a song full of light electrics and a drum beat where the melody listened to reminds me slightly of the Christmas carol 'O Come all Ye Faithful'; this humble song offers a crucial line sung over and over- '…we must remember that You have forgotten…' Sometimes through all the busyness and stress, we can forget the enormity of Christ's death and resurrection, sometimes even downplaying the effect it ought to have upon both ourselves and the world around us. This song seeks to rectify all of that, in giving us a reminder (even if we think we may have heard it again in songs before), that our response to the single most powerful event on the planet shouldn't be taken just in our stride. The price for our eternal freedom is Jesus, and surely our response should be nothing less than surrendering the things in our lives that may keep us from experiencing Christ's love in our lives and those of others. 'Shine' and 'Come Alive' both show us Jeremy's passion to become that vessel of hope and joy to the world, and while both speak about the same theme of shining our light in the darkness, 'Shine' is an anthem full of powerful vocals and great repetitious techniques in how Jeremy proclaims '…shine Your light, shine Your light, I am Yours Lord, lift me up, lift me up, I am no more…'; in contrast to the slowed down ballad-like melody 'Come Alive', full of hand claps and strings as Jeremy also shows us his conviction of how '…I won't stop showing this hope that is holding the passion so deep in my heart…' While many listeners may criticise and declare a lack of thematic material to distinguish the songs, it is in the similar themes that Jeremy has found His niche, and how sometimes it may take a few songs with the same theme to impact the listener and show them what Christ has been longing to say through these 11 songs full of hope, freedom and restoration.
'Reign in Me' is a prayer to God, and in a similar theme to another 'Reign in Me' (by Paul Baloche), this song by Jeremy Camp shows an intimate moment between Jeremy and Christ, asking Him to dwell inside his hearts as the world sees Him wherever he goes. While not that much ingeniousness is given to the music (this song's musicality seems awfully similar to many of the other songs on the album or on Jeremy's albums previously), the lyrics make up for what would've been another bland and generic song that potentially could've been the albums downfall after naming the song 'Reign in Me' (not that there's nothing wrong with the title, it's just that if Jeremy were to have taken the worship route, the song would've been out of place on a rock album). However, the song which does feel out of place on this 11 track song list is 'Free'. With many songs being called 'Free', from the poignant melody by Steven Curtis Chapman to the anthemic power ballad by The Katinas and the soulful pop song by Dara MacLean; Jeremy's contribution to a song just titled by this one word fails to live to the other more lyrically and musically poignant renditions. With the opening bars of 'Free' blatantly sounding like Switchfoot's 'Enough to Let Me Go', despite the truth in the words '…I am free, my sin was wrapped around me, trying to drown me, You have set me free…', there are hundreds of songs by hundreds of artists that also speak about freedom, and frankly, a not necessarily new concept ought to be given much more creativity and inspiration if it were to stand out on Reckless.
Overall: Despite a few hiccups within the song lineup ('Free' in particular), Jeremy has delivered a solid album anchored by the title track and how as we become more immersed in Christ and His unending and unequivocal love for us, the struggle that we sometimes can feel as we become more reckless for Him will become less of a struggle and more of a joy, both felt by ourselves and God in the whole process of abandoning every part of ourselves at His feet and trusting in the outcome- good or bad (as we perceive it). With this album a perfect purchase if you have enjoyed Jeremy Camp's previous albums, especially Beyond Measure and Restored, the rawness shown through the production of Reckless is almost certainly going to place this album as one of the most popular in February 2013. As Jeremy reminds us through these 11 songs that '…my heart's desire is that people will listen to the Lord and his leading and really dive into the fullness of what He's called them to do, whatever that looks like…' these 11 songs are a great ministry tool as we focus on Christ's plan for us, all the while proclaiming that '…I won't make a move without You…' ('Without You'). With 'Reckless' a possible nomination for Rock/Contemporary Song of the Year at the Dove Awards this coming Autumn (around August 2013), Jeremy has done a great job in preparing and giving listeners a well deserved album full of enjoyableness and encouragement.
RIYL: Kutless, Sanctus Real, The Afters, Steven Curtis Chapman