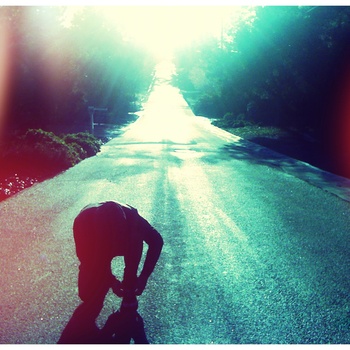 Band: Jeff Jacquay
Title: La Cambria
Label: none
Release Date: 4/1/11
Reviewer: Carter Fraser
Tracklisting: 
Ting!
Immersion
La Cambria
World's Record Trophy
Trifecta
Galaxies are Speaking!
The Gardens of Pardons
It Just Makes Scents
Walking, Lost
A Sleep
Once Upon a Worm
10/8
If there's one thing that I like about folk music it's that it has the inherit ability to sound really sad really easily. Not that there's anything wrong with upbeat folk, but if I start listing off my favorite folk records they're all dark and depressing. There's just is something wistful about a man and a guitar. If anything, Jeff Jacquay almost takes this too far on his debut LP. It almost sounds too desolate, too detached, and too distant. Nonetheless, despite his constant morose sound, the former Unashamed vocalist has crafted a strangely lively album. Quick paced and short at 35 minutes, La Cambria is a briskly lo-fi emotive experience.
Jacquay's voice is rarely more than a whisper, but it easily rises above his soft guitar picking. Acoustic guitar mostly drives La Cambria, although muted electric guitars do come in to play with some frequency, as well as some drums and cymbal crashes. Jacquay's capabilities as a songwriter are immediately apparent on stand out "World's Record Trophy," by far the most dynamic track on the album. Much of the album consists of remarkably simple, yet effective melodies. A decent chunk of the record is instrumental, although the instrumentals are brief in length and seem perfectly fitting with Jacquay's intermittent vocals. Intimate textures and samples are used effectively throughout the album (a plane flying overhead, a voicemail, etc.), further emphasizing La Cambria's overall atmosphere. In fact, that might be Jacquay's greatest strength—not necessarily the songs themselves individually, as they are almost too simplistic for their own good, but in his incredible focus and knack for subtlety.
Lyrically, La Cambria follows the same solemn tone as other aspects do, with poetic imagery and abstract themes. Jacquay's introspective musings range from worshipful to angry to downright bizarre. His meandering lyrics never stay in one place very long (there's not a true chorus to be found), such as when Jacquay remarks, "stabbing the stars with fork in the road's / glaring surprise for the rest of our lives / where causality looks good in your eyes / belittling the conscience if time / what's surely yours is now surely mine." However, as Jacquay's lyrics fade out behind his guitar, his stories take on a life beyond their simple meanings.
Overall: La Cambria is an album destined to go under the radar. It almost completely fails to say anything outwardly, preferring to keep to itself in the corner, playing sad songs by itself. It's almost as if Jacquay didn't want it to be heard and made the album for himself rather than for anyone else. Still, for those that take the time, listeners will find that it is an unquestionably consistent, charming, and heartwarming release.
RIYL: Jon Foreman, Nick Drake, Honest Abe, Bright Eyes
Free At: http://jeffjacquay.bandcamp.com/