Album Review :
Jason Gray - Christmas Stories: Repeat the Sounding Joy
By Jonathan Andre in Reviews | Comments closed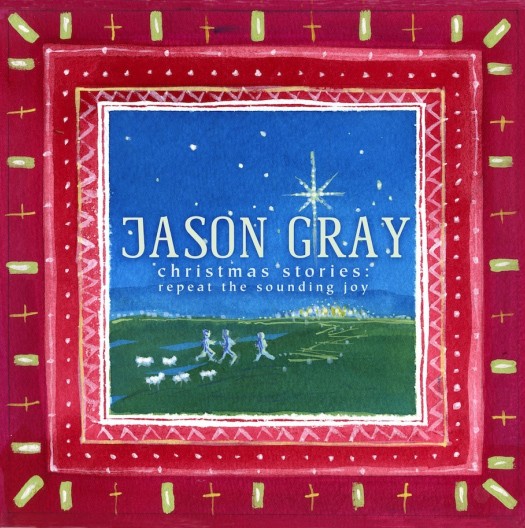 Artist: Jason Gray
Title: Christmas Stories: Repeat the Sounding Joy
Label: Centricity Music
Release Date: 10/9/12
Reviewer: Jonathan Andre
Tracklisting:
Oh Come All Ye Faithful
Christmas Is Coming
O Little Town Of Bethlehem
Rest (The Song Of The Innkeeper)
Ave Maria (A Song For Mary)
Forgiveness Is A Miracle (A Song For Joseph)
Gloria (The Song Of The Shepherd)
O Holy Night
Easier (The Song Of The Wiseman)
I Will Find A Way (The Song Of Emmanuel)
Christmas For Jesus
Children Again
Joy To The World
Jason Gray has been one of my favourite Christian singers recently, not just because of his down to earth personality, but it is what he has had to overcome and keep overcoming (his speech impediment) that has made me continue to respect this CCM/pop artist, admiring his continual trust in Christ and his humble nature as he surrenders everything he has, even his speech, over to God for Him to use. Whenever Jason speaks, it is clear that he has a speech stutter, but as he sings, it is barely noticeable. Evident of God's hand on his life, Jason knows first-hand of how God uses the broken, frail and weak to be the strong warriors of God, understanding that God even chose Moses, who, just like Jason, also couldn't speak that well; to be the one to deliver the Lord's people from Egypt. Writing some of the most underrated songs over the last few years, with 'More Like Falling in Love', 'I Am New', 'Good to be Alive' and 'Remind Me Who I Am'; Jason is back with his first Christmas album, Christmas Stories: Repeat the Sounding Joy. Produced by Cason Cooley (Andrew Peterson, Katie Herzig), this reflective album full of reminders of Jesus' birth and the traditional Christmas story, is given a well-received refocusing as each of his original songs are written from the perspective of either the innkeeper, the wise-men or the shepherds. As Jason intertwines together 9 original songs together with some heartfelt Christmas classics like 'O Holy Night' and 'Joy To the World'; Jason reminds us of the beauty of the Christmas, and how '…The real story of Christmas can get lost in the shuffle… I wanted to bring them [the people of the Christmas story we love] back from just being iconic story characters and to consider who they really were, what events were unfolding in their lives, and how they as human beings in extraordinary circumstances were responding…' With such poetic songwriting skills leading to Jason being in the same realm of songwriting as songwriters Jason Ingram and Nichole Nordeman; this Christmas album, while not necessarily the most publicised (Steven Curtis Chapman's JOY, Francesca Battistelli's Christmas and Jeremy Camp's Christmas: God With Us are much more heavily promoted), has been one of the most enjoyable Christmas albums since Third Day's Christmas Offerings and BarlowGirl's Home For Christmas. With an acoustic/folk music blend filled with a great reflective undertone, Jason's album is not to be missed as I find myself singing along to his original tracks, reminding myself of the reason (apart from Easter) why my life has meaning!
Most original songs on this album are told from a character's perspective, either the innkeeper, the wisemen, Mary and Joseph, or the shepherds that encountered the angel while they encountered the angel while they were tending their flock. A similar style as to how Nichole Nordeman wrote all the songs from a biblical character's perspective for the album Music Inspired By: The Story, Jason's uncannily poetic ability shines through on many songs on the album, with one of my favourites being 'Gloria (The Song Of The Shepherd)'. As the song starts with whistles and claps, this captivating melody about shouting the praises of God is fully understood as we grasp how awestruck these shepherd men were '…after the angel sung, [as] everyone held their breath as the darkness rushed back in upon those shepherd boys…they were trembling with fear and joy…' Any natural response after seeing angels telling of a Saviour should be one of joy and reverence, and after these shepherd boys went towards Bethlehem to find Jesus, I'm sure they were singing '…Gloria…now everything is gonna change, Christ the Lord is born today…' Full of life and happiness, this is a perfect song for the shepherd, a song of gladness, worship and honour as we come to terms with the enormity, not only of Christ's death and resurrection, but of His birth in the first place. Well done Jason for one of my favourite songs on the album!
'O Holy Night' is one of my favourite Christmas songs ever, and is one of the four Christmas carols on Christmas Stories: Repeat the Sounding Joy. As Jason starts the melody with a percussion driven undertone, reminding us of the night of our Saviour, listeners are able to fall in love with the song even more as Jason cries out one of the most famous lines in any Christmas song- '…fall on your knees, oh hear the angel voices, oh night divine, oh night, when Christ was born…' The song is one of my favourites for the reason of its worshipful chorus, and through Jason's unique ability to create poignancy out of everyday elements; this powerful rendition of a Christmas classic is one of my favourite songs on the album, as Jason emotively releases all his worship and praise at Jesus' feet. 'O Come All Ye Faithful' and 'O Little Town of Bethlehem' are both shortened to just over a minute each, with 'O Come All Ye Faithful' an instrumental introduction on glockenspiel with a faint yet increasingly audible choir as an interlude to original song 'Christmas is Coming'. Though only a minute, this cheerful melody is a great first song and well-fitted as the scene setter into an album full of wonder and mystery. 'O Little Town of Bethlehem' is just the first verse; but heartfelt and poignant as ever, Jason delivers the words '…in thy dark streets shineth, the everlasting Light, the hopes and fears of all the years are met in thee tonight…', reminding us of the day salvation came to us many years ago. 'Christmas is Coming' segues from 'O Come all Ye Faithful' and is a great addition to the album line-up and as the first singing song on the album, Jason delivers this joyous track complete with choirs, hand claps and a happy cheer as we are met with the question- '…can you hear this season calling to the child inside of you? Awaken from your slumber, come see with younger eyes, and be taken by the wonder that took the whole world by surprise…' As we surrender to this child within us that sees the beauty, innocence, wonder and joy within all things, we can be awakened to the happiness that this season promotes- with 'Christmas is Coming' right at the forefront as one of my favourite 'holiday promoters'!
Along with 'Gloria' are a collection of original songs penned by Jason through the eyes of the innkeeper, Joseph, the wisemen, even Jesus Himself as Jason looks at the history-defining moment from a wide range of perspectives. Starting the journey off with Joseph and his sense of betrayal when Mary told him that she was pregnant, Jason paints a real picture as he sings out the situation alongside percussion and looping drums, '…forgiveness is a miracle…and a miracle can change your world…'. As we listen to the story progress, following along as Joseph encountered an angel, took Mary as his wife, and travelled to Bethlehem to give birth to Jesus; we are taken on a journey full of transformation, that by the end, Jason sings out through the tag song 'Man of Mercy', that '…blessed Joseph, your heart has proven, through you the kingdom has come, oh God delights in man of mercy, and has found an earthly father for His Son…' 'Rest' is sung in first person as the innkeeper shows the listeners his thoughts of the day- '…I've got no time for precious things but at least they won't be wandering if they're sleeping on my stable floor…' As Jason reveals the innkeeper to be more selfish and conceited than the bible depicts him to be, we are able to align ourselves more with him, guilty of sometimes shunning away the 'important' for the urgent, or sometimes the temporary. This sobering melody moves along into 'Easier', a song of the Wise-men that is one of the most applicable and poignant on the record. Through light keyboards and percussion, Jason lets down his guard and confesses that '…it's easier to give you the things I do than to open my life and let you walk through…' Confronting and compelling, we are led to revelation that '…only a child could heal the wound, of the fear that keeps me away from you…' Full of heartfelt honesty and something the wise men could've been thinking as they gave their gifts to Jesus, Jason's stirring song in 'Easier' urges us towards the meaningful and sometimes difficult, rather than something that's just 'easy'.
'I Will Find a Way' is a re-recording of the song from A Way to See in the Dark, a song sung in first person, from Christ to creation (in particular Mary mother of Jesus) as Jason poetically paints the scenario of Jesus' birth, and that the reason He came was to do '…a new thing and soon you will see, I am coming among you and my name shall be Emmanuel…' A song of heartbreak for the lost and a remedy offered, Jason views the scene from Jesus' eyes, providing a well written and delivered melody of restoration and redemption, with God finding a way for creation to be connected again to their creator. The album then ends with the original song 'Children Again' and the Christmas song 'Joy to the World'. 'Children Again', a duet sung with Nichole Nordeman, is a song about gratitude instead of wishing and regrets as Jason cries out along with the festive instruments of cymbals, percussion, and drums, that '…Christmas is calling again, leading us to Bethlehem where a child is waiting for you…a baby can make us all children again…' In a metaphorical sense where we become like children in the innocence, wonder and joy that we encapsulate, we begin to remember the sheer importance of the Jesus story as we set aside all our grievances to look with fresh eyes at the story that we so ever gloss over, yet not fully reconciling together with our hearts. Jason's song, together with the album-ender 'Joy to the World', is able to release a sense of joy as I remind myself of the importance of the holiday season, not only in a commercial sense, but also personally too. 'Joy to the World' adds a chorus, where Jason reconciles us back to joy- '…the hope of every heart comes alive in Emmanuel…' A seemingly flawless addition to an initially great song, Jason's musical and lyrical ability to create poetic imagery and additional revelations, even from centuries old melodies is certainly evident from the last song on Christmas Stories: Repeat the Sounding Joy. Well done Jason for this collection of songs!
Overall: Jason has once again created melodies that soak deep within our souls to wrestle with our understandings of the Christmas story and thus firm up our beliefs as we come into this holiday season with a fresh perspective of Jesus' birth and what it truly means for mankind. There is a line in 'Christmas is Coming' that really places the holiday season in the right light- '…I don't want you to miss it, I know I have before, like the innkeeper who missed the wonder right outside his door, so open up your heart as Christmas passes through just in time to wake the child asleep inside of you…'- this is a great season to remember, and we ought not to miss out on one of the most festive, sombre, and celebratory times of the year. Together with Jason's outstanding Christmas album, 2012 is looking like a Christmas to remember as I place this album as my favourite Christmas album since BarlowGirl's Home For Christmas. Well done Jason for such a feat that is deserving of a Dove Award for Christmas album of the Year!
RIYL: Nichole Nordeman, Josh Wilson, Steven Curtis Chapman, Francesca Battistelli
Buy the Album: iTunes/Amazon