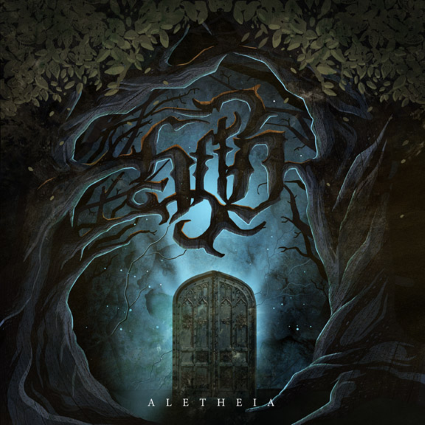 Artist: Hope for the Dying
Album: Aletheia
Label: Facedown Records
Release Date: 03/18/13
Reviewer: Lee Brown
Tracklisting: 
Acceptance
Reformation
Iniquitous
In Isolation
Through a Nightmare, Darkly
The Lost
Visions
Serenity
Open Up the Sky
There are just so many thoughts I have coming into this review. Upon first listening to Hope for the Dying's Aletheia, I picked up on themes and choices that would have fit nicely on Becoming the Archetype's masterful Celestial Completion. Just as BTA went completely against the grain with their masterpiece, so Hope for the Dying does things differently. The fact that the band chose to start the album with a nine minute song alone screams going a different direction than modern metal. In a genre of music where "short and brutal" is the norm, having a powerful and yet winding track open is the very definition of the term. Still, comparisons to BTA's album should not be seen as negative. In fact, Celestial Completion is one of only a handful of albums I would give a perfect 5/5 to (had I reviewed that album), and Alethia does well to pick up where that album left off, mixed with a pinch of Hand's Give Me Rest.
From start to finish, Hope for the Dying produces a sound that is bigger and more orchestral in nature than what most of their peers are doing. From including longer sections of pure finger picking to weaving in moments of subtle instrumentation (also comparable to Celestial Completion) not typical to hardcore's elite bands, HFTD sets themselves apart in all the right ways. It's easy to see why the band "graduated" from Strike First to Facedown in 2010.
On Aletheia, Hope for the Dying blend divergent inspirations from both American and European metal bands from the past and present into something that feels very deep, epic, and (as the press releases state), orchestral. In this regard, the allusion to BTA's album are apt. There is not another album I can think of that more closely fits with this. It's almost as if the two are cousins.
Aletheia begins with the epic and winding track "Acceptance." As mentioned in the lead in, "Acceptance" is over nine minutes in length (in fact it's almost ten)… as the opening song! It is not alone in its long span, either. "In Isolation" clocks in just over the eight minute mark, and "Open Up the Sky" concludes the album with almost thirteen full minutes of power. Very few bands could open an album with a nine minute track that is more instrumental than it is vocally based and keep the listener engaged. Somehow, however, HFTD pulls it off in spades.
"Acceptance" begins with a somber, long, and winding guitar/drum opening that literally makes you feel as if you're walking the dark and mysterious path pictured on the album cover, staring at the glowing door in the distance. It is hauntingly beautiful to risk overusing that term, and it lasts for just under two full minutes before the orchestrally influenced heavier guitar sound takes over for another full minute. All of this takes place before any vocals break in, at all.
When the vocals do appear, they break the somber pace with aggressive guttural screaming that proves a nice contrast before hitting another BTA-like moment where higher pitched singing intrudes and starts to mix with the gutturals. Think the balance in vocals brought on "Breathing Light" for a good example. By the time "Acceptance" has finished weaving it's tale, the listener has experienced more instrumental based moments in one song than most hardcore albums give in their entirety.
"Reformation," on the other hand, starts immediately with guttural screaming from the outset. The lyrics, "marching as one, the reformation has begun," speaks exactly to what the message of the song is all about. It is about uniting the Body of Christ together under a movement of war against the world. Musically, this track retains some of the orchestral moments, but feels much more like label-mates War of Ages' signature sound. To contrast "Acceptance," "Reformation" is relatively short (4:18 in length) and is must more straightforward than some of the other tracks.
In terms of the flow of the album, this is a powerful thing. Each track seems weaved into the whole in a specific and intentional way. "Reformation," then, provides a powerful track with anthemic qualities that would make a great first single for the album. Fans of pure hardcore need only to hear this song to be ready to make a purchase on this album.
"Iniquitous" continues this intentional feeling by starting with European metal inspired finger picking that holds back the vocals for almost a full minute again. When the vocals hit, they are again powerful. The lyrics, "I am depleted by the sickness you convey," speaks to the hypocrisy of false leaders ("You almost believe the lies yourself"), before proclaiming rebellion against the lies. Thematically, "Iniquitous" reminds me a bit of A Plea For Purging's "Shiver." As with other songs, the sound on "Iniquitous" is big, epic, and has that extra something that simply draws you in slowly yet powerfully.
Continuing their trend of mixing in powerful orchestral sounds, "In Isolation" begins with something of an Irish-jig-infused metal. Though I mentioned another "could" be the first single off this album, "In Isolation" actually is the first single the band is promoting for this record. The lyrics and theme of this song, which can be seen in the official lyric video below, make me feel as if I were hearing John Bunyan's character "Christian" from A Pilgrim's Progress sing from the pages of that work. This is, yet again, one more track that feels as if it shares more than a little inspiration from BTA's Celestial Completion… and, once again, is not worse off for it. The final refrain of "Lift me up… I no longer wish to walk alone," bring a powerful message of abandonment into Christ's arms that is really skillfully (musically, tonally, and as a message) put together. But, enough of me blabbering, check it out for yourself:
*Note: The lyric video version is about three minutes shorter than the album version. The album version adds an additional refrain and more epic instrumental sections.
The dark, deep, and powerful sounds created through the first few tracks are exemplified in "Through a Nightmare, Darkly." The play on words, of course, references Paul's imagery that we see God "through a mirror dimly" (1 Corinthians 13:12), but will someday see Him face to face. Without saying a word, then, (this is a purely instrumental track), the title of the song combines with the deep instrumentation to provide a wordless picture of what the band is conveying. By stating that we see "through a nightmare, dimly" the title combines Paul's words and furthers them into a picture of this world that is dark and dreary, full of pain and torment, yet still manages to point to the day when we will see Christ "face to face."
This is a fitting message to lead into a track such as "Lost." "Lost" proves the message alluded to in "Through a Nightmare, Dimly" by adding passionate lyrics into the fray. "This is a chance to rise" from a broken generation is the siren's call on "Lost." As with previous songs on the album, "Lost" does a great job of blending guttural screaming with Seth Hecox inspired clean vocals.
Though there are many instrumental moments on Aletheia, "Lost" is perhaps the track I would point listeners to to hear just how magisterial Hope for the Dying is on this album. Simply put, Hope for the Dying proves with this album that they are masters of their craft that have poured their souls into every guitar solo, every drum beat, and every bass riff on this album. From start to finish, it is a musical masterpiece.
The album begins the path to its inevitable conclusion with "Visions." I have little new to say when it comes to this track. The sound continues to blend dark European inspired metal into the overall imagery of the album through strong vocals layered over even stronger instrumentation. What made this song for me was the strong cleans, which give even more of a European metal feel without disrupting the pattern set by the heavier vocals. With a length of almost a full ten minutes, "Visions" is a masterful track that those with patience enough to sit through the whole experience will thoroughly enjoy.
In terms of the message of this track, the album turns from focusing on the problem to presenting the solution, which is Christ's dominion over this world. "Oh how the earth is laid to waste by the touch of Your hand." This solution is furthered in masterful ways by "Serenity." "Let me cover you… find a way home…" Just as the title suggests, "Serenity" is a serene soundscape with hints of aggression mixed into the backgrounds. The guitar work shines on this track with skillful picking that, were the games still popular, would test any "Guitar Hero's" skill level.
"Serenity" also breaks the mold for this album by being the most ephemeral track. With only one minute and fifty-nine seconds to its name, "Serenity" proves that the less-is-more approach works in amazing ways when contrasting long epics that precede it.
The album closes with "Open up the Sky." As a closing song, "Open Up the Sky" has all the right elements. It opens with an further epic sound that feels like a culmination of all that has come before it, yet it also brings further innovation in sound. It should be noted that at almost a full thirteen minutes in length, "Open Up the Sky" is a lengthy epic in every sense of the word.
Those conditioned to get their hardcore in short bursts will possibly have a hard time following Hope for the Dying's concluding notes trough all thirteen minutes. This would be a mistake, however, as "Open Up The Sky" brings a fitting conclusion to the album. Where "Visions" started the pivot into the ultimate hope the album brings, this track brings it in full force. In so many ways, "Open Up the Sky" is a worship song that is built upon and truly only understood by looking through the lens of the pain and moments of brokenness of all that preceded it. The piano outro that fades into the distance is a more than fitting way to make an exit.
As an album, Aletheia breaks the mold of what metal fans in 2013 have come to expect. In light of this, the album demands that you not simply "listen to it," but that you truly experience it in full. This is the type of album, like Hand's Give Me Rest before it, that requires the listener immerse themselves in the album from start to finish. If the listener were to attack the album through random play or try to skim through it, they simply would not get the magisterial beauty Aletheia has to offer. In that regard, this album is not for everyone. In truth, however, that is an indictment against our fickle culture more than it is against the band, as this album is simply stunning.
Overall: Hope for the Dying's powerful release Aletheia is certainly not for anyone struggling with ADHD. With several songs approaching the ten minute mark, this is not your typical metal album of today. With a powerful orchestral feel and inspirations that include European metal, Hope for the Dying bring an epic album that will sit well with fans of Becoming the Archetype's masterful Celestial Completion.
Aletheia is not your typical metal release… it is so much better than that. Though it is early in the year, this is certainly a strong contender for heavy album of the year. Anyone with the mettle to sit through the entire experience from start to finish will find something just shy of being called an outright masterpiece. Any fan of heavy music asking themselves whether they should purchase this album should stop asking and hit the purchase button… it's simply that good. Still, the ADHD crowd will have a hard time sitting through the purposefully lengthy tracks.
RIYL: Becoming the Archetype's Celestial Completion mixed with Hands' Give Me Rest, with just a dash of A Plea for Purging's song "Shiver."