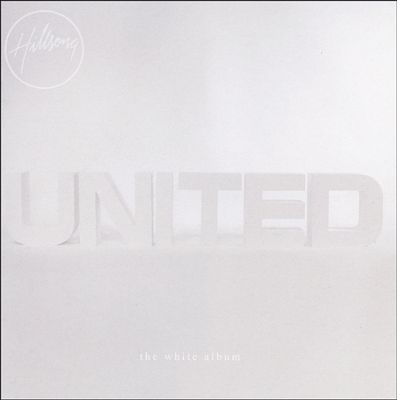 Band: Hillsong United
Album: The White Album
Label: Hillsong Music
Release: 3/4/14
Reviewer: Ian Zandi
Tracklisting:
With Everything (Tim Yagoliknov Remix)
Scandal of Grace (Chad Howat Remix)
Like An Avalanche (Eric Owyoung Remix)
Aftermath (Chislett Tennikoff Remix)
Aftermath (Stacy King Remix)
Hosanna (Tim Tagoliknov Remix)
All I Need Is You/Came To My Rescue (Lark Remix)
From The Inside Out (Black Rodeo Remix)
Search My Heart (Solomon Olds Remix)
The Stand (Jeremy Edwardson Remix)
Oceans (Lark Remix)
Love Is War (Darren King Remix)
Where Feet May Fail (HXLY KXSS Remix)
Relentless (Young & Free Remix)
In 1968, The Beatles released a self-titled album also known as The White Album (due to it's nearly blank cover). The double-album was ahead of its time as it experimented with various genres and collaborations. Fast forward nearly 50 years into the future, and we have Hillsong United's album of the same name; The White Album. (Random fact: Upon entering "The White Album" into Google, web searches suggested "Hillsong" before "The Beatles". I guess John Lennon was wrong. Jesus is more popular than the Beatles.)
Surprisingly, this is Hillsong United's first foray into remix albums. Given their track record of hammering out a new release of some kind or another (usually one of those pesky live albums), I would have assumed that they would have come out with a remix album years ago. I did find an album from Hillsong London called Jesus Is: Remix Live but I don't that really counts.
Going into this album, I really hoped that it would be a true remix album. Typically, it seems that many Christian bands don't know how to deviate from the original track without just adding a drum machine and a few synths (see examples here and here). Are we too afraid of destroying the melody? Does it kill any worshipful nutritional value that the original track may contain? I'm not quite sure. Fortunately, this album is in a void between these common "remixes" and the future of electronic music.
I will admit, I'm not the most familiar with EDM tunes. I know a few common characteristics of such music including….
1) Long-winded 2) Repetitive 3) Incredible live show experience.
As for Hillsong, I would consider myself a "casual fan". I've liked them on Facebook but I don't find myself turning on their music for the heck of it. From my experience, here are a few common genes in their music….
1) Long-winded 2) Repetitive 3) Incredible live show experience
Given Ian's "Venn Diagram of Hillsong and EDM" that is exactly a circle, this should be a match made in heaven. In reality, The White Album truly works for what it is intended. Hillsong took 14 of their most popular worship staples and morphed them into creations that will appeal to those of different tastes. Some of these sound radically different than their original counterparts (With Everything, Where Feet May Fail) while many others just insert electronic sensibilities into the classics (Scandal of Grace, From the Inside Out). Consequently, some are hits, some are misses.
Collaboration is a very common addition to remix albums and The White Album is no exception. There are many Christian household names on here such as Stacy King (of Eisley), Darren King (of Mutemath), and Solomon Olds (formerly of Family Force 5) in addition to many names that I do not recognize immediately (like Tim Yagolnikov of Kye Kye). These styles are implemented into the remixes but are not readily recognizable as being distinct to that individual.
Similar to the recently-released Jars of Clay remix album Inlandia, I particularly enjoyed the heavier tracks on The White Album. The slower tracks are not bad necessarily, but they are definitely the least creative of the bunch. I am not expecting a speed metal album from Hillsong but their slow songs tend to drag the most (however, how cool would a Hillsong speed metal album be?).
Overall: In the end, this album will most likely get overlooked and often-forgotten in the vast sea that is Hillsong's catalog. I am holding on to the hope that this album marks a turning point for the band. Perhaps they may consider continuing to pursue the electronic experimental elements of this album into a batch of brand new original songs. If there is one song to take away from this album, I would purchase the HXLY KXSS remix of "Where Feet May Fail". There are two remixed variations of the mega-hit "Oceans (Where Feet May Fail)", but this one is far superior in my opinion.
RIYL: Daft Punk, Hillsong, Jars of Clay, Mutemath, EDM, Kye Kye, David Crowder Band