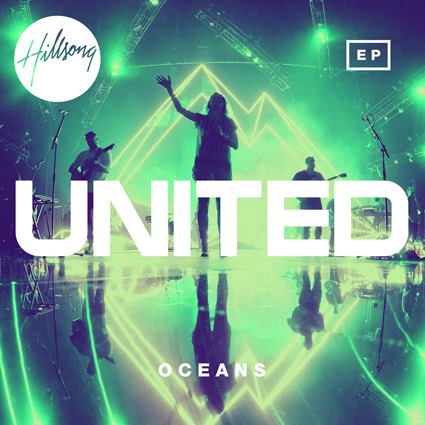 Artist: Hillsong UNITED
Title: Oceans EP
Label: Hillsong Music
Release Date: 9/10/13
Reviewer: Jonathan Andre
Tracklisting:
Oceans (Where Feet May Fail)
Oceans (Where Feet May Fail) (Radio Version)
Oceans (Where Feet May Fail) (Lark Remix Version)
Oceans (Where Feet May Fail) (Live at Red Rocks)
Oceans (Where Feet May Fail) (Live at Elevate) (Video)
Hillsong, in all its formats, have always been a mighty force in the worship music industry. From 'Mighty to Save' and 'From the Inside Out', to 'Salvation is Here', 'God is Able', 'Forever Reign' and 'Hosanna'; worship songs have circled the globe and have touched our hearts, regardless of country, language, worship service or whether we even like Hillsong as a worship movement or not. Regardless of whether you are for Hillsong, against them or are just plain indifferent, there's no denying that their worship songs have made a global and powerful impact on the landscape of CCM and worship music as a whole (alongside Passion, Bethel and Jesus Culture). Now enter in the song 'Oceans (Where Feet May Fail)'; from Hillsong UNITED's most recent album Zion. Just recently at our own local church in Sydney, Australia; we have started to sing this song, and while I didn't really think that much of the song when I reviewed Zion back in February, since then, the song has exploded and taken off in a way that no other song has ever done before by Hillsong (except 'Mighty to Save' and 'Hosanna' in 2006). With covers even done of the song by pop/acoustic band For A Season and worship artist Sarah Reeves, as well as the reaction given by worshippers, critics and listeners alike; we are able to hear a song that challenges us spiritually, asking the question of whether we'd follow God if and when He calls us to go deeper into His presence and out into the unknown where the metaphorical waves are coming at us in every direction. A 9 minute long masterpiece (musically and lyrically); Hillsong have since released Oceans EP, in response to the song's popularity. With the EP consisting of 5 tracks (the original version, the radio edit, the exclusive remix, the live version, and the video version); we are able to sit back and listen to a song that has captured the hearts and minds and spirits of many individuals around the world. Baffled that it wasn't included on WOW Hits 2014 (expect to see 'Oceans' in WOW Hits 2015 then), this is a song that will make you a fan of Hillsong UNITED, the album Zion or maybe both, if you aren't a fan of this worship movement already.
Considering that this EP comprises of just one song, this review's not going to be long. Even when I'm writing this review, I'm deliberating about what to rate it- do I rate it a 4 because of the reputation of the song, or do I rate it a 2 because it was only that song on the album, and not any other? I must admit, the repetition can be a little annoying at times (yes, even some of your favourite songs can get on your nerves if you hear it too often within a short amount of time), but at the end of the day, Oceans EP is a response by the band to the fans of the music, reminding us that it is the songs that matter, and more specifically, 'Oceans' is the track to buy if you're only considering purchasing one track from Zion. Standing at a length of 8 minutes 56 seconds; the electronic keyboards and looping percussion set the stage as lead singer Taya Smith declares out that '…I will call upon Your name, and keep my eyes above the waves, when oceans rise, my soul will rest in Your embrace, for I am Yours and You are mine…'; a lyric line that reminds myself a lot that Jesus is my first resource when it comes to whatever I need, rather than my last resort. The radio version of the song tends to be a bit more radio friendly, even cutting the length by half for the radio version to stand at the length of 4 minutes 11 seconds. Layered vocals and minimal instrumental sections is how they slice down the length, and while it may fit well on K-Love or Air 1 and when you hear it, it'll be enjoyable for a little while, the longer you listen to the radio version, the more you think that that particular version was rushed. Parents always say 'the original's always the best' when it comes to anything, and when it comes to 'Oceans', this statement is firmly correct. That's not to say that the other versions of the song aren't great- in fact, the remix of the melody provides us with more electronic music atmosphere to bring in listeners who enjoy that genre (without overdoing the electronics in a way that Capital Kings may sometimes do); while both live versions of the song (video and audio) showcase an extra-long acoustic singing of the bridge- at times becoming the highlight of the melody with everyone declaring out to God to '…lead me where my trust is without borders, let me walk upon the waters, wherever You would call me, take me deeper than my feet could ever wander and my faith will be made stronger in the presence of my Savior…' The video version of the song, taken at Elevate Conference (compared to Red Rocks as per the audio) adds on another 5 minutes, divulging to us a mini-sermon of sorts by Joel Houston as he encourages us in our walk with Christ.
Overall: Enthusiasts of Hillsong UNITED and the song 'Oceans' in particular will gravitate towards this release, and the advice I give is this- if you love the band and love the songs, then you can purchase it if you want. But if you're a casual listener (I'm probably somewhere in between), then I would probably recommend streaming the songs on Spotify first before you make a decision. Not that the song and the repetition of it can seem like a waste of money, but if I were to pick between this EP and another EP full of 5 brand new worship songs, I'd pick the other EP. Nevertheless, this is a great release and possibly a promotional tool used by Hillsong to promote further EPs and albums in the future. With great vocals by Taya Smith and the music delivered in top perfection; 'Oceans' is a melody that's going to be a classic worship song (regardless of artist) in months and years ahead. Well done Hillsong for such a poignant and compelling EP!
RIYL: Passion, Bethel Music, Hillsong Live, Jesus Culture
Buy the Album: iTunes/Amazon mp3