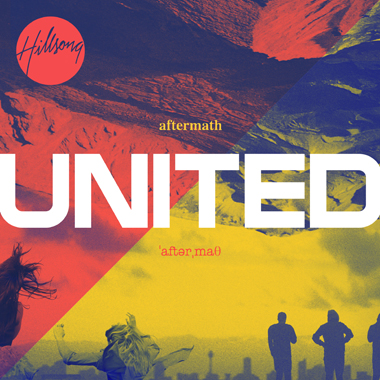 Artist: Hillsong United
Title: Aftermath
Label: Hillsong
Release Date: 2/15/2011
Reviewer: Joshua Hedlund
Tracklisting:
Take Heart
Go
Like An Avalanche
Rhythms of Grace
Aftermath
B.E.
Bones
Father
Nova
Light Will Shine
Search My Heart
Awakening
Search My Heart (Radio Version)
Everyone knows that Hillsong United churns out boring cliché worship power ballads year after year, right? Wrong! The Australian group's latest release, Aftermath, has been met with a strongly positive reception. I had fallen off the United bandwagon in the last couple of years, but when I heard that this was their second studio release, I knew I had to check it out. As much as I love the body of Christ worshipping together in a live setting, there's just something about the atmosphere of their 2007 studio album All of the Above that has made it my favorite of all the United albums, and I was excited about what this new one might sound like.
The well-built tracks on this album are less power-chord Jesus chants and more patiently developed grooves following a similar road of The Ember Days – but still with that electric United youth-group-ready oomph. "Take Heart" starts off full of delayed guitar picking, rat-a-tat snares, deep toms, and layers of vocals, strings, and experimental atmospheres – relaxing-yet-driving worship at its finest. There is a light burns brighter the sun / He steals the night and casts no shadow / It is hope / Should oceans rise and mountains fall / He never fails / So take heart… The song kicks into full gear on the inspiring bridge that runs through the qualities of God over our weaknesses: All our burdens / And all our shame / God our freedom / He has overcome
"Go" pounds with the energy of a typical United anthem, and to some it may feel like a rehashing of favorites like "Take It All" – but with more thoughtful layering. "Like An Avalanche" pulls back a bit for Brooke Fraser to lead, although its peaks of intensity far outpace her classic ballads like "Hosanna" or "Lead Me to the Cross." And I find myself here on my knees again / Caught up in grace like an avalanche / Nothing compares to this love.
But the gusto keeps right on going, and you may start wondering how long they can keep this fervor up – as well-crafted as the tracks may be. For the most part Hillsong United has found an atmosphere they like and they are content to explore it to the fullest. We still get tracks with soft, restrained verses, but we know it's gonna open full-throttle on the bridge – maybe even to higher levels than the group's ever done before. (The title track and the instrumental that follows are almost vying for movie-soundtrack-level inspiration with their percussion, strings, and ambient layers.)
Yet at the same time this album is anything but formulaic or stale. I bet you've never heard of a worship song called "Bones": You can take my dry bones / Breathe life into this skin. And it's got plenty of synthesizer and a triangle, to boot. And wait, is that Scripture reading from different nations in the interlude? Or how about "Nova"? Flood all the earth with endless light / Raise up the streets from death to life / Our God be praised forever. Who cares if the bridge adds another dose of +5 Energy? Or if the intro to "Father" feels like the first track all over again? OK, so maybe we care a little. But I challenge you to listen to the whole album and not be inspired to give glory to God through the multi-faceted lyrics expounding on his love and gift of salvation, and the ways he overcomes our troubles, changes our lives, and spreads that love through us to a hurting world.
Still, it's hard to maintain their level of excitement across twelve full tracks. When it comes down to it, United is essentially pounding deep drums and chugging big guitars for an hour, no matter how much they decorate with strings and piano, or break things up with an occasional experimental interlude. (Although Marty Sampson thankfully shifts gears a bit on "Light Will Shine" with indie basslines, synths, and handclaps… the closest they'll ever get to MuteMath?) And while there are quiet moments within the tracks, it never really lingers in the precious intimacy of songs like "You" from the last studio album. Don't get me wrong, it still all sounds really good – and the whole vibe is much less U2-stadium-anthem-y and much more big-epic-soundtrack-y, but you will be forgiven for, say, not finding yourself quite as stoked about the eleventh track as you were about the first three. Maybe if I was still in youth group…
Overall: Ultimately, though, this is a solid effort by the ubiquitous worship crew that is worth more than many may give them credit for. The group took their time crafting layers and rhythms that stretch their sound farther than ever before, and it all sounds a lot more earnest and exciting than the watered-down pop anthems that usually make it onto the radio. The multiple talents of the likes of Joel Houston, Marty Sampson, and Brooke Fraser continue to find fresh lyrics to express hearts crying out in surrender and devotion, and this may be the act's best release since All of the Above.