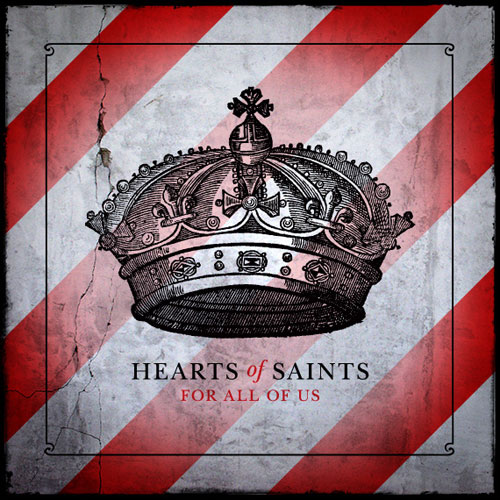 Artist: Hearts of Saints
Title: For All Of Us
Label: independent
Release Date: 1/15/13
Reviewer: Jonathan Andre
Tracklisting:
Intro (Rock Disc)
Birth of a Legacy (Rock Disc)
You're Alive (Rock Disc)
Flash (Rock Disc)
Wait (Rock Disc)
Battle Cry (Rock Disc)
Attraction, Distraction (Rock Disc)
Empires (Worship Disc)
Everlasting (Worship Disc)
For All Of Us (Worship Disc)
Our Generation (Worship Disc)
Out of the Dark (Worship Disc)
Merciful God (Worship Disc)
Your Great Love (Worship Disc)
For All Of Us (radio edit)
Releasing their self-titled debut album in 2010 to rave reviews, from CCM Magazine raving that '…Hearts of Saints is poised to be one of this year's breakout bands…' to Examiner.com calling the band as '…a force to be reckoned with in Christian music…'; independent Kentucky band Hearts of Saints are now readying to release their second album titled For All Of Us on January 15th. Comprised of a double disc collection with one album focused on the worshipful aspect of music and the other on the pop-rock musical genres; Hearts of Saints have been able to give us a sophomore release filled with worship melodies for the church as well as songs birthed from hopes and struggles that can be sung as the catchy anthemic songs that they are. While not many of their fans may know of their passion to lead worship, lead singer Craig Felker makes a clear distinction that '…we've always been comfortable in both worlds, it's just who we are. We're not a rock band covering worship songs; we feel called to write fresh expressions…we want to sing songs with people [instead of to them]…' Produced by Pocket Full of Rocks lead singer Michael Farren and Grammy Award Winner Andy Hunt, and executively produced by Ainslie Grosser (Jesus Culture, Matt Redman), with the majority of the songs written by the band, and about half a dozen co-writes with Michael Farren and pop-rock duo for KING AND COUNTRY; For All of Us is littered with potential radio singles and melodies that will certainly strike a chord with many listeners around the world, giving us a reminder of our identity in Christ and creating a medium of worship to our King in like of our revelation and realisation of our worthiness to Him. From the ballad 'For All of Us' to the anthemic 'Merciful God' and the rock infused 'Battle Cry'; this is an album that ought to be a certain purchase if you love rock-worship bands like Kutless, Worth Dying For, Sanctus Real or Newsboys.
'Merciful God' is one of my favourite songs on the album (and also the first radio single), with lead singer Craig declaring through the rising electric guitars that '…you're not alone, lift up your eyes, how deep, how wide the reach of a merciful God…' Comforting words to give to those who may feel like their existence in life may not matter to those around them; 'Merciful God' was birthed from a trip these men undertook in Haiti at the beginning of 2012. Explaining that '…the experience for us was both just unbelievably powerful and moving and very confusing, because we witnessed a poverty that I can't articulate in words or explain, coexist with a pure joy that, even as I talk about it now is something that I long for…' Joy in the midst of sorrow, poverty and desperation is something that the affluent society of the Western world may not be privy to or even aware of, but when one is in that circumstance when the only thing to hold onto is a merciful God that will carry His children through; it can be seen, known and fully comprehended that poverty of the physical doesn't necessarily mean poverty of the spiritual. What we have or don't have in our lives is nothing compared to the everlasting love God has showered over us. Reminding us through this powerful anthem (where Craig does a great imitation of Jason Barton, lead singer of CCM/Country band 33Miles) that we are not alone in our own situations, 'Merciful God' is a great choice for first radio single, with its heart and passion to reach the lost and broken with a message of hope and inspiration. Well done Hearts of Saints for such a powerful song.
With a great musical diversity between the two discs, there are many standouts on the album and a great variety of music to suit a wide variety of musical tastes. 'Birth of a Legacy' is a hard rock song with a 1 minute intro complete with echoes, electric guitar plucks and a musical atmosphere that reminds me of a RED song. Filled with a message of running to the prize of Jesus and bringing about a birth of a legacy that displays our love and freedom that we have in Christ; this 4 minute tune is a great listen if you enjoy songs from Kutless, reminding me of several songs from their Hearts of the Innocent album back in 2006. 'Flash' gives listeners a grunge-like feeling with a message of moving from the temporary to the permanent, the fleeting to the everlasting in describing how '…the flash burns so bright, but it won't last very long, and I hope my life is more than that…', in one of the most guitar-heavy songs on the album. We are met with a calling to move beyond the urgent to the important, beyond our instant gratifications and see what God has in store for our lives that goes beyond our here-and-now issues of everyday life. 'You're Alive' also gives us a timely reminder of the importance of our lives, stating above the guitars that '…[love is] all you ever needed in your life, let it tear down the walls of burden you have raised so high…' and 'Battle Cry' also confronts with guitars and powerful vocals from Craig, showing listeners that '…we were bought with a price and we won't stay silent…', lyrics that give us a peace that we need when it comes to our worth in Christ's eyes- that our love and acceptance came with the price of Himself on the cross. As we realise the reality of Jesus's sacrifice for our freedom, we too can join in the cry as we declare and proclaim our freedom and salvation to everyone that will listen. Well done Hearts of Saints for these rock anthems that will bring out the rocker in any listener as they listen to the hopeful songs of our freedom given by Christ our Lord.
Known for writing worshipful hits like 'Let it Rain' and 'Let the Worshippers Arise', lead singer of Pocket full of Rocks Michael Farren helped write all of the songs on the Worship Disc of For All Of Us, giving listeners solid worship songs for the church and some of my personal favourite melodies of the year so far. Starting off the Worship segment with 'Empires' and a synth and guitar introduction, Craig starts the song with the humble words '…we surrender our empires, let them crumble to the ground, we leave everything behind for the hope that we have found…' It is words like this that gives listeners courage at the thought (freeing and scary at the same time) that we can somehow submit everything we have at the Lord's feet- even our own empires that we can sometimes build up without knowing it. It is when we give God our hearts (as it shows in the chorus); we can become fully transformed by His work within us, and this anthem (with the electric guitar strums similar to the guitar work in Matthew West's 'Into the Light') can be a first catalyst in the inward change working inside of us. 'Everlasting' is inspired by the famous Psalm 139, and filled with light electric guitar and rhythmic drum beats, it is a constant plea to God to '…lead me in the way, everlasting…' 'Our Generation', also written by Michael Farren, shows Craig place on his 'Chris Sligh' hat as gang vocals lead the way to bring an anthem full of passion as we listen to a song that places the generation of 'now' and 'tomorrow' at the front and centre of discussion, reminding listeners that '…we are a generation who will go to all the Earth, declaring your salvation, singing loudly of Your worth…'; whereas 'Your Great Love' is a melody from Lamentations, a sombre song full of peace and rest as Craig offers up hope and peace in God's hands. But it is the title track, the powerful anthem 'Out of the Dark', and the rock ballad 'Wait' that are some of my favourites on the album For All of Us, one of my favourite albums of 2013.
'Out of the Dark' is one of my highlights from the worship disc, and with poetically crafted lyrics like '…awake, awake from your slumber, we are the sons and daughters of light, let faith and love cover and keep us, salvation has come and stolen the night…', what's not to love? Reminding us that now more than ever, it is time for us to move from the dark into the light, we are called as listeners to be active about our decision making- to move from indifferent to intentional. The guitar riffs and the emotive lyrical message, with lyrical similarities to Matthew West's 'Into the Light' and Tim Hughes's 'Out of the Darkness', is enough to place this song as one of the most lyrically relevant melodies this year amongst the young generation. The ballad of 'Wait' may seem out of place on a rock-prominent disc, but this heartfelt soaring anthem of hope is one that relates to many individuals that may be seeking love, fulfilment and purpose, but possibly in the wrong sources. As bassist Joel Puddry points out, '…so many kids don't know they're loved…we wrote this song because there's so many young people…who need to know they're loved and that someone really does care…', touching upon themes of love and acceptance that is really common amongst teenagers and young adults in an age where unconditional love is becoming more of an optional extra rather than a necessary emotion to portray.
Finally, the title track 'For All of Us' sums up both albums nicely- that Christ's redemption and love was for all of us to accept. The poignant words of how '…at the cross, Your death, the price, Your agony means life, for all of us…', we can meditate and rest in the true and timely words, fathoming and grasping the enormity of the statement. Full of reassurance and love shown beyond compare, this song is a declaration- that no matter what we have done, our past mistakes, regrets and pains cannot compare to the overwhelming grace that's covered us. A celebratory song where listeners around the world sing out '…Hallelujah, Hallelujah, worthy is the Lamb that was slain…'; 'For All of Us' adds a nice little refrain from the hymn 'Nothing But the Blood', a handy reminder that it is Christ's blood and body shed for us that only makes us whole again. Well done Hearts of Saints for such a compelling song of joy and reflection.
Overall: This is my favourite independent album ever- full of worship and rock for both enthusiasts of these different musical styles, For All of Us is a celebration and a reality check, a sober look at reality and a hopeful longing at what is to come, both in our time on Earth and towards eternity. Michael Farren is a great songwriter, and it shows with many of these songs entering my list as favourite worship songs this year. Full of intense passion, both albums give us a snapshot of Hearts of Saints- energetic and emotional, raw and relevant, hope-giving and grace-teaching as we are shown a glimpse where both styles of music collide to form 15 songs of alternative worship and praise to cater the needs of listeners that may gear towards listening to rock-infused music. For All of Us is perhaps my favourite record of the year- even better than Chris Tomlin's Burning Lights. With Meredith Andrews's 4th album Worth it All and Colton Dixon's A Messenger, both to release by the end of January 2013; this is going to be a great year in worship music. Full of vibrant guitars and an honest, vulnerable, yet equally comforting vocal and lyrical content, Hearts of Saints ought to be congratulated in giving listeners a stellar album that will place them on the map and may provide them with a major record label signing in 2013. Well done guys for such an enjoyable album!
RIYL: Chris Tomlin, Worth Dying For, Pocket Full of Rocks, Kutless
Buy the Album: iTunes/Amazon mp3