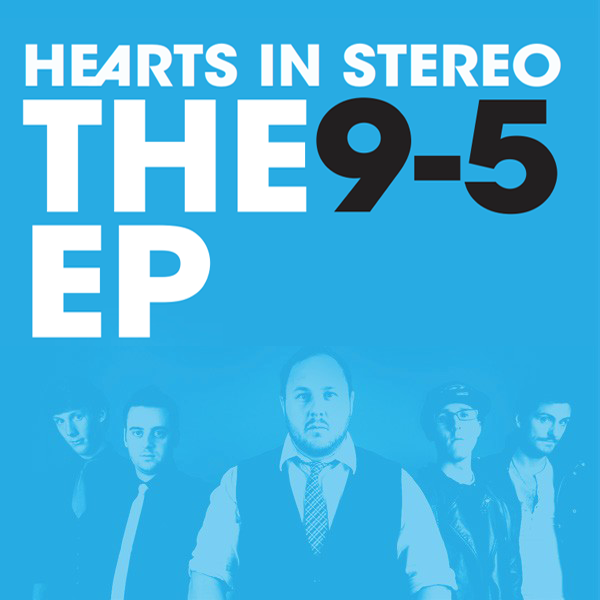 Band: Hearts In Stereo
Title: The 9-5 EP
Label: Independent
Release Date: Spring 2012
Download Link: The 9-5 EP
Reviewer: Shawn H.
Tracklisting
Dance Dance
Go On
Forever Changed
After releasing their debut album "In the Shadow of Giants" in 2009, followed in 2010 by their sophomore album "A Tale of Two Worlds", a major line-up change in May 2011 & releasing "East Coast EP" in late 2011, now in 2012 we are given their latest work The 9-5 EP. Since their last release the group of five have settled into their sound and discovered new synergy through group writing, allowing each member to add his own creative touch to each composition.
I tend to be reluctant of any album or EP that is less than 5 songs, but there was something different with this latest EP from Hearts In Stereo. I've followed the journey that Joshua Barbour (vocalist) has taken with two different lineup of band members, from a more Hard Rock sound to a what now seems like a Pop Rock/Alternative Rock sound.
The first track "Dance Dance", seems to be an attempt at a dance song that brings more originality than most other artists tend to bring to their dance songs. It may not be the hottest dance track of 2012, but it does hold it own ground in the genre. The 2nd track "Go On" brings what seems to be a radio rock anthem, a more mature sounding track than previous rock anthems that HIS have brought forward. The 3rd (& final) track "Forever Changed" was an unexpected piano ballad with a slight addition of strings, that seems to hint towards current/previous relationships & the history of ups/downs that the band has endured.
Overall:
In the history timeline of any artist, a maturity & growth in sound is pivotal to ongoing success. The whole plethora of different sounds within this latest EP is a sure sign of things to come from Joshua Barbour & his Hearts In Stereo band members.
You can download a free copy of The 9-5 EP