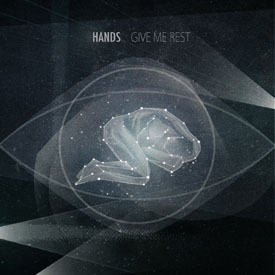 Artist: Hands
Title: Give Me Rest
Label: Facedown Records
Release Date: 7/5/2011
Reviewer: Jeremiah Holdsworth
Tracklisting:
1.  I Will
2.  Water
3.  Cube
4.  The Helix
5.  Here I Am
6.  Jovian
7.  Northern Lights
8.  2005
9.  Restart
10.  Give Me Rest
The band, Hands, is made up of members Shane Ochsner (vocals, guitars), Chris Schwartz (bass), and Josh Silbernagel (drums).  Their 2nd full length album, Creator, was a breath of fresh air in an overly saturated metalcore market.  The album wasn't metalcore at all, but a mix of post-rock, ambient, and hardcore.  The band toured with mostly metalcore type bands, and didn't quite fit the tours they were going out on.   They had to stop touring full-time, because they were actually losing money while on the road.  Hands was just too strange, for the regular 15 year olds that wanted to hear breakdowns every 15 seconds.  It's sad when there are a lot of people that don't appreciate phenomenal music.  I don't consider these types of people fans of music at all.  Just the normal scene kids, that want to follow what's popular at the moment, to be cool.  The art that Hands make, doesn't follow those scenes, but they actually create art that they would want to listen to.  Art that the hardcore music lover that I am, wants to listen to.  I'm grateful for the bands that create music, for the sake of music, and not a particular scene.  Creator is one of my all-time favorite albums, so their new album, Give Me Rest, has a lot to live up to.  Is it better than Creator?  I've give you my opinion at the end.
"I Will" starts off this album with pounding drums and vocalist Shane screaming from a mile away.  It makes me want to stomp my feet and clap my hands.  It's a great opening song, with a lot of melody, and haunting screams throughout.
"Water" begins with down tuned guitars and harsh vocals.  It gets pretty soft with clean singing and a lot of melody, gets heavy again, goes back to the clean singing with melody, then ends how the song began.  It sounds monotonous, but it works very well.
"Cube" starts with post-rock repetition, as well as many different vocal ranges from Shane.  I really like the strumming bass lines in the middle of the song, as well as the ambiance that follows.
"The Helix" features a lot of spacy guitars and melody.  It reaches a climax around the 4:30 mark, which mixes clean and harsh vocals, and ends on a breakdown that's not your normal boring breakdown.
"Here I Am" puts the bass on the front line as the song begins.  Chris strums away, with Shane's harsh spoken words, as ambiance and melody follows.  The songs continue to get better and better, as the album goes along.
"Jovian" starts off with a breakdown, but it's refreshing as it weaves it's way in and out throughout the song.  The latter half gets really soft, and ends with clean singing.
Next is "Northern Light,." and it's the first of two songs, without harsh vocals.  It's a beautiful song about how God gave him a new song to sing.
"2005" smacks the harsh vocals back in your face, as more spacey ambiance continues.  At the 1:04 mark, the drums swirl around you for about 7 seconds, which is a cool feature, especially if you have surround sound.
"Restart" keeps the amazing music coming, even though it's coming to an end.  A good amount of clean singing and harsh vocals make up this brilliant song. I love how the lyrics to this song end,
I will fall into your arms and cry
You Are God
You Are God
Lift us up and hear our cry
You Are God
You Are God
You Are God
The second song with no harsh vocals, which also happens to be the album closer, is "Give Me Rest."  The song is beyond the scope of what I thought songs could sound like.  This song is one of the best songs ever made, in my opinion.  The first time I heard this, I was in tears by the time it was over with.  I listened to it over and over again afterwards, and I couldn't stop thinking of my wife, my son, my Dad, my friends, my faith, etc.  The lyrics are posted below, but it won't do any justice, until you hear the music,
Here I sit among the clouds
With nothing but the empty sound
I have seen the light of the day
I have seen the water wash the blood away
Is my name in there?
Is my name in there?
Is my name……………
Send a smile to my daughter
Tell her everything is fine
And give my wisdom to my brother
Tell him to use it right
And to everyone I've wronged
The thought has never left my mind
You are the end and I am fading
Will I rest with you for all of time?
Is my name in there?
Is my name in there?
Is my name……………
Give me rest
Give me rest
Give me rest
Give me rest
Give me rest
Give me rest
Give me rest
Give me rest
Tell my wife that I adore her
That she is beautiful and kind
Here I sit among the clouds
I was wrong and you were right
Give me rest
Give me rest
Lyrically, this album is mostly more about questioning God about a variety of subjects, while Creator focused on God's creation.  That being said, Give Me Rest is lyrically darker than Creator.   Musically, it's more of the same awesomeness, that made me fall in love with Hands, in the first place. 
Overall: This album is captivating, musically and lyrically, from beginning to end.  It had a lot to live up to, in regards to Creator, and it surpassed my expectations of what I was expecting from the band.  Is it better than Creator?  Not quite, in my opinion.  But is it an inch behind Creator?  You betcha!  It's still one of my favorite albums of all time, and will probably be my album of the year.