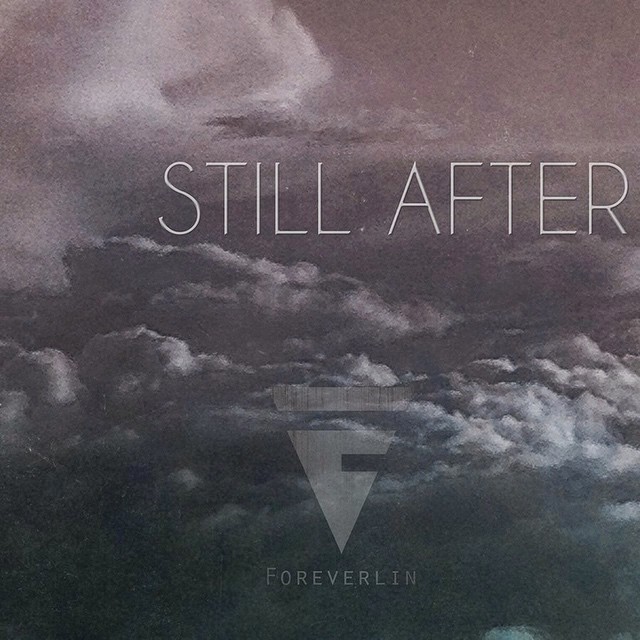 Artist: Foreverlin
Title: Still After
Label: Pando Records
Release Date: 5/19/15
Reviewer: Scott Swan
Tracklisting
Above
Pathways
Escape
Speak
Rest
Broken Lines
It Was You
Alaska
Morning
Below
Sanguine
Being one of several former Red Cord artists that have now migrated over to Pando Records, Foreverlin brings us their third recording project, Still After. I recall from their last full length, Long Lost, a sound that could be best described as ambient alt-rock. While there where some tracks that were straight ahead rockers, the record as a whole was quite mellow, incorporating several instrumental tracks.  Their new record brings many of those same attributes, while still forging ahead to present a more polished, mature sound.
Starting off is a brief instrumental intro track "Above." The soft piano and bass driven melody of the opener then seamlessly melds directly into "Pathways." A tune that features distinctive 'distant' guitar tones, which often manage to turn a little heavy in moments. The mood of this tune is also reflected in the lyrics, which basically cover the idea of being on the road to long and just wanting to go home. What I like most about this band, is their ability to consistently interlace a 'spacey' feel with actual harder rock elements. 
"Escape" forges ahead bringing more of a full on driving rock song.  An encouraging tune that speaks of the value of not giving up when all you see are failures. After these first few tunes, "Speak" and "Rest" work in tandem to really slow the pace of the record. Both songs turn the focus to reaching out to the Lord for help when we fall. "Rest" is almost entirely instrumental with just a few stanzas sung toward the closing moments. 
"Broken Lines" picks things back up, breaking through the atmosphere created by the previous two tracks. This is a well written song that poetically paints the picture of finding hope in the midst of heartbreak: "Life is the poetry of broken lines and misspelled words/ Each one making us stronger/Finding joy can be the hardest part in times of pain/ Together we are stronger." Acoustic driven "It Was You" is up next bringing somber reflections of times the Lord stood by the writer's side despite his apparent doubts and brokenness. 
Next, is the second completely instrumental track, "Alaska." I don't have an issue with the usage of these ambient instrumentals, however in this case at over four and half minutes, it's probably a little to lengthy for my taste. "Mourning" is a soothing piece that features chirping birds and the sound of soft rain falling throughout. It's truly a relaxing song to listen to, in essence a song that could easily foster an attitude of prayerful contemplation. That mood then continues with the final instrumental of the album, "Below," consisting of guitars creating sounds that to my ear sound very natural, like you would hear perhaps on a camping trip laying beneath the stars.
The band closes out the record with "Sanguine." A word that by definition is: optimistic or positive, especially in an apparently bad or difficult situation. Which, in all honesty, could be the theme of this entire album. The tune itself brings a melodic feel, with some well incorporated guitar chimes. This one hits home with me in the sense of the writer trying to distinguish all the voices in his head from the true voice of God. Well written tune and a great way to finish.  
Overall: This new release from Foreverlin was a pleasure to listen to. Even though I could have done without several of the instrumental tracks, the album does work together as a cohesive piece of meditative, reflective music. It's simply a great record to chill out with, but will also satisfy your rock side as well. The overall "sanguine" theme is also well put together packing a strong spiritual punch, but is not heavy handed in the least. If you enjoyed their previous material, this record carries on that tradition with this enjoyable, theme driven record.
RIYL: My Epic, Copeland, Arson's Harbor, Least of These