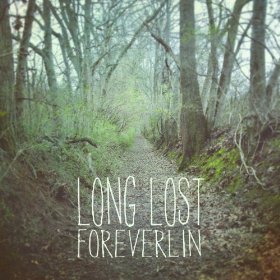 Artist: Foreverlin
Title: Long Lost
Label: Red Cord Records
Release Date: 04/30/2013
Reviewer: Sara Walz

Tracklist:

Blueprints
A Thousand Umbrellas
Long Lost
Josephine
They Shall Run And Not Be Weary
Bound To Fail
When My Voice Lost All Words
Take Heart
Keep Me Always
A Father's Words
Formed in the not too distant past, just over a year ago in fact, Foreverlin is set to release their debut album Long Lost on Red Cord Records in mere weeks. Their goal as a band is to bring positivity and a sense of hope to the world through their music, a world that could definitely use some hope.
Long Lost is a unique collection of melodies and focuses heavily on the music. The very first track on the album is completely instrumental and "They Shall Run And Not Be Weary" follows suit relying on the keys to drive the track. There are a wide range of sounds present, from what I generally refer to as man-rock to power ballads to a heartfelt acoustic track to close out the album. "Josephine" caught my attention immediately, musically it's quiet and quaint. The whole track is an acoustic guitar and strings, there isn't really a climax to the song but there doesn't need to be. It's not meant to be sung from the rooftops it's meant to be sung like a whispered promise from the heart. In stark contrast is "A Thousand Umbrellas," it has this dark and sad feel to it and is driven by distorted guitars. It's hard to not make a comparison between frontman Peter Blomberg's vocals and Jon Micah Sumrall of Kutless' vocals. There is an almost-familiar tone to his voice which makes you feel like you're sitting down with a new version of an old friend.
While the music seems to be what the Foreverlin boys want to shine on the album that doesn't mean that the lyrics don't have their place as well. The band's goal is to bring hope to a hopeless world and they aren't afraid to lay that hope right out there singing, "I know this life may be cold/I know this life but I know this love/it's more than life/it's more than us/His love is made for us./You'll never know how much you're worth," in the song 'Take Heart.' The final track on the album is a word from a father's heart to his child (aptly titled 'A Father's Word'), "oh son/ don't live ashamed/don't live in fear/live as the free/and for you know my love it conquers all/it conquers all/I made you to be more." While the title track boasts, "To see your love/..your precious love/your holy love/for this I sing."  These gentleman want you to know that you are loved by Someone who is love.
Overall: If you are looking for a hyper-polished album with poppy hooks you are looking in the wrong place. This is the type of album that you sit down with and digest, Long Lost is a good debut album with a solid music foundation and faith filled lyrics that seep into your heart.