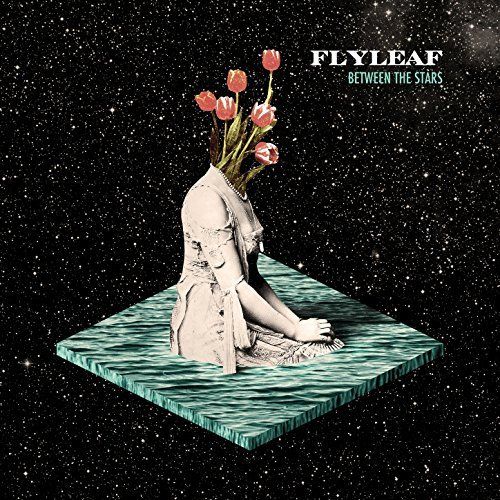 Artist: Flyleaf
Title: Between the Stars
Label: Loud & Proud Records (PledgeMusic funded)
Release Date: 9/26/14
Reviewer: Ian Zandi
Tracklisting
Set Me on Fire
Magnetic
Traitor
Platonic
Head Underwater
Somber Serenade
Thread
Marionette
Well of Lies
City Kids
Blue Roses
Home
It's a difficult thing listening to a new lead singer of a well-established band. I imagine this is much like having a step-parent. The concept of a different figure replacing the familiar (literal) voice that you were once acquainted with. It really isn't easy on either end, for both listeners and Kristen May herself.
It has been nearly 2 years since Kristen May has taken over vocal duties from Lacey Sturm (for reasons I discuss in my review of Lacey's book). Previously, Flyleaf had released an EP of new material as well as some old songs to showcase May's vocal fittings. The songs were definitely heading towards a poppier direction, but it was still tolerable. I went with the flow and accepted the facts. Kristen May is here to stay. Though my expectations were not set very high for this album, Between the Stars disappointed me heavily.
From the start, it is clear that Flyleaf has lost their distinctive element that set it apart from other rock groups on the scene (specifically, female-fronted rock bands). I wouldn't be able to tell the difference if you set a Flyleaf 2.0 song such as "Traitor" next to a song from Halestorm, The Pretty Reckless, The Letter Black, or Evanscence. Actually, this new version of Flyleaf sounds even more generic than any of those bands. It's definitely lighter fare than their past work, but not enough to place it in the pop rock categories of Paramore and Avril Lavigne. Maybe this band rocks harder live but suffers from overproduction (the opening track "Set Me on Fire" is a fine example of this). It also strikes me as odd that the first track would primarily deal with fire when the first track on Flyleaf's last album, New Horizons, was literally called "Fire Fire".
The difference between the old and new vocalists couldn't be any more different. Where Lacey previously utilized her distinctive screams to lead certain songs, Kristen relies on uninspired grunts and "ohh-ohhh-ohhs" on every single track (literally, every track). Rather than whispering through the verses like Lacey, Kristen May seems like she is yelling the lyrics to every song. I might be a bit harsh on her, as that could just be her singing style. Either way, that singing style does not mesh with Flyleaf's sound. Additionally, the guitar tones are a lot cleaner in sound. Basically sounds like Kelly Clarkson and The Edge decided to make an album together ("Magnetic" and "Thread" would be good pieces of evidence to this). The drumming is probably one of the most consistent positive elements of this record.
If I had to pick one song out of the album as my favorite, it would probably be "City Kids". It really isn't that great of a track, but it at least stands above the rest of the album. It plays out as an anthemic slow-versed melody laced with some actual screams. I am not sure who the screams are provided by, but I assume they are from one of the male members of the band.
Overall: To be blunt, it's just not very good. I am not trying to be a Flyleaf purist. I am open to new direction and actually encourage it. Sometimes, when a band sets foot in the wrong direction, they can trip and fall. In this case, they were on top of their game of a mountain until this misstep brought them tumbling on down the side of a cliff. Flyleaf 2.0 is going to need a pretty big comeback to overcome this misstep.
RIYL: Vedera, The Pretty Reckless, Halestorm