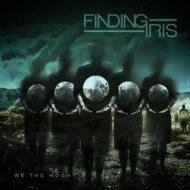 Artist: Finding Iris
Album: We the Moon
Label:  In All Honesty Records
Release Date: 07.09.13
Reviewer: Lee Brown
Track Listing: 
Anchor Me

Reviving (feat. Jesse Hasek of 10 Years)
Far Away
Circles
Insufficient
We the Moon
Still Life
Fool
Gods and Kings
New Idol
This Desert
Rising out of Tyler, TX, Finding Iris is looking to make their name on the rock scene. The three-piece band is comprised of brothers Cody and Will Hunter and Justin Ratliff, who have been playing together in various musical projects for years and have been heavily influenced by bands like Breaking Benjamin, 10 Years (whose lead singer shows up on "Reviving"), and Three Days Grace.
Finding Iris was discovered by "the man behind the music" Travis Wyrick. If you've somehow never heard of Travis, he is largely responsible for (or has at least had his hands in the the mix) the fate of many bands such as P.O.D., Pillar, Gretchen, Disciple and so many more. Having his stamp on an album typically brings a bit of gravitas to it, however, some would argue that also very quickly classifies the sound to be expected, as Travis has a certain set of styles he likes to work with.
Speaking of musical categorization, Finding Iris brings a fairly straight-forward rock experience to the table that is filled with hopeful frustration and just a hint of harder screaming here and there. Some of the tracks on their formal debut We The Moon remind me of early 12 Stones, but much less angst-y, and it wouldn't be too far off to compare their sound, in places, to recent releases from Random Hero or even We as Human.
Just as I recently reviewed both Random Hero and We As Human, I was initially ready to state that while the band has a solid base, there was just something extra needed to push this release into the realm of really solid rock. Like these recent albums, I was prepared to state that We the Moon brings everything you need to make a rock album, but just lacked that secret ingredient that takes an average rock album and makes it stand out. This should not discredit the album in any way, however, as it still brings more than enough meat to chew on.
However, the more I listened to Finding Iris, the more I found certain songs sticking in my head and refusing to leave. In addition, the more I listened the deeper I found the lyrics, which I initially found passable, to be. This is where the numerical scoring system used by all music sites (ours included) falls short. While We the Moon will go down in IVM history with the exact same numerical score as We as Human and Random Hero's latest efforts, if you were to ask me which I preferred, it would easily be this one. And, though I cannot predict the future, I believe I will still be finding more depth and joy out of this album weeks and months from now where We as Human and Random Hero's playtime ended as soon as my review was finished.
We the Moon begins with the somber anthem "Anchor Me," which reflects a key theme that runs as a thread through the entire album. Like 12 Stones before them, Finding Iris highlight the pain and sorrow of this world. Unlike them, however, there is more than a little faithful hope and trust in God to be found. In fact, God is directly and indirectly referenced and reverenced throughout a tad more than their contemporaries.
"Reviving," which features a guest appearance from Jesse Hasek, continues with a driving melodic rock flavor around the same lines as "Anchor Me." Where "Anchor Me" focuses on the God as the strength and rock in the midst of the storm, "Reviving" focuses on the indwelling sin that attempts to bring us down. The lines "we are sleepers" and "we're the virus" point to the problems in our lives, but the focus of the song is on the positive "we're reviving."
There are a few tracks on the album that are radio worthy, ironically, each of the first three tracks could fit into that category. However, "Far Away" is the track that would likely have the most radio draw. It is just generic enough to catch mainstream radio attention, but just focused and catchy enough that it isn't just mainstream radio drivel, either. Following the previous tracks, this song focuses on the distance between God and us because of the aforementioned indwelling sin, yet it also moves more towards hope. The chorus to "Far Away" is extremely catchy and will make the track a stand-out for some.
This theme is flipped in "Insufficient" (skipping a discussion of "Circles," for now) which says "I am not enough to save myself." Rather than focus on the distance between us and God, this track looks to God and admits that we are not enough to make it to Him. He must come and make the first move to save us from ourselves and the sin that mires us. "Insufficient" is a great rock track that is catchy and deep at the same time.
Perhaps the strongest overall track on the album comes in the form of the title track "We the Moon." The thematic element behind this track is that just as the moon reflects, but does not radiate light of it's own; so we cannot bring a light in our own power, but must reflect the light of Christ. Or, as the cheesy Christian T-shirt puts it, "be the moon, reflect the Son." "We the Moon" is catchy, anthemic, and brings just enough veiled writing to the lyrics that any audience would eat it up, but those who follow Christ will see deeper waters in. If you are looking to start somewhere with Finding Iris, start here.
"Still Life" brings a bit slower paced sound and includes some slight falsettos, but brings some of the most directly hopeful lyrics, yet. The focus of the track is in the challenge "Aren't you sick of living with no meaning. Colorless, emptiness, never ending." While this is a slower paced and more hopeful song, it also incorporates some of the heavier screams to be found on the album. Musically, the guitars are rhythmic yet subdued while the drumming brings in some effective reliance on the cymbals to set a somber tone.
This somber tone and slower pace is intensified even more in "Fool," which sounds more like a ballad than a rock song. "Fool" is one of the few points in the record that comes across a bit lacking in hope, but also seems directed more at a human relationship or broken heart. "Gods and Kings," on the other hand, picks things right back up. It is hard where it needs to be, slower where it needs to be, and has a great message. Like the tracks before it, but more nuanced, "Gods and Kings" focuses on our attempts to be the rulers of our own worlds… and how transient that attempt is.
"New Idol" continues that flavor with a similar theme and tempo, but is directed back towards hope. Where "Gods and Kings" acknowledges our self idolatry, "New Idol" smashes them and focuses anew on the true object of our worship. All said and done, "New Idol" is my favorite track on the album. It brings a purposeful pace that is a bit slower paced, but truly brings some power. The chorus is catchy and different than what is offered elsewhere, and the screams are well placed. Lyrically, "New Idol" is also my favorite exposition as it states, " He has spoken, let us keep silent. He has spoken, let us listen."
The album closes with "This Desert," which sums up the themes and threads of the album by looking at the brokenness within, yet renewing a true hope in God. Like some of the tracks that come before it, it is a slower paced and more somber track, but it never gets whiny or unbalanced… and continues to focus on hope in the midst of pain and sorrow. The chorus reminds me more than a little of a few points in Heath McNease's The Weight of Glory: Songs Inspired by C. S. Lewis, however, which was a little interesting to see that similarity.
Overall: Finding Iris has a good solid rock sound to them that rivals and surpasses bands like Random Hero and We as Human. We the Moon is a well balanced album that takes a somber look at the failure of man and the hope of our Savior's grace. This is an album where numerical scores fail. Though it is a "3" for me, it is more beloved than other similar "3's" I've recently given in the genre. If I could, I would give it a "3.5." As a rock album, it is pretty in line with the genre, but is above other recent offerings.
RIYL: Random Hero, We As Human, Breaking Benjamin