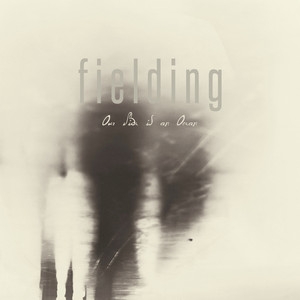 Artist: Fielding (Twitter) (Spotify)
Title: Our Side Is an Ocean
Label: CatBeach Music
Release Date: 7/9/13
Reviewer: Carter Fraser
Tracklisting
Badlands

Broken Hymns
Costume
Miles
Reconstruct
Romans
Indie rock outfit Fielding (frequently typeset "fielding") are a recent project of Eric Balmer (formerly of Plankeye) and his wife Beth. Balmer is most known for fronting Plankeye's 1999 LP Relocation and penning the gut-wrenching "Goodbye," which one could argue is Plankeye's most enduring legacy. Our Side Is an Ocean marks the California duo's third studio work following full length albums fielding (2005) and The Voice of Us (2009). The EP suggests the duo's experience even without the backstory however, expertly showing off a brand of indie rock based in talent without gimmicks.
Fielding in theory aren't too different from Plankeye's material with Balmer at the helm, but almost shockingly more developed. This is a much more sophisticated version of what Plankeye was at times, with an emphasis on nuance. It's still remarkably plain—this is not a dramatic record—and relies heavily on mid-tempo acoustic tracks that feature extensive orchestration and swells. It's a fantastic sounding record no doubt, with terrific production. It's a sound not at all unlike that superbly executed by the National already this year. Fielding find their own golden area somewhere in between pop rock, indie rock, and even alt-country, perhaps finding a place with the new age "dad rock" bands, as some like to call them.
Our Side Is an Ocean is heavily backloaded; honestly the latter half of the EP completely overshadows the first in my mind. "Miles" is perhaps the standout (though it's a difficult choice), a very Wilco-y song about a strained relationship. The songwriting is refreshingly sharp and creates a gorgeous climax with the help of remarkably little "epic" orchestration. It's a lovely thing to hear, a song that manages to "build" from its natural progression without relying on hackneyed, predictable methods. "Reconstruct" would be the other nominee for "best track" and excellently shows off Fielding's cunning simplicity. It broods without self-pitying, and is poised without sacrificing emotion. The somewhat vague lyrics are at their most enticing; I have no idea what Balmer is referencing when he says "our side is an ocean / and there'll be no passing / would you just tell my brothers / we're surrounded by vultures" but he delivers those lines with such conviction that I find them profound nonetheless.
On the first half, (which is still good, mind you) the catchy piano hook of "Broken Hymns" suggests it could be a single perhaps. Here Fielding sound a bit like a Suburbs-era Arcade Fire, but cool and laid-back enough to slide into any mood. The opener "Badlands" might actually be the weakest song on Our Side Is an Ocean. In the end it's mostly an uninterestingly self-condemning mellow acoustic rock song. "Costume" is much better and also features a very slight folksy vibe. The crescendo is a tad self-indulgent and features the use of d***ed (for those who like to avoid that sort of thing), but it does so very tastefully.
Overall: Our Side Is an Ocean is an exceptionally mature album from two seasoned vets, the sort of album perhaps only vets could put out. There's certainly a level of sophistication here that is not found on the majority of records we run across these days. For those of us that sometimes like our indie rock without the flair, Fielding's latest EP is a must.
RIYL: Wilco, Plankeye, The National, Starflyer 59