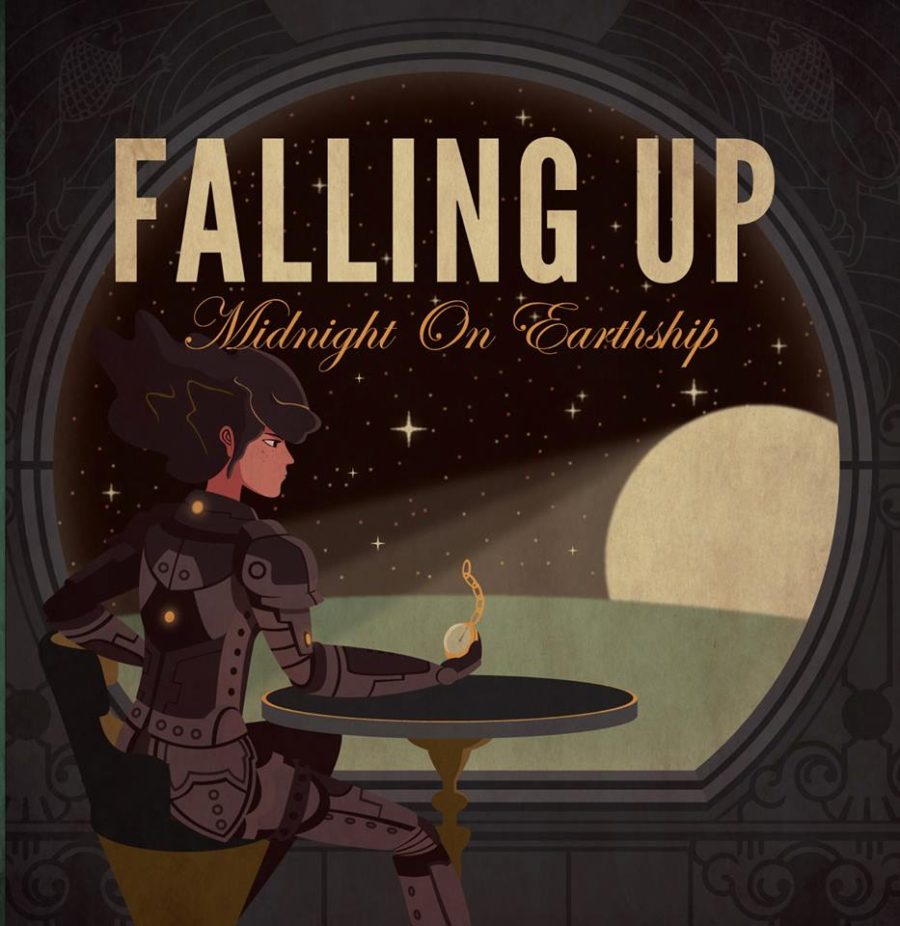 Artist: Falling Up
Title: Midnight on Earthship
Label: None
Release Date: 10/09/12 – 02/19/13
Reviewer: Josh Hamm
Tracklisting:
Sky Circles
Home
Bruise
Greying Morning
Who You Are
Down Here
Summer Song
Rooftops
Voices
Tomorrows
I remember first getting into Falling Up when I was given X 2005: 17 Christian Rock Hits! (Anybody else remember those?) It had the song "Exit Calypsan" from Dawn Escapes. Those were the days of alt-rock , crunchy guitars, synths, and inevitable comparisons to Linkin Park. But Falling Up has long been pushing boundaries and musically evolving. Captiva was the beginning of a musical shift into a more experimental indie range, but Fangs! truly marked a new direction for them, as Jessy Ribordy based the entire album on a (still) unreleased sci-fi screenplay. It was both weird and wonderful, but the new, more experimental sound wasn't firing on all cylinders yet. Then Your Sparkling Death Cometh, Falling Up's magnum opus, was released. It proved that they could retain their newer ambient/experimental sound without becoming too mellow or too "out there," and could deliver a songs that pleased both lyrically and musically.
This brings us to the Machine De Ella project: two albums and an audio book released serially over time. Midnight on Earthship is a collection of softer, sometimes acoustic songs that is a sort of worship album. Is it some of the best music from Falling Up? Quite possibly. The only concern would be that there is a lack of variety, as the entire album was meant to be slower and have a chill sound.
The opening song "Sky Circles" gently unties the album and pushes it off the shore, as longing lyrics and melancholy melody wash over you. It ends on a poignant note: "I've lost my way now/ But it is alright." It sets the town for the album; there's a deep sense of sadness, of wandering in the desert, but there is always an underlying hope that runs through it. "Home" is a prodigal story that makes perfect use of gentle guitars, a brief choral backdrop, and Jesse's comforting voice: "When you have lost your way out in the shadows/ There are no ways too dark for me always." Then "Bruise" takes us into the more familiar vague lyrics and stunning imagery that Falling Up has become known for. The vocals are absolutely beautiful on this track (and there's some welcome drumming as well), as images such as "little fires burn beneath the sea" capture your imagination, and then the worshipful bridge -"Oh God/ Who am I/But a lily in a field/Across the night/ Stars sing of You"- hits you hard. It's sure to be a favourite of many.
The piano is broken out again for "Greying Morning," which revolves around the concept of slow love, and the song hinges on the chorus: "Like beggars in the greying morning/These needful hands are reaching for you/We're beggars bought by suffered gold/We want what little love we hold." It's achingly beautiful, a description which admittedly could fit every song here. Musically, "Who You Are" could be better, though it sports a strong beat and a solid melody. The lyrics though, are again fantastic, with lines like "From the shadow sided angle of the Earth/ There's a grace that covers landscapes forever/And from the constellations I shot/ Counterbalances to offset your heart." And it all culminates in a heart rending word that Jesse sings near the end: "Trembling." You'll know what I mean when you hear it, less than ten seconds long, but one of the best moments of the album.
The second half is just as good as the first. "Downhere" pulls out the acoustic guitar again and is quite catchy, with a welcome addition of female vocals to offset Jesse in the second half of the song. It's good, but not great. "Summer Song" weaves in a vague, dream like narrative of love lost. It's hard to grasp the story from the lyrics, but great lines like "waves of distance cut deep on a lonely night," and "then the earth opened wide and swallowed them both" make it a favourite of mine. The melody broods and meanders its way through the song; the instrumentation and pacing are perfectly placed. The tempo moves up a bit for "Rooftops," and as a result feels much shorter than most of the other songs. A song of hope and contentment filled with imagery like: "Hope is just above the bluest stars/ see how they burn like sky fires" and a great message that "our lonely lives are whole/that our tiny hearts are full."
The last songs are two of the best. "Voices" is extremely reminiscent to Jesse Ribordy's side project The Gloomcatcher, and the heartfelt lyrics turn from hope to despair and displays nuanced theological imagery. One verse reads like free form poetry: "The hour turned to darkened skies/to waves that swept and swam to me in silence/ with heavy eyes and weakened eyes I lost/ black emerald freezing crashing seas to sleeping." Then the angelic melody of the chorus rings true to God calling us, "come let Your fire burn/maybe we are hearing voices/that woke us up." It concludes with a verse that may be my favourite lyric of Midnight on Earthship. Jesse gently sings out "Just cause I'm free doesn't mean I'm not/ bound to love, I'm bound to grace so desperate/ We're all a people of an injured heart/ But that's what makes it perfect." The follow up violin and wordless singing make a touching ending as well. The last song, "Tomorrow," is slow and ponderous, with simplistic lyrics that strike close to home. It has no chorus (almost always a good sign), and builds by the halfway part to finish hard, adding drums and amplifying the electric guitar as Jesse sings some of his most honest and unfiltered lyrics: "Oh Lord Jesus/I'm still trying/ Wait for me/I stay today/And I'll run tomorrow/ But I know You'll wait for me." It's a perfect ending note that truly completes the themes of the album.
Overall: Falling Up has delivered exactly what they said they would: a worship album that does not fit in the category of worship albums: without any of the common conventions that come with the title. The melodies within Midnight on Earthship are beautiful and the lyrics are at turns profound and cryptic in a way that invites the imagination to new depths. Bare-boned and stripped down, their sound goes from haunting to hopeful, as they capture the sadness and joy we experience in the midst of life and relationship with God.
RIYL: The Gloomcatcher, The Deerhunter, Future of Forestry, The River Empires