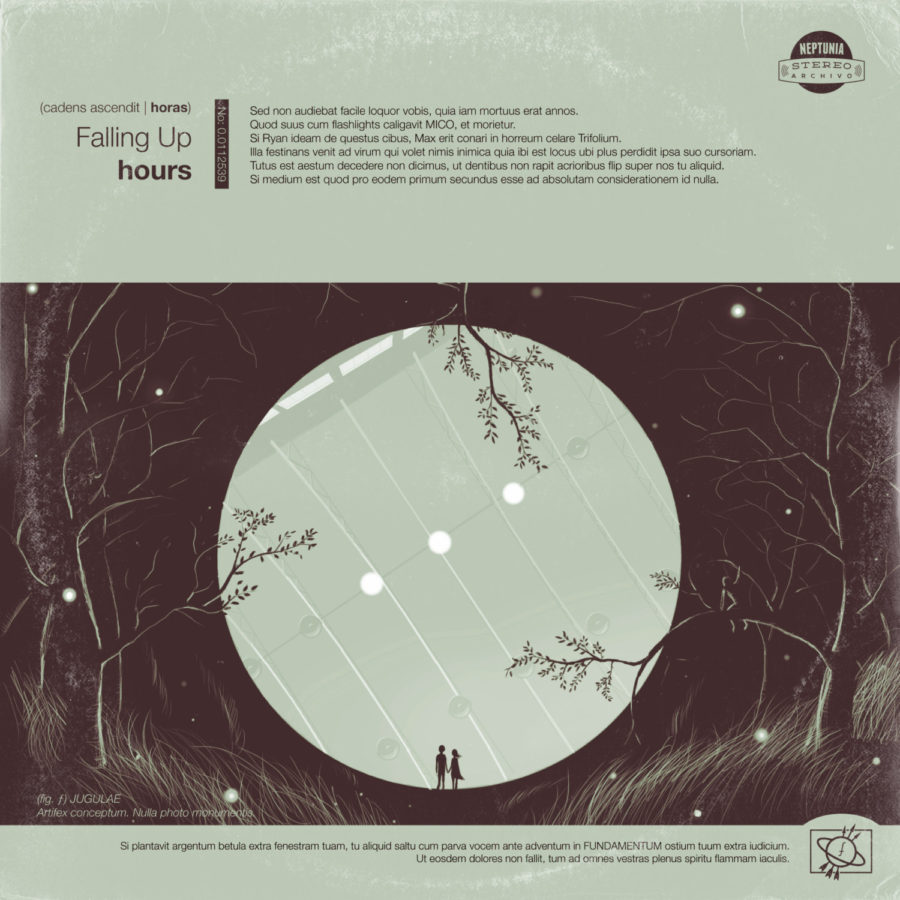 Artist: Falling Up
Title: Hours
Label: Neptunia/Chandellies
Release Date: 10/09/12 – 02/19/13
Reviewer: Josh Hamm
Tracklisting:
The Contract
The Climb
Finn Hatches A Plan
The Rest Will Soon Follow
Aeva and the Waving World
On Growing Things
Intro to the Radio Room
The Outsider
Blue Ruins
Transmission
Prillicians
In Echoes Forever
The Station (Bonus Track)
I remember first getting into Falling Up when I was given X 2005: 17 Christian Rock Hits! (Anybody else remember those?) It had the song "Exit Calypsan" from Dawn Escapes.  Those were the days of alt-rock , crunchy guitars, synths, and inevitable comparisons to Linkin Park. But Falling Up has long been pushing boundaries and musically evolving.  Captiva was the beginning of a musical shift into a more experimental indie range, but Fangs! truly marked a new direction for them, as Jessy Ribordy based the entire album on a (still) unreleased sci-fi screenplay. It was both weird and wonderful, but the new, more experimental sound wasn't firing on all cylinders yet. Then Your Sparkling Death Cometh, Falling Up's magnum opus, was released. It proved that they could retain their newer ambient/experimental sound without becoming too mellow or too "out there," and could deliver a songs that pleased both lyrically and musically.
This brings us to the Machine De Ella project: two albums and an audio book released serially over time. Hours is an album aimed at fans that enjoy Falling Up's heavier rock sound, and it's linked to the audio book of the same name by Jessy Ribordy.  The softer album, and unrelated to the audiobook, Midnight on Earthship, is also worth checking out, you can read my review here.
For the purposes of this review, I will try to avoid delving into the treasure trove of intricate connections between the book and the lyrics, in attempt to avoid any spoilers for those who haven't heard it yet. As a cohesive story the audiobook and the album mesh wondrously. It's amazingly intricate and complex (even extending to the album cover art – translate out that Latin for more cryptic bits of story), showing connections between most of Falling Up's discography and some of Jessy's solo work as well.  But don't worry, even if you have no interest in the audiobook, the album stands on its own just fine.
It kicks off with "The Contract." A controlled freneticism as steady drums pulsate and synth fades up and down the scale, setting up an album that will keep you guessing and plays across the spectrum.
Little production elements, like an angelic, lingering background vocal to close off "The Climb," reveal their attention to detail and willingness to let the music speak for themselves. Too many artists form songs that start and end abruptly, but Falling Up allows their songs to breathe, giving quiet moments amidst increasing chaos and frenzy.
My only complaint is a little contradictory though; some of the songs go on for too long – especially a needless repetition of the chorus.  On a thirteen track album, nine tracks are over five minutes, and the shortest is 3:59. It's a little like Ascend the Hill's O Ransomed Son, it's great music, but it can get tiresome due to overload.  Sometimes it's better to be left hanging, wanting more.
That being said, this is still a great, great album.  My favourite is "The Rest Will Soon Follow," quite possibly the most pensive song throughout. The keyboards are simple and soothing, with surprisingly complex percussion and a subsequent buildup that satisfies where many fail. But the real success is in the denouement – instead of ending at the climax, they carry the song back down to its origins, eventually stripping it even simpler, ending on group vocals surrounded by a slight airy distortion.
It leads directly into another highlight, the pulsating and pounding "Aeva and the Waving World." It hits hard, complete with cryptic lyrics – "Now walk the earth" and distorted vocals that give an otherworldly tinge the sound that's slightly unsettling.
Jessy Ribordy has a great vocal quality – his inflection is great, but so is his vibrato, featured in the great "Intro to the Radio Room."  But it's not just him, everyone from the band is great, Josh Shroy, Jeremy Miller, Nick Lambert, they've brought their best to the table, and the album shows for it.
The songs from here on out are almost uniformly great, from the mechanical vocals and primal beats of "The Outsider" to the complex rhythms of "Transmission," the desperate pleas of "Prillicians" where Jessy sings out "And now, I wish you were here / It's all that you hoped for / And now, I've given my life/ For all that you lived for" to the guitars and lyrical cliff hanger of "In Echoes Forever."
Bonus Song: "The Station" is a fitting conclusion, giving the album a more rounded feel by foregoing a bombastic rock song ala most of Hours and opting for something slightly calmer. But it only adds to the mystery within the narrative, giving glimmers of a story beyond that which is revealed in the audiobook or album.
Overall:  Falling Up's second best album to date, barely falling out to Your Sparkling Death Cometh. It's a masterful blend of their original rock sound and their newfound ambient progressive rock elements that make them so much more interesting. Not only is the songwriting intricate, but also delicate – these aren't just hard hitting rock songs; they have depth and substance to them.  Melodies, complex rhythms, well used effects, and a remarkable story make this a must get album.
RIYL: We Are the City, The Dear Hunter, Thrice, The Classic Crime