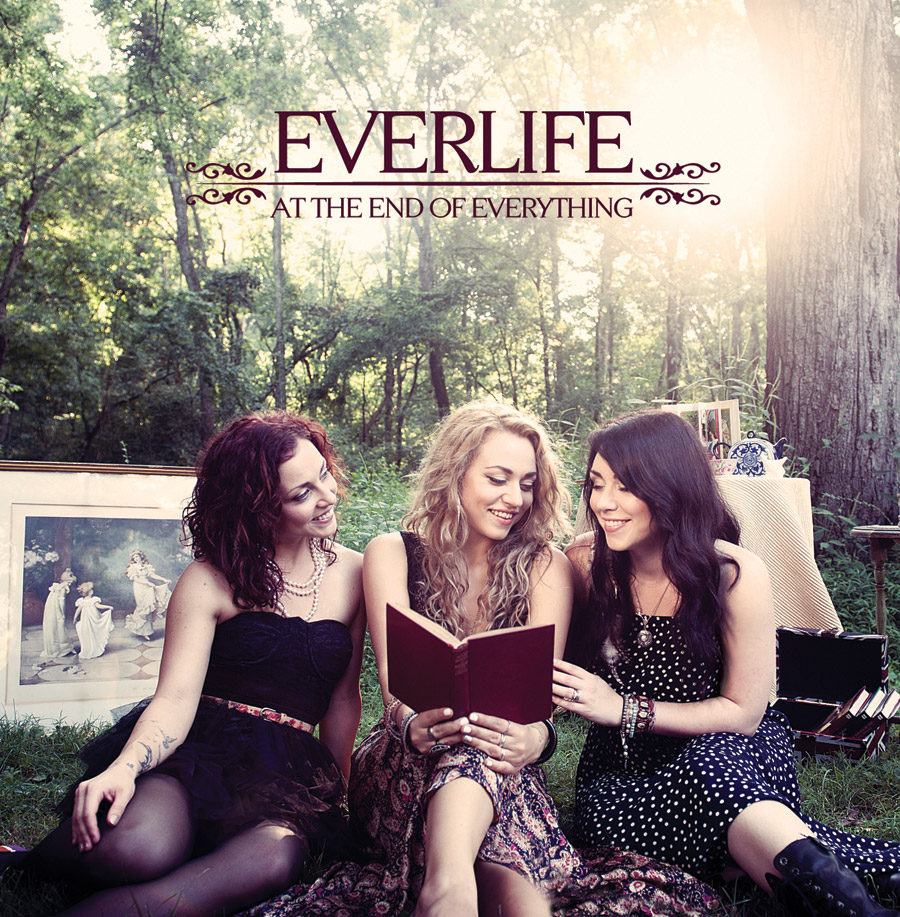 Artist: Everlife
Title: At The End of Everything
Label: independent
Release Date: 2/19/13
Reviewer: Jonathan Andre
Tracklisting:
Three Little Girls
What Made Us
Missing You
Are We OK?
Stop Sign
Forgive
Timmy's Song
Love in Rhythm
Coming Home
At the End of Everything
Famous for their Disney covers during the promotion of their music in the mainstream market throughout the late 2000s, the trio of sisters in Everlife (Amber, Sarah and Julia Ross) have matured and grown spiritually (and physically too, with their first debut album released in 2004 with all three sisters in their early teens) throughout their time as a band. Releasing hit songs throughout their musical career, it was the 2010 hit 'What's Beautiful' (both the song and music video) and their personal testimonies on RansomTV that led me to be intrigued by this trio. Going back to listen to their previous records to find quality songs in 'Find Yourself in You', 'Angels Cry', even the cover of the Tarzan song 'Strangers Like Me' and the popular mainstream hit 'Real Wild Child' (written for the movies Wild Child and The Wild) led myself to see the talent of this group and the solid grounding faith shown through each of these three women through their heartfelt songs. With Everlife now having released their final album At the End of Everything so that the sisters can part ways and travel on many other ventures that God has in store for them; the album given to fans and listeners (which was entirely funded via kickstarter) showcases a mix of pop, acoustic, worship and thought-provoking messages as we ourselves ponder how our own lives will be like personally at the end of everything. With Everlife writing songs about love, loss, hope, rejection, perseverance, relationships and the love that comes through our deepening relationship with Christ; these three sisters from Indiana Pennsylvania have given us an acoustic record full of personal reflections and heartfelt songs that give us a glimpse into their hearts and the motivation behind their songwriting and singing. A fitting last album to commemorate a musical career with many accolades and accomplishments, At the End of Everything is sure to stand out in February 2013, releasing in the same month as other comparable album titles, like Jeremy Camp's Reckless, Plumb's Need You Now and Salvador's Make Some Noise!
With a variety of themes and messages within these 10 songs, At the End of Everything appears to be the trio's strongest album to date. With their hit single 'Coming Home' releasing at the end of last year on iTunes and Amazon, we are shown a heartfelt song with just acoustic guitar, whistles and finger clicks as lead singer Julia Ross leads us on a powerful journey of longing and wanting to come home, to be in the place where all worry, stress and anxiety dissipates and we are left with the hope that home can so often bring with it. While not necessarily a 'Christian' song per se, Everlife have always sung the heartfelt, emotive and challenging, and this song is no different. 'Coming Home' encourages us to seek into our own souls and figure out where is our home. Whether it is in the place we have grown up in for our childhood, or around our family and friends, we must understand that whether we call home, it's not going to be forever, and as Christians, our outlook and anticipation for our heavenly home should lead us to appreciate our earthly situations more. Home is a place where we feel loved, accepted and at peace, and as Julia cries out that '…I just miss home…', we ourselves ought to understand the poignancy and transparency Everlife give to unveil the necessity of needing a place to belong and to call home ourselves. A fantastic song to pick as first single, 'Coming Home' leads into 'At the End of Everything', perhaps my favourite song on the album.
With track No. 10 offering us humble, thought-provoking and often unsettling questions about our own lives, Julia lets her guard down to sing one of the most personal songs on the album. The questions of '…what song will you sing at the end of everything? Would it be honest, from the deepest part? Would it rise and fall to the beat of your heart?…' are all necessary for us to contemplate. If life was a song, what would be our final number? The final chorus, the one that sums up our lives and places all our beliefs, values, hopes; dreams, successes and failures into a 4 minute track? Something to inspire and motivate generations to come- and something to remember us by long after we have left this Earth. While Julia cries out in the chorus complete with light acoustics and percussion that '…in the darkness, in the brightest moment it's You surrounding me, in the quiet, in the loudest moments I find sweet serenity…', we are called to look inside ourselves and figure out what it is we live and stand for, just like how Everlife declare that it is in Jesus that our lives are complete. Something to ponder as we listen through the rest of the album, Everlife have delivered on this track, perhaps my all-time favourite Everlife song ever! Well done Amber, Julia and Sarah for such a heartfelt description of longing and love in its truest form!
'What Made Us', 'Are We OK?' and 'Missing You' are all relationship-type songs that are certain to strike a chord with many listeners of Everlife and their previous mainstream songs. 'What Made Us' features great acoustics and a hand clap that leads Julia to describe the touring life of Everlife, and the moments that situations that have 'made' them who they are currently. Describing life on the road and about how '…as everything around us starts to change, You are my constant…', Julia's description of a love she and her sisters have to someone else (probably a family mentor that has helped them through the touring life) is something that we all should have, someone to rely on and to speak into our lives, asking the questions that we so often avoid asking to ourselves. 'Missing You' leads on from 'What Made Us' as Everlife still talks about the touring and it's toll on relationships, as we are presented with one of the most rockiest songs on the album. With an electric guitar riff leading to Julia declaring how she misses people in her life, we are reminded of the hard life musicians can often lead. Months on the road at a time can take its toll on relationships, and this melody reminds us of the appreciation we must show towards our relationships with our loved ones, understanding both the preciousness and fragility of them. 'Are We OK?' is about a broken relationship where the two parties are talking about whatever went wrong in the situations leading to the unravelling, and as Julia asserts that '…we've gone too far to let this go…', I am reminded of how Christ is always interceding on our behalf, and what may seem to be impossible for us is certainly possible for God. With acoustic and percussion driven song with heartfelt and powerful vocals from Julia is a constant reminder of how much time and effort we need to invest in our relationships with our family and our friends, so as not to wake up one day and see that the relationship is unsalvageable. Well done Everlife for discussing these themes that many artists (Christian included) try to shy away from!
From the poignant 'Timmy's Song', directed to their friend Timmy who passed away a short while ago after falling out of touch with the sisters before that; to the song 'Love in Rhythm', a dance melody complete with electronic undertones as Julia describes about a love in rhythm, a love only satisfied with Christ beside us a Everlife declare through this melody that '…You're the reason, You're the why and You bring me to life…'; Everlife's wide variety of themes and musical genres are certain to intrigue listeners as we hear the band's honesty coming out through each track. Yet it is the two middle songs 'Stop Sign' and 'Forgive' (along with 'At the End of Everything') that highlight this album and remind us what it means to make decisions in life that will influence the years and decades ahead, decisions affecting ourselves and the people around us. 'Forgive' is a country-style electric guitar plucking song about a destructive relationship between a man and woman, and the urgency of forgiveness in this certain circumstance. While the song can be ambiguous as to whether forgiveness happened in the end, we are reminded of the hard work relationships need to succeed in today's society. Divorce, while not the way God has wanted marriages to be, sometimes occur; and as Christians, our role is to fight for our relationships with Christ at the centre as we remind ourselves that forgiveness can only happen as Christ works in us to alleviate anything that hinders us from displaying the merciful act. 'Stop Sign' on the other hand is a dance-pop song, yet it is just as poignant and compelling. With synths and electronics, Julia cries out that '…I won't give up so easily, this life means way too much to me…' and right from the start, we are met with a confronting song about standing up for our beliefs, rather than just being 'lukewarm' or 'in-the-middle' as we so often are (especially as Christians). This firm song about how '…it's only done when we stop fighting, you never win if you give up trying, let's all stand up wake up the crowd, it's all about the here and now…', the acoustic guitar riffs, hand claps and powerful vocals from Julia remind us of our role in our lives to discover our passions and what we believe, instead of flowing with the current on issues we need a voice for. Something that Christ longs for us to do, whatever we champion in this life (through speaking or sometimes not even speaking) reflects our beliefs, values and attitudes, and 'Stop Sign' lets listeners literally stop in their thoughts and wonder what they truly believe in this life. One of the most humble and poetically influencing songs on At the End of Everything, Everlife's tendency to prod and ask the hard questions pays off in one of the standout albums in February 2013!
Overall: Everlife's last album At the End of Everything has everything from pop to acoustic, to heartfelt moments of delving deeper into the human condition and trying to understand the motivations for the decisions that we make. From the first single 'Coming Home' to my favourite songs 'Stop Sign' and 'At the End of Everything', fans of female fronted groups like Addison Road, BarlowGirl will certainly enjoy Everlife and what they have to offer. As Amber, Julia and Sarah evolved from their Disney covered material to singing songs of a greater maturity in a lyrical sense, Everlife have always been able to write and perform songs with a thought-provoking message. Just like how BarlowGirl's departure from music was a sad occasion, Everlife's disbandment will also evoke similar emotions with fans of the group. Nevertheless, this album full of bittersweet moments will certainly stand out this year for me personally, and while the album is probably not going to be as popular as albums from other artists this year like Jeremy Camp, Capital Kings, The Afters, Hawk Nelson and Switchfoot; these three sisters have given it their all to produce a well-rounded album to finish off a great career. Well done to the Ross sisters for giving us an album to remember for months and years to come!
RIYL: The Sonflowerz, BarlowGirl, Francesca Battistelli, Addison Road
Buy the Album: iTunes/Amazon mp3