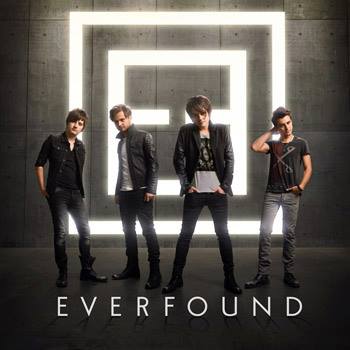 Artist: Everfound
Album: Everfound
Label: Word Records
Release Date: 7/16/13
Reviewed by: Cimarron Hatch
Buy The Album: iTunes / AmazonMP3
Tracklisting:

Pyatigorsk
Go
Unless
Never Beyond Repair
Count the Stars
God of the Impossible
Hallelujah
Somewhere New
Hurt
Lubit Lish Hristos Bezmerna
Torch
Take This City
We Are Alive
What Love Means
Everfound is a band of four brothers originally from Russia, now based in Denver, CO. They have recently been signed to Word Records after being independent for many years. The members of the band are Nikita (vocals), Ruslan (keys and guitar), Yan (drums), and Illarion Odnoralov (Bass). This self-titled album is Everfound's first major label release, and it is sure to make an impact in the Christian music industry.
Opening the album is the instrumental "Pyatigorsk," which leads into "Go." It is immediately noticeable how amazing and dynamic Nikita's voice is. I really love the pre-chorus of "Go" which has "oohs" and other dreamy sounds to build anticipation for the energetic chorus. "Unless" could easily become a hit on the Christian rock charts because it's hard hitting but has great, meaningful lyrics. Next we have the first CCM cliché song, "Never Beyond Repair," which is also the album's lead single. Maybe the lyrics aren't so original, but they are sure to be exactly what someone needs to hear right now: "You're not beyond repair / Grace meets you anywhere." "Count the Stars" is another encouraging song to tell you there's always hope for your life. Seemingly impossible things that were done with God's help, such as the story of David and Goliath, are sung about in "God of the Impossible." I think this song would be really fun to hear live. "Hallelujah" is an edgy song with some electronic beats that focuses on the topic of knowing who you are and being able to not compromise.
A gorgeous piano intro starts "Somewhere New." There is a lot of really cool instrumentation on this song. The lyrics reminisce about a past relationship and the places you used to drive through with that person. I feel like this song shows a new maturity from Everfound, and it's truly a highlight of the album. It's also the type of music that would work perfectly for a movie soundtrack. Next, "Hurt" reminds listeners to call on the Lord in times of struggle. Another instrumental track, titled "Lubit Lish Hristos Bezmerna," which translates to "Christ loves only immensely," precedes "Torch," which is pretty much my favorite Everfound song of all time. Ever since I first heard it live, I've thought it was an extremely well-written song with great lyrics: "Burning brighter / Like a fire in the sky / Just for your glory / Oh, how I want my life to shine / I wanna lift You high. / I'm carrying the torch."
"Take This City" is a very electronic song that calls for God to reach an entire city. "We Are Alive" celebrates the ability to be alive through Christ. This is a unique song because it even has some banjo on it. Ending this self-titled album is "What Love Means." This song was included on the musical companion that was put together to go along with the mini-series, The Bible, which aired on The History Channel. The message of the song is to thank Jesus for dying on the cross so each of us can know "what love means."
Overall: Everfound really deserves the exposure they have been getting since they were signed. This is a band of real professional artists who can use the platform they've been given to do a lot of good. I'm happy to hear that they've been able to maintain their signature style on this album, rather than have to compromise and be something they're not for a major label. These are all wonderful songs that have great messages for people to hear and enjoy. I think this debut will gain many new fans for Everfound and be incredibly successful—they are sure to win some Dove Awards for this release. I'm sure there's something everyone will like on this record, and I hope you will give it a listen.