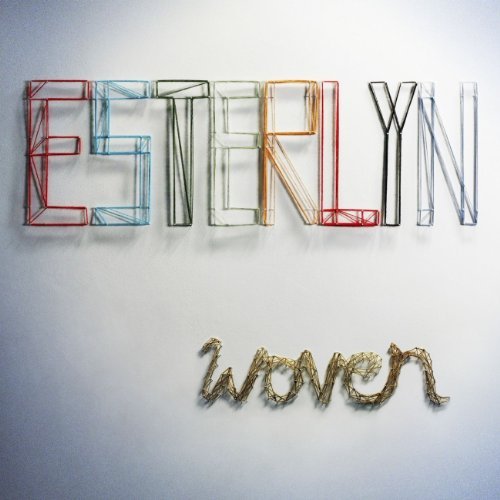 Artist: Esterlyn
Title: Woven
Label: VSR Music Group
Release Date: 9/18/12
Reviewer: Jonathan Andre
Tracklisting:
Woven
Holy
Everyday Your Love is New
Praise the Lord
We Exalt You
6.8.28
Reflexion
White
Psalm 23
How Great is Your Love
God of Compassion
You are the Way
'…Life is a journey with so many ups and downs, hills and valleys. I think in the midst of life it is easy to lose perspective and to really grasp Gods plan and purpose in everything. It's amazing that God really does have a specific call for each one of our lives and that He desires to weave it together as a tapestry of His Grace…' Hailing from Boise, Idaho, the pop-indie sounds of Esterlyn have been accepted with praise and acclaim over recent years, especially with their popular cover of Hillsong's 'Freedom is Here' (even making a music video of it!). With their hit song 'We All Need' (from their album Lamps co-written with Stellar Kart lead singer Adam Agee) played by many musical outlets over the U.S. such as JCTV, 1Cubed, TVU and MTV's Latino America, this band from the capital of Idaho close to America's west coast has continued to keep their focus on God and His promises for His children as they present their brand new 2012 release, Woven. Touring with Kutless, Disciple, Stellar Kart and Thousand Foot Krutch throughout many festivals over the years, Esterlyn has captured listeners with their guitar driven and sometimes acoustic music, presenting an alternative to the simple pop/rock CCM outfit many listeners are so often fed up with nowadays. With their hit single 'Everyday Your Love is New' already climbing the charts to become potentially equally or even more successful than 'Freedom is Here', Esterlyn's poetic imagery and musical ingeniousness have placed this album as one of my favourite albums in September 2012 along with Group 1 Crew's Fearless and Matthew West's Into the Light. From ballads to instrumentals, Woven speaks into our hearts as we continue to discover the moments God is weaving together in our lives for our good and His glory, understanding in the process that '…everyday Your love is new, everyday You make us new…' ('Everyday Your Love is New').
With each track given an acoustic looping percussion-type sound, Esterlyn have reminded us through their 12 songs that it is Christ's love for us that continues to weave our stories to create a beautiful masterpiece. Perfectly explained in their first single 'Everyday Your Love is New', we are presented with a heartfelt song of hope and anticipation as we await Christ's love and understand that as we '…sing out, we sing Your praise, hear our hearts, we pray, everyday Your love is new, everyday You make us new…' Reminding us of how we are in need of His unfailing faithfulness each day, God meets us where we are with the grace we so desperately need, 'Everyday Your Love is New' is a song we may continuously need to be reassured that our God will stand with us throughout all circumstances of our lives. With the strumming of the acoustic guitar and a beating drum taking full prominence in this lightly acoustic pop sounding track, lead singer Luke Caldwell creates a song that anchors and album full of hope and wonder as we join Luke in declaring God to '…fill us with Your presence, renew a steadfast spirit Lord within us…' Well done Luke and Esterlyn for one of my favourite melodies from the last half of 2012.
Starting off the album with handclaps, glockenspiels and looping percussion in the opening song 'Holy', Luke presents a track that though it's only 3:08 long, it's message of declaring God as holy is certain to inspire us to join along with the song, and that even if for a brief moment, we can collectively sing praises to our God. With the song presented with large cymbals to create an anthemic feeling, Luke declares that God is '…holy, You are the Lord Almighty, You're holy, You alone deserve the glory…' Not something to be sung about if we don't truly believe it, Esterlyn has created a melody with hopeful promise and passionate enthusiasm, with 'Holy' being one of my favourite songs from Woven. 'We Exalt You' and 'Praise the Lord' are two other songs on the album similar to 'Holy', reminding us of how we need to seriously consider the words we sing before we start to declare God's worth, understanding that it is who He is that makes us worthy to sing praises to Him in the first place. Starting off with a kick drum, 'We Exalt You' sets a scene of abandon and worship as Luke cries out '…let the heavens declare Your glory, let the people of God arise, oh Lord, You have our hearts so let our voices rise…' With a vocal similar to Tim Neufield of Starfield, Luke presents a song full of vertical worship as we reflect upon the song and the one preceding it, 'Praise the Lord'. With an introduction filled with keyboards and a gradual fade in full of light percussion and a 'oohhh' vocal, Esterlyn provides a slow acoustic song with a strong grooving beat added with claps and feet stomps, a song to give listeners a timely memento of the Lord's goodness, and how at all times, we ought to praise Him, even if the only thing to give Him is just our lives. With these few songs leading into an album full of musical and lyrical richness, Esterlyn have done a great job with these heartfelt tracks.
Many artists have covered the famous bible passage of 'Psalm 23', from Peter Furler, Glory Revealed and Holly Starr. Esterlyn are the newest band to provide their musical interpretation of the great passage that is so often quoted at many funerals. With a strong percussion undertone and keyboard-friendly focus, Luke offers up a rendition that I can gladly call as one of my favourites. Though not that different from the NIV translation of the psalm, I am still captivated by the lyrics '…though I walk through the valley of the shadow of death, I will fear no evil for You are with me…' and how God is with us regardless of what we need or even expect from Him. This guitar-driven modern hymn-like song moves into 'How Great is Your Love', a declaration of the vastness of Christ's unending love as we are shown wonderful symbolic descriptions about how '…as heaven is above us and east is far west, how great is Your love for us…' Originally on Esterlyn's 2009 EP Mending the Meaning, this version of the song, while stripping away the acoustic nature and earthiness of the first version; has crafted its own rendition that I can certainly be proud of and enjoy as I soak in God's presence and realise His unequivocal love. 'You are the Way' is an acoustic last track ending the mood with a nice, tranquil moment of acknowledgement that Christ is the way, truth and life, and as the song moves into a moment of anthemic praise, listeners are met with the truth of who God is and His worthiness to be praised. But it is 'God of Compassion' that really is one of my favourite songs, speaking about how Christ loves us in spite of who we are and what we've done. Full of surrender and unequivocal worship, this keyboard prominent melody asserts Christ to the throne as He should and is really a humble experience to sing along with Luke as we delve further into the compassion of Christ towards to broken, needy and weak. Well done Esterlyn for one of my favourite songs from you guys since 'Freedom is Here'.
Overall: Esterlyn have created a worship record that's sure to garner a lot of praise and critical acclaim as the album is certain to be nominated for a Dove Award for Best Worship Album of the Year, along with Kari Jobe's Where I Find You, Paul Baloche's The Same Love, All Sons and Daughters Season One and Rend Collective Experiment's Homemade Worship By Handmade People. With such strong vocals and hopeful lyrical melodies; Luke's delivery of the songs with such enthusiasm is such a positive for the band, and though not many people may have heard of the band, Woven is sure to place the band on the map. From ballads to pop/rock radio songs to piano-only heartfelt moments of surrender, this September release is sure to stand the test of time in months and years to come as we reflect daily upon Christ's goodness to us. Reminded that '…who may stand in His holy place…' ('Reflexion') except God alone, this album set of 12 tracks is great no matter what season of the year. Well done Luke and Esterlyn for such a poignant and relevant album assuring listeners that '…You are light, You are love, You're holy…' ('Reflexion').
RIYL: The City Harmonic, The Royal Royal, All Sons and Daughters, Paul Baloche
Buy the Album: iTunes/Amazon mp3