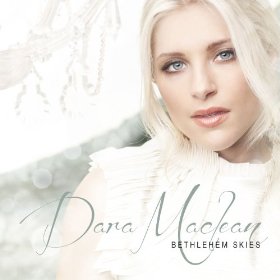 Artist: Dara Maclean
Title: Bethlehem Skies EP
Label: Fervent Records
Release Date: 10/30/12
Reviewer: Jonathan Andre
Tracklisting:
Bethlehem Skies (feat. Dave Barnes)
The Day that Love Was Born
Home
Home (Live: The OceanWay Sessions)
Home (Live Video)
Since releasing her top-selling debut 2011 album You Got My Attention, Dara has been able to capture fans and listeners around the world through her captivating soulful voice. From the pop anthem 'Suitcases' reminding listeners to drop their baggage and surrender to the healing that Christ provides, to the declaration given to God as we understand that we are '…free to love, free to live, free to take my life and give it all for You…' ('Free'); You Got My Attention was a monumental success for this Texan (who has the same pop-soul enthusiasm as Christian artist Francesca Battistelli), earning her a Dove Award nomination for New Artist of 2011. Now releasing her first Christmas-themed EP titled Bethlehem Skies, Dara has welcomed in the upcoming Christmas season with two Christmas singles ('The Day that Love Was Born' released to radio in 2011, 'Bethlehem Skies' is on a Word Label Group compilation), as well as her riveting piano melody, 'Home', together with an acoustic version of the song, as well as a live video performance of it. Reminding listeners of the reason for Christmas, that it was in Bethlehem that Christ was born for the salvation of mankind; Dara's focus has always been ministry first- that '…as an artist and a Christian my responsibility is not to give half the pie. When we represent something, it's the whole, complete message of redemption…' Influenced my musicians such as Natasha Bedingfield, John Legend and Marc Broussard, as well as her musical style being compared to contemporary mainstream artist Adele, Dara Maclean's infusion of pop, soul, mowtown and gospel is clearly evident through her music, and through this album, Dara is able to remind listeners of her own importance of the season, as well as providing hope and joy to fans and listeners this 2012 Christmas.
'Bethlehem Skies' is the first song on the EP with Dara offering a slow, reflective, acoustic-guitar driven duet with pop singer Dave Barnes, giving listeners a reminder of the night long ago and what life might've been for all those involved in Jesus's birth. Hand claps, finger clicks and a motown swaying rhythm beat are the focus of the song as Dara offers up an honest portrayal of the night's events, declaring that '…holy holy, silent night, peace has come to all mankind, all of this with me in mind, under Bethlehem skies….' and giving us a reassurance that as Christ came to us, all our problems, hurts and difficulties were in motion to dissipate as Jesus's sole mission on Earth was to bring humanity back to Himself. With Dara's continual rise and popularity in the mainstream ('Suitcases' was on an episode of the ABC drama Charlie's Angels in 2011), Dara's heartfelt lyrical poignancy as she offers up a hope that '…death has lost and victory won, You were born to change it all, a warrior so frail and small…', we are given a glimpse into the night of how creation was reunited, reconciled, redeemed and restored all on the night when a very special baby was born in Bethlehem. Dave Barnes offers up a great harmonisation and backing vocal (with Dara herself also giving backing vocals too), elevating this song of hope and acoustic goodness as one of my favourite Christmas songs for a while. Segueing into 'The Day that Love Was Born', Dara continues the Christmas trend as she gives a piano-driven song of honour, gratitude and thanksgiving as she places on her 'Ginny Owens' hat and cries out to God in honesty, that '…how could you dream not just a story but a masterpiece…' When God set His plan in motion, it wasn't just a good plan, it was the perfect plan. Through soulful vocals and lyrical poignancy with Dara declaring that love was born on the night of Jesus's birth, we are invited into a story of hope, acceptance, love, sacrifice and an unending pursuit as Christ '…made a way and everything changed on that glorious day…' Dara has created a track that is a certain throwback and homage to the 50s and 60s when these types of slow reflective piano-ballad songs were played in bars and clubs- a musical genre that has paved the way for much music to succeed as we reflect upon the history (not only of the music), but also of our own lives and the reason for our existence- a relationship with our Creator. Well done Dara for these two Christmas songs that pave the way for one of your humble and most heartfelt songs on You Got My Attention, 'Home'!
With three tracks of 'Home' on Bethlehem Skies EP (one from the original recording, one acoustic one as well as its counterpart video), Dara gives us a clear picture of what home to her feels like- being in the presence of Jesus. From first line to last note, this 3:52 song with just the piano and strings is a testament to how strong Dara is vocally, carrying the song well as we are reminded that '…still the fire burns, lighting up the room, I know, You're here with me, You wrap me in Your arms like only You can do, I know, You're all I need, with You I'll always be home…' With a subdued instrumental set and a humbleness shown by Dara that reminds listeners of a home that we can always go to, that '…when I feel alone, You will always comfort me…'; this poignant melody that is the last song on You Got My Attention is deservingly and arguably the most underrated song on her debut, and recording this song again for the Live OceanWay Sessions is a great way to feature a different musical arrangement, similar to the Cannary Row Sessions, where videos were recorded during July 2011. With just a grand piano, a cello and backing vocals, Dara cries out to God, and gives her declaration that she will always be home within His presence. Full of raw enthusiasm and intense energy, the lack of musical layers is a positive, with the lyrics highlighted more through Dara's soothing and passionate vocals, that are able to draw in the listeners to reflect upon God's love and goodness, and how '…You are my strength in me and You will never leave…' A video was also made of this OceanWay Live version, filmed on set in Ocean Way Studios. With lighting and scene transitions that create a movie-like presence that makes the video more professional compared to the Cannary Row Sessions, this is a beautifully shot video filled with minimal lighting (with the only light coming through a stained-glass window) to create a mystical eerie effect filled with awe, wonder, reverence and beauty as we give Christ our everything and declare He is our home. Christ loves His church, and in a way where a man and a his wife declare their love for one another and say that home is wherever the other one is, as we continue to delve deeper in relationship with Christ, our love will let us declare ourselves to Him that He is our everything- that as long as Christ is our centre, our home will be defined in His love, grace and abounding joy He freely gives us. Well done Dara for such a poignant song and one of my favourites from the debut record, You Got My Attention.
Overall: Filled with one of the most passionate vocals with a pop-soul presence, Dara's Christmas EP is certainly one to savour, with reflective melodies being the forefront of the EP's musical style. From the Christmas melodies of 'The Day that Love Was Born' and 'Bethlehem Skies' to the peaceful 'Home', Dara has managed to deliver a heartfelt album of Christmas significance, as well as still being grounded in Christ's love for creation. Likening Dara's voice at times to Francesca Battistelli, I think that those who love Francesca will also love Dara's down-to-earth musical style of pop and soul as we immerse ourselves in the knowledge to '…dry our eyes, the King has come…' ('Bethlehem Skies'). With this album a precursor to what is to come in 2013 (a new studio album…), Bethlehem Skies EP is a must for those who love Christmas music with a soulful edge. Well done Dara for such an enjoyable album!
RIYL: Meredith Andrews, Jason Castro, Francesca Battistelli, for KING AND COUNTRY
Buy the Album: iTunes/Amazon mp3