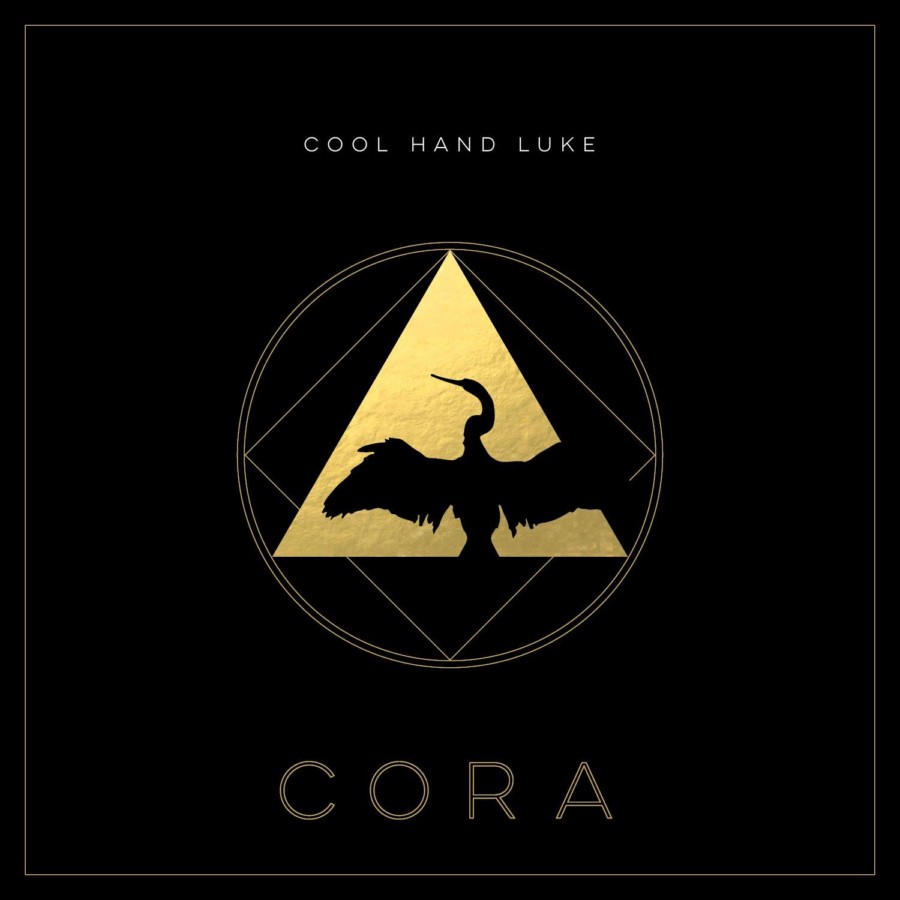 The first listen listen of Cool Hand Luke's "Cora" left me with a sense of gratitude: gratitude to God, gratitude to be a part of the funding process, and gratitude to be alive to experience this album. That might seem like a lofty set of statements but this album's themes perfectly intersect my current personal experience. It almost leaves me in tears. It has been a while since an album struck such a strong chord with me.
"Cora" simply is an album no one was expecting – in so many facets. As a follow-up to 2011's "Of Man", an eponymous would-be final release recounting the death and resurrection of Jesus from the viewpoints of multiple Gospel characters, "Cora" is not simply an unexpected return; it's quite possibly the strongest Cool Hand Luke release to date.
Hidden in a Waveform wastes no time showcasing the stylistic change on the album. A groovy bassline and reverb-drenched vocals take place of piano-driven melodies. It's a mature, fuller sound. Strong percussion and alt-rock guitar stylings lend a bit of a Polyvalent feel, but overall the sound is novel to any of Mark Nicks' projects. Noisy synths and the occasional piano part round off the track. Lyrically, the song centers around the difficulty of trying to artfully communicate profound topics through music, which is often seen purely as a means of entertainment. Powerful lyrics, such as, "Will the Holy Ghost haunt these lines / or is it up to me this time?" feature the trademark depth and introspection we've come to expect from Cool Hand Luke.
The next track, Sing for You, was released as a single and continues on with several of the new stylistic elements. The bass again is a huge focus, though it doesn't drown out the rest of the instrumentation. The guitar lines are equally ambient and abrasive, so the song isn't quite as much as a departure from previous releases. However, the production quality is evident – and that's not something I generally focus on as a listener. Overall, it's a nice nod to both the past and present of Cool Hand Luke's music.
In the bonus commentary included in my Kickstarter package, Mark describes how Taking Chances is a fitting title for the third song – and it only takes a few seconds of listening to it to understand why. Why it still has a general alt-rock facade, its underlying dance grooves and nicely-timed vocal delay (and maracas!) create an elegant, modern feeling. Whereas many Cool Hand Luke songs tend to be lyrically-weighty, Nicks here chooses a lighter, more upbeat approach that ultimately results in a fun, groovy experience for the listener.
Holy Vanguard returns us to the denser end of the lyrical spectrum, with lyrics pertaining to different ways God manifests in the Bible and how He walks among His people in times of exile and wandering. It's spacious, with reverb-drenched guitars and arpeggiated synths. It's cinematic without being boring, and it feels reminiscent of early 2000s alternative in some ways.
When I listen to an album for the first time, I have a keen ability to pick out which tracks will be my favorites. Other tracks might certainly grow on me, but the few that captivate me musically, lyrically, and emotionally usually maintain their elevated status. The Old Man Lies is certainly an instant favorite from "Cora". It's the first truly piano-based track on the album (musically, it was written alongside "Of Man") and it's fairly simple in structure. The drums act as a heartbeat under what I believe are some of the most personal lyrics on the album: "If I'm playing to my strengths, I'm playing to You / cuz I'm the weakest man that I ever knew. I'm older than I look / but not nearly as wise. I believe the Truth. I believe the lie." The song does continue to add layers along the way, but it never gets too cluttered.
The title track is the sole instrumental on the album, and it's largely synth-based. It's dissonant to some degree and ultimately is a crescendoing segue from one half of the album to the next.
Excavation, another piano-based track, should feel familiar to committed Cool Hand Luke fans. Apart from the bass (which, along with guitar, was handled by producer Brandon Shattuck), the track easily could have worked on "The Sleeping House". There's not a lot else to say – it's a good throwback track and the addition of Shattuck's bass and guitar on the album adds extra depth to the more traditional Cool Hand Luke sound here.
I Will / I Won't, much like Taking Chances, centers on taking risks – both through the lyrics and the "risky" stylistic diversion. How many professionally-recorded songs feature basic Casio keyboards? Lyrics draw from Tim Keller's claim that people desire to be fully known but fully loved and how these two desires often clash and cause people to withdraw. This is shown through lines like, "I long to be known, but what if you really knew?" and "If I tell you where I'm weak, you'll use it against me". Between key phrases, there are derivatives of "I will, I won't" per the title, showcases the doubt and hesitancy we have to be vulnerable with each other. The second half of the track builds up into a nice little bit of chaos, making this another favorite.
Piano again takes the stage on A Space That's Yours, a track I assume is about Cora, Brandon Shattuck's daughter after whom the album is named. Like Excavation, it has a classic Cool Hand Luke feeling to it.
Backlit reminds me of Keane quite a bit – and that's certainly not a bad thing. It's a slower, airy track with some classic alternative vibes, adequate use of synths, and even some choir sounds (that are used tastefully, I should clarify). "Kingdom come. Kingdom come. Will you do through us what you did through them?", Nicks questions.
Closing tracks can truly make or break an album. If we view the record as a narrative, the final track should provide closure and end things on a very strong note. You Are Here thankfully follows one of the stronger closing formats, manifesting in a moody, acoustic ballad that adds layers as it progresses. It's a cry to God for repair. It's part lament, part victory cry. Lyrically, the song seems to focus on the concept of Philippians 1:21: we long to be with God but we also want to take part in His redemptive work on earth. We feel incomplete and lost in suffering and overlook His presence at times. Again, it's a very emotional song and a great way to end the album.
It's difficult to feel like I've done proper justice in reviewing this album. Like most Cool Hand Luke albums, there's plenty more to experience – and I leave that up to you once the album hits public release. The commentary goes much deeper – but I'd prefer to keep that personal to the backers. These songs have plenty to say to us individually. Ultimately, Mark and Brandon, with guidance of the Holy Spirit, have truly crafted an amazing albums. The bass and production stand out more than any prior release; the extensive use of synths in different ways prevents the album from getting dull. Even with the new elements, there's still plenty of piano, powerful drumming, and vulnerable lyrics and vocals Cool Hand Luke fans know and love. I'd argue this is their strongest release yet and is proof that Mark Nicks should definitely keep making music.